May 17, 2023 6.00 pm
This story is over 6 months old
Complaints over 'short-sighted' plans for diagnostics hub in Scunthorpe car park
Residents would rather see it in an empty building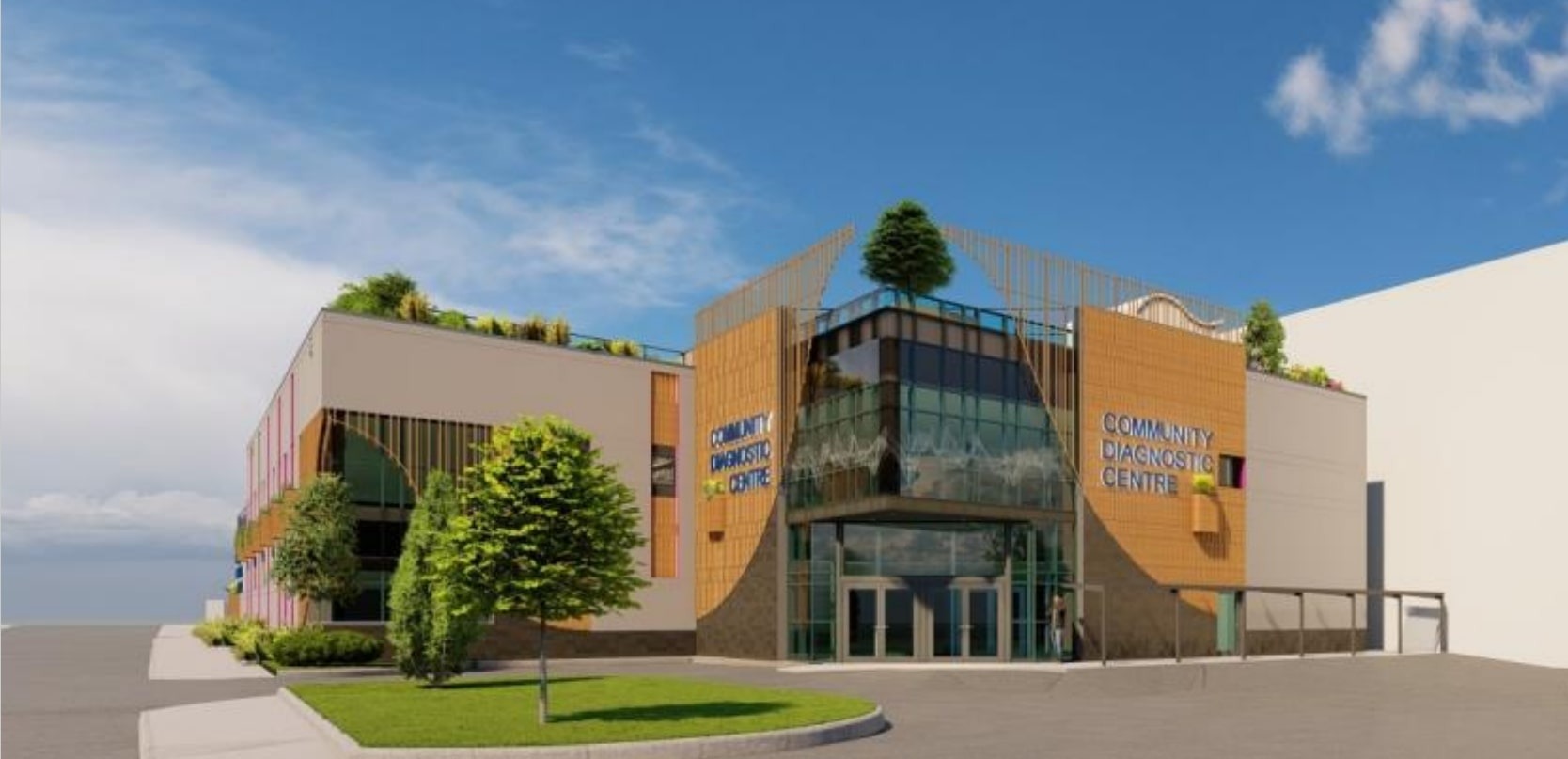 Artist's impressions have been released of what the £19m proposed community diagnostics centre in Scunthorpe will look like.
But initial reaction has suggested disappointment about the proposed location of the centre.
It is proposed to be on what is currently a council-owned car park in Lindum Street, next to the town's bus station.
Northern Lincolnshire and Goole NHS Foundation Trust (NLAG) has successfully bid for £19.4m funding for it. A planning application for the partly two-storey building was filed in the last few weeks.
If approved, NLAG has said it will allow them to carry out an estimated 146,000 additional checks every year.
The facility will offer patients tests for a range of conditions, such as cancer, heart and lung disease. These include X-ray, MRI, ultrasound and CT scans.
Reactions on social media indicate some opposition to use of the car park site.
"With all the big buildings that are empty and which are ideal for this opportunity, our council would prefer to knock down a car park that is still being used," said one woman critical of the location.
She highlighted the cost installation of EV charging points at the car park and went on: "And why on earth build another centre when you have the Ironstone and also our NHS are short on staff? Is our council living on Cloud Nine?" she added.
The multi-storey car park at the site will remain. However, the car park at street level between a community centre and a sports club is the space where the hub will be built, if permission is granted.
The 2,346 sq m hub will also have an ambulance drop-off area and shrubbery is proposed on the roof for summer cooling and shade.
Expansion of the Ironstone centre was an alternative favoured by several people, with one man commenting: "Why not use the Ironstone medical centre to its full potential?"
"Another waste of taxpayers' money," said one woman.
"That car park is always full when I've used it. Massive problems with parking if this goes ahead, not to mention the congestion. Surely there's other empty buildings that could accommodate this instead of a new building."
Another commented that it was "unbelievable" and "short-sighted as ever", though acknowledged that it would address reported anti-social behaviour problems in and around the car park.
The former Binns department store was the most frequently mentioned empty building as an alternative.
One woman welcomed the proximity to the bus station. "Seems a good idea as it's next to the bus station and the car park so people should be able to access it easier than the hospital."
The new centre will be part of a government-backed programme of so-called one-stop shops.
Patients will be referred to the centre by their GP or consultant, and it will operate alongside diagnostic departments at Scunthorpe General Hospital for inpatients and those requiring emergency care.
North Lincolnshire Council leader Councillor Rob Waltham has said the proposed hub is "great news" for Scunthorpe and "another positive note for the High Street with more Government cash backing the plans to build a new future."
NLAG's chief exec Peter Reading said: "Our priority will always be to provide our patients with excellent standards of care – and we believe that moving some of our diagnostic services out into the community will allow us to do that."
Alex Seale, North Lincolnshire place director for NHS Humber and North Yorkshire's Integrated Care Board, said: "One of the biggest potential benefits to you as patients would be that you'd no longer need to come onto our busy hospital site in order to have these tests carried out.
"Instead, you'll be able to go to the town centre, where parking is plentiful and there are excellent public transport links.
"This also has the added benefit of freeing up parking for those who do need to come to the hospital."
---
MyLocal Lincolnshire is the new home of The Lincolnite. Download the app now.