May 16, 2023 12.00 pm
This story is over 5 months old
The euphoria and pain of running your first ever marathon
Reporter Joseph Verney reflects on the Rob Burrow Leeds Marathon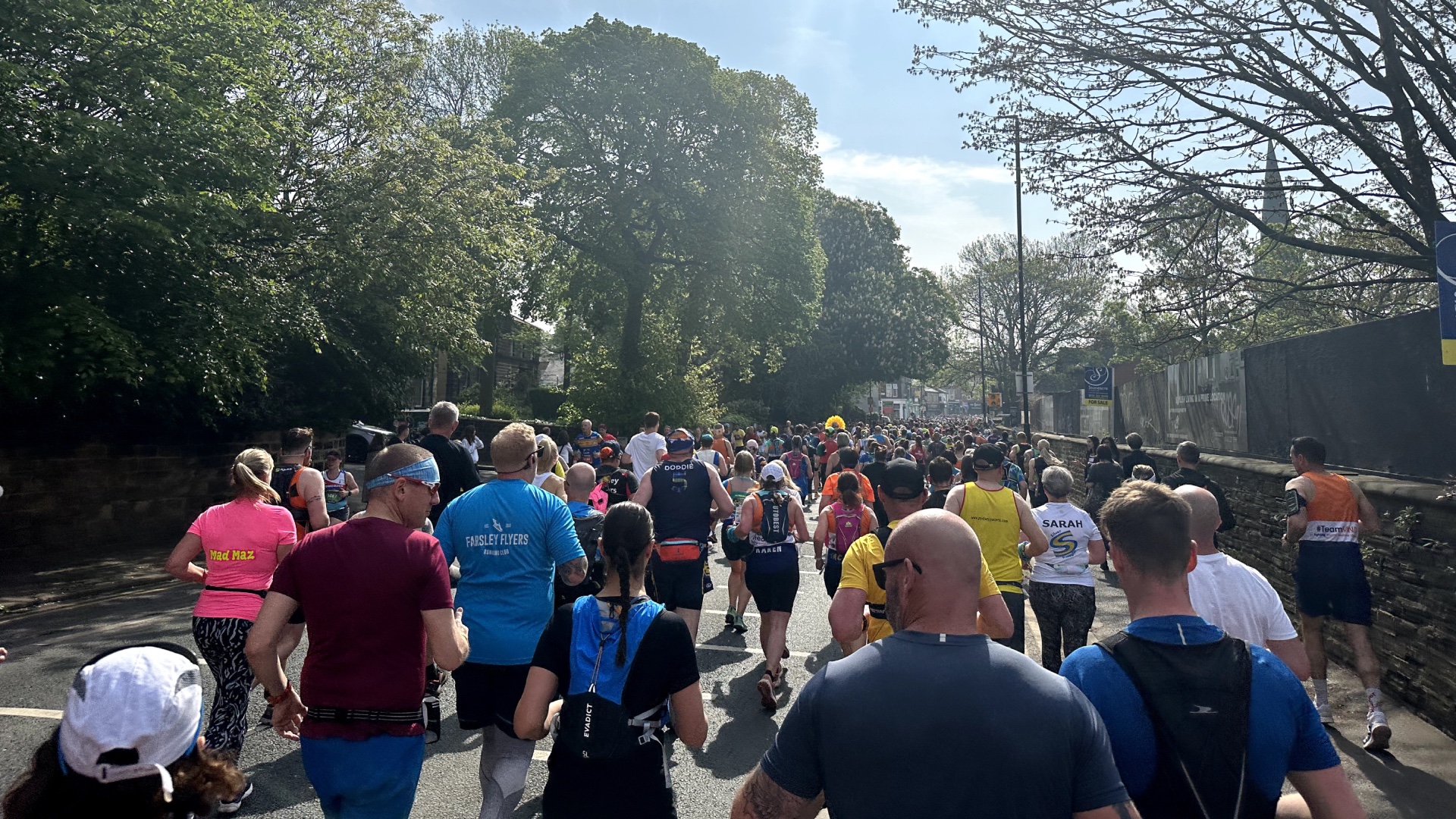 Completing my first ever marathon was definitely an emotional journey – not to mention the scorching heat – but the running community spirit and the crowd was key in helping me cross the finish line.
I'll be the first to admit when I signed up to do the inaugural Rob Burrow Leeds Marathon I didn't really think about how hard it would be.
For me, the inspiration of Rob Burrow and his best friend Kevin Sinfield was enough to motivate me to do the marathon, which over 12,000 people took part in.
Former Leeds Rhinos star Burrow was diagnosed with motor neurone disease in 2019 and all the documentaries and interviews with him are enough to reduce anyone to tears. His fight with MND is certainly inspirational, as are his heroic wife Lindsey and his children, who are staying strong at what is such a difficult time.
Sinfield has raised several million pounds for MND charities and boosted awareness of the cruel condition, but the one thing that stood out for many was a photo that has gone viral since the marathon. Sinfield pushed his former teammate around the course in a specially-adapted wheelchair. He stopped just short of the finish and carried his best friend over the line.
Rob and Kev's friendship is enough to inspire anyone and was another motivating factor to help me push for the finish line on Sunday, May 14.
When I first arrived at Headingley Stadium and found the Purple Zone (where I was due to start from), I spoke with my friend Sam from Lincoln about the gruelling challenge that faced us.
The atmosphere of the crowd as we set off was incredible, and hearing people cheer me and my fellow runners on gave me a boost that is hard to put into words.
The crowds cheering and clapping seemed never-ending, and people holding up 'power up' signs and children high-fiving runners added to what was already a great atmosphere.
The music playlist went out the window and I kept my headphones off to soak up the atmosphere of the day.
Less than five miles in and I heard my name shouted out and turned round to see Lincoln friends Ben and Teri. I heard my name on other occasions and realised people are simply cheering the name on your front and supporting a stranger – it is a special feeling, and the crowd genuinely want to see you do well.
I mainly jogged my way around the first half, with the odd walk and sprint thrown in. One of the sprints came just after I spotted big Rhinos fan and university friend Jordan and seeing another familiar face seemed to spur me on.
As the scorching heat continued, the route became more difficult and the second half was definitely harder than the first. Why the 'dreaded' hill in Otley was placed in a latter part of the marathon when many were struggling was frustrating, but a marathon isn't meant to be easy, and it was for a good cause.
I was also in awe of people running in full firefighter and army gear and carrying heavy equipment in the heat, and people taking part in memory of those they had lost, who were showing amazing strength throughout the course.
My cousin Chris completing the course in under four hours also made me proud, and I was amazed to hear about an 81-year-old woman called Hilary who was running in her 175th marathon.
26.2 miles is very tough, but nothing compared to the daily battle faced by Burrow and others living with MND and the motivation to complete this for them was another factor that helped me through. Seeing tributes and names on the backs of runners, showing who they were completing the marathon in memory of, was also very inspiring.
With around 10 miles to go, the heat took even more effect and my legs, knees and ankles began to struggle more. This is where the marathon community rallied and looked out for each other. It felt like one big family!
Three girls running called Jo, Jane, and Nathalie could tell I was starting to struggle and ran with me, and supported me more than they may even have realised – it definitely helped push me through.
As I approached the final five miles, my legs were cramping up and I felt like I was more or less hobbling, and I won't lie, there were tears too (partly the emotion of the day, but also the pain). There was no way I was going to give in.
The crowd at this point was even more incredible with people cheering me and others on to keep going. I don't think they realise just how massive a part they played in the emotional rollercoaster of a day.
Then I saw the stadium and I knew I was nearly there. The struggle to keep running felt even more real at this point, but Burrow and those living with MND go through worse every day, and I wanted to finish this for them.
I could then see the finish line, but I'll admit I noticed there was a photographer ready and poised so I sprinted the last part, partly just to get the marathon over and done with, but also in an attempt to avoid even worse photos.
I finished in just under seven hours and the feeling of crossing that finish line was a mix of emotions from euphoria, to pain and exhaustion, but I'd done it. Slower than I'd hoped, but that didn't matter – I'd completed it and for a very good cause – the MND Association, and have been blown away by people's donations.
The post-marathon soreness can still be felt now, but it was definitely worth it, not just to be able to say I've done a marathon, but also to be part of a special day that will live long in the memory, and most importantly to raise money for the MND Association – donations can still be made to my fundraiser here.
The MND Association is a charity focused on improving access to care, research and campaigning for people affected by motor neurone disease.
---
MyLocal Lincolnshire is the new home of The Lincolnite. Download the app now