May 29, 2023 6.00 pm
This story is over 6 months old
Who are the different groups fighting to preserve RAF Scampton?
Two very different movements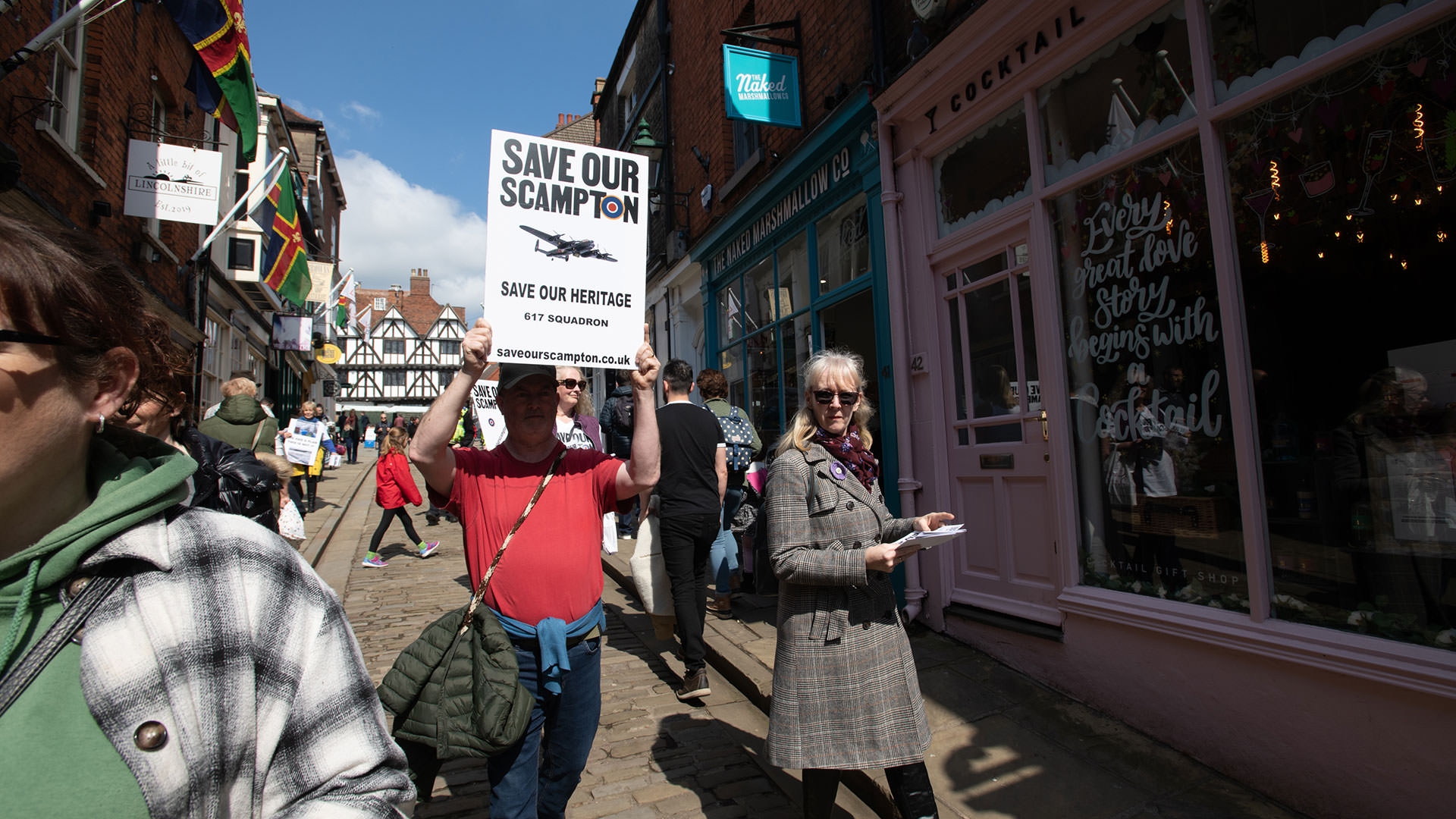 Two main groups continue to campaign against the Home Office's plans for RAF Scampton and while they share the same cause, they have completely different ideologies.
Plans to house up to 2,000 asylum seekers at the former home of the Dambusters have divided many over the last few months.
The first wave of around 200 men is due to arrive in mid-August unless legal proceedings from West Lindsey District Council succeed.
The local authority faced a "small defeat" after it failed to secure an urgent injunction from the High Court but is taking the government to court with a judicial review scheduled for July 12 and 13.
One group has pledged to support WLDC as it continues to put pressure on the Home Office, while the other looks to scrutinise the government's immigration policies at a national level.
Save Our Scampton
The Save Our Scampton was initially set up by residents who were angry they weren't consulted, or were worried about harm to the heritage of the former military base.
Politically-neutral members of the group have insisted on several occasions that the site is not suitable to house anybody and believe the plans couldn't have come at a worse time – derailing a £300m regeneration project.
"The Save our Scampton campaign was born from sheer panic, ignorance and determination," said group leader Sarah Carter.
"After hearing Sir Edward Leigh confirm that the Home Office were, in fact, considering RAF Scampton for asylum accommodation, there was a knee-jerk reaction to do whatever springs to mind to stop them in their tracks, however hair-brained.
"After a few deep breaths and having realised I'd never fought an establishment like the Home Office before, I knew I needed to reach out. So I contacted anyone and everyone I could think of."
"Hamish Falconer [Labour candidate for Lincoln] has started a petition, so he was one of the first on the list, then the Linton-on-Ouse campaign group who previously faced the Home Office in a similar fight last year. Both have been instrumental in the campaign."
Since being set up, the petition from the Labour politician has surpassed 70,000 signatures, calling for the Tory government to abandon the "damaging proposal".
"The group's aim is to primarily support WLDC in the legal fight but also to gain as much attention and assistance as possible to show the Home Office that we are not sitting back, waiting to be run roughshod over, to make sure the media don't forget about us and to rally the troops as and when is needed," Mrs Carter continued.
RAF Scampton Real Action
Often confused with Save Our Scampton is the far-right-led RAF Scampton Real Action group.
Fronted by Alek Yerbury – a man from Leeds who previously belonged to the fascist group Patriotic Alternative – the group has organised protests in Lincoln and Skegness over the government's immigration policies.
They want to change national immigration policy and believe that asylum seekers should not be housed anywhere on British shores.
Mr Yebury said: "My position, and it is shared by most of those whom I represent in this matter, is that nowhere in Britain is suitable for an asylum centre of this kind, including RAF Scampton.
"I do not accept a solution that simply moves the centre to another base, another town or another constituency. I do not accept that the persons to be accommodated have any inherent right to be in this country, whether they are in Scampton or otherwise."
The previous rally in Lincoln city centre drew the attention of a number of locals and even spawned a counter-protest from Lincoln Trades Council, welcoming asylum seekers to the base and criticising Alek's extremist nature.
The self-proclaimed nationalist added: "What we hope to achieve is to start putting the blame for this problem where it actually lies – at the feet of the Westminster politicians whose policies are to blame for the asylum and immigration problems.
"To this end, we wish to start mobilising the population against the old parties and political establishment, who have proven time and time again that they cannot be trusted, and never will do anything to resolve the issues except through a direct political threat."
---
MyLocal Lincolnshire is the new home of The Lincolnite. Download the app now