July 17, 2012 3.24 pm
This story is over 113 months old
Census data sees increase in Lincoln under 25s
On the rise: Lincoln's population is steadily increasing, particularly in the under 30s area.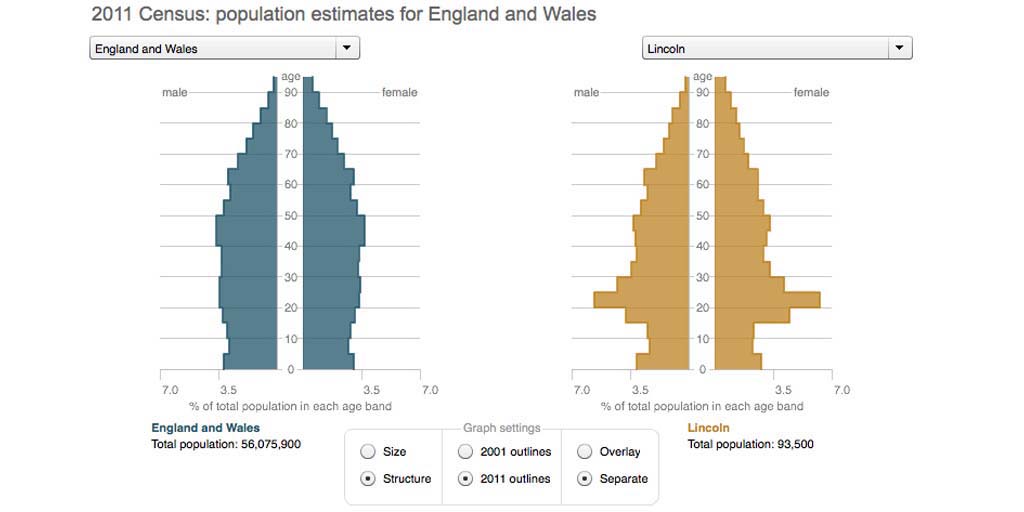 Census results for Lincoln on the left, showing the spike in young people. Scroll down for more images
The 2011 Census figures, released on July 17, reveal that the number of young people in Lincoln has skyrocketed over the past decade.
Overall, there are currently around 93,500 people living in Lincoln — an 7,905 increase from the 2001 Census figure of 85,595.
However, the data also shows that the majority of the city's population is made up of those in their early twenties.
Team Leader for Research and Information at Lincolnshire County Council, Katy Thomas, explains that the findings are similar to those of other towns and cities like Lincoln.
She said: "Younger people tend to migrate to metropolitan areas and older people and families tend to migrate out to the country."
The table below shows how many older residents there are in the surrounding areas. The over forties make up a bigger portion of the population than the national average.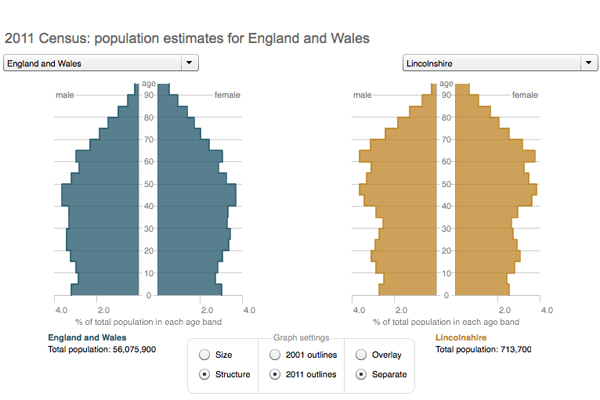 Census data for all of Lincolnshire. The age of residents is more evenly spread across the county
Thomas also explained that the rapid expansion of the University of Lincoln has contributed to this rise in under-30s.
She said: "It's a well known university and it has been growing over the years, from 2001 to 2011."
According to the latest data from the university, there are 11,145 students enrolled at the Brayford Pool and Riseholme campuses.
This means that students make up around 12% of Lincoln's population.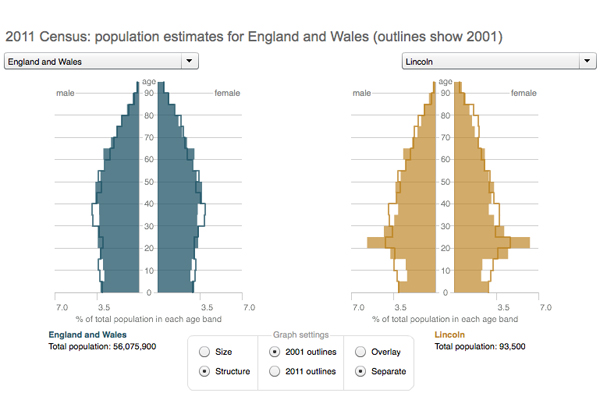 2011 Census data for Lincoln with 2001 figures outlined over the top
Thomas noted that the South West city of Exeter also has a similar community (see below).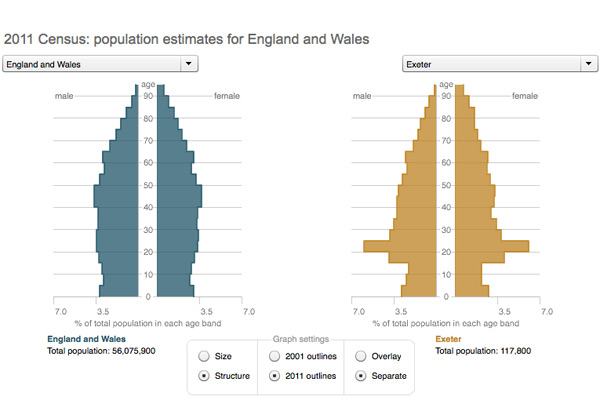 Census results for Exeter, which shows a similar picture to Lincoln
It is likely the rise in Lincoln's young people will continue, due to the University's success in gaining more applications despite a rise in tuition fees.
Take a look at Census data for across the country on the Office for National Statistics website.