June 26, 2014 9.18 pm
This story is over 113 months old
Improve the railway first, then better links to London will come
Transport Secretary in Lincoln visit: The overall capacity of the railway line has to be improved before Lincoln can have better train links to London, said Patrick McLoughlin when he visited the city.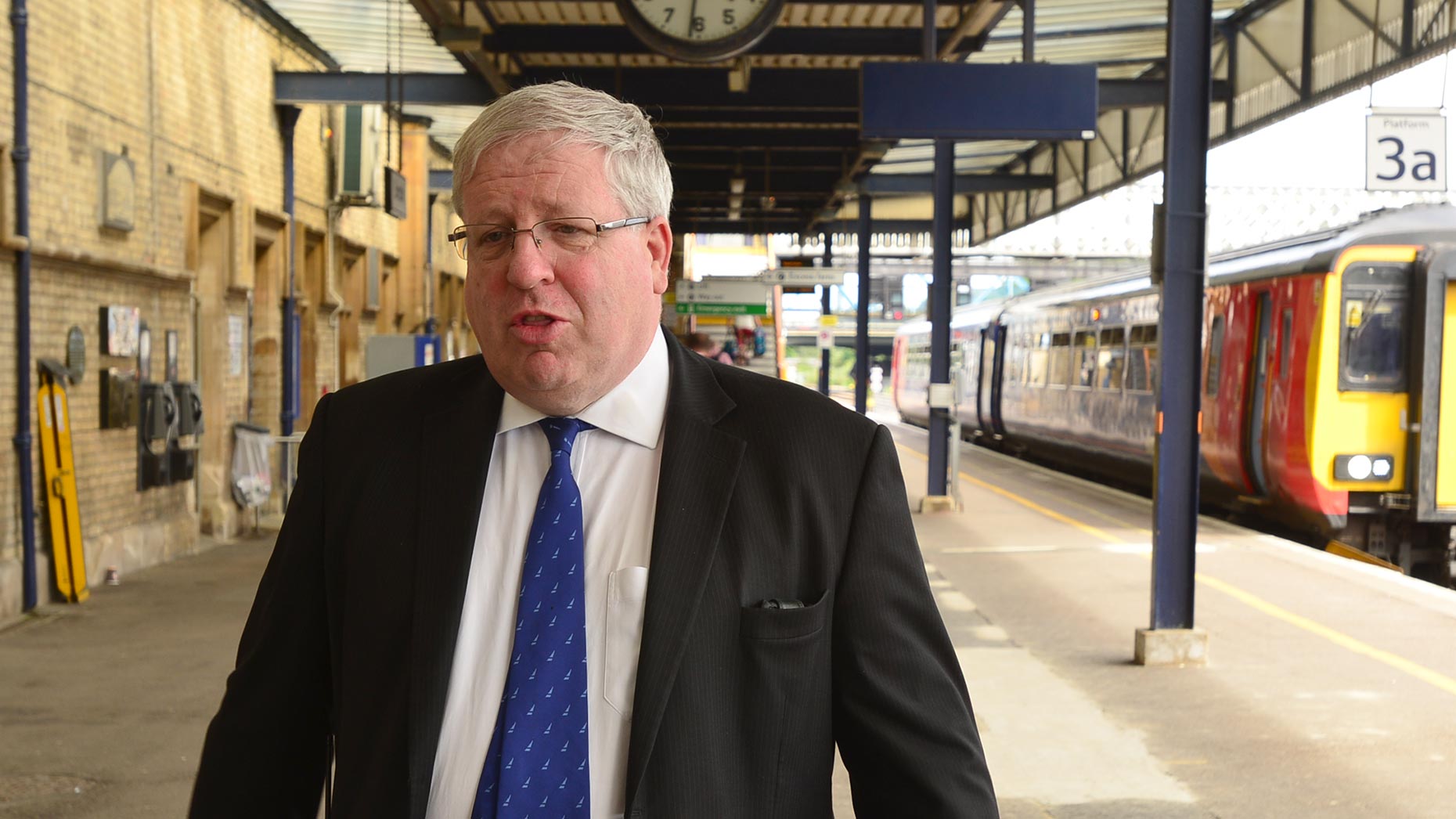 The overall capacity of the railway line has to be improved before Lincoln can have better train links to London, said Transport Secretary Patrick McLoughlin when he visited the city on June 26.
He was on a tour of the East Coast Main Line on Thursday. During stops at Doncaster, Peterborough and Hitchin, the Transport Secretary viewed recent Network Rail improvements along the route, part of a £130 million programme.
Patrick McLoughlin said: "What we're seeing with our railways is a massive growth in usage across the country. Therefore we have to deal not only with passenger growth, but also with freight — there's 60% more freight travelling on our railways than 10 years ago.
"We're putting the franchise out to tender and I hope the bidding companies come back with some realistic ideas to serve Lincoln better than it is currently served.
"That's part of the reason to going out to the market to see what those companies come forward with.
"One thing that I'm doing as Secretary of State for Transport to get more services here is to make sure that we've got the rail lines. That's the investment that I talked about today.
"You can't actually look at getting more services to a place like Lincoln unless you can improve the overall capacity of the railway line.
"There's £100 million invested in schemes such as the Hitchin flyover and the Doncaster flyover — they all mean that you can get more services on the railway line."
As part of the tour, Patrick McLoughlin officially opened the North Doncaster Chord, a £45 million railway flyover at Shaftholme that will help remove slow-moving freight services from the East Coast Main Line.
"I have not seen the details for the three [East Coast Main Line] bids," he said. "They have just come into the department and they are being looked at by the officials in the department, and I won't get to know the details of those bids for a few months yet."
The Department of Transport is expected to reveal the preferred bidder in November.
"I've come out with Karl [McCartney] today because I know how important he regards train services to Lincoln, particularly ahead of next year's Magna Carta commemorations.
"It is for the companies to come forward and say how they would best serve the areas, and that's what it's being looked at, and studied at the moment in the Department for Transport.
"Karl had a very positive meeting where he had the three companies putting the franchise bids here in Lincoln, and making the case for Lincoln directly to them."
Improvement plans in Lincoln
Lincoln MP Karl McCartney said: "Today we had a meeting with business leaders at the Lincoln Hotel, with representatives from Stagecoach, PC Coaches, and some of the other businesses from around the city, the University of Lincoln, the FSB, LEP and Chamber of Commerce.
"We had a good and in-depth conversation with the Secretary of State for Transport over a number of rail and road issues that impact on my constituency.
"We've even talked about lengthening platform one here in Lincoln Central station. That's because we know the current East Coast stock are going to be around for a while, and we currently have selective door opening — there are three extra coaches which don't get to sit on the platform.
"It would be quite a small engineering job in a way to make the platform longer here, in which case it would be much more conducive to travel to and from London from Lincoln Central station.
"That's a very small point though. We've obviously talked about the level crossings, the footbridges, which I am proud to have got sorted after 30 years.
"I've also mentioned the brown signs, which I'm also happy to have on the A1, again, something that we've been talking about for 25 years.
"The Eastern Bypass has been talked about too, which is now happening — and we have the last few hurdles to go through."