August 19, 2014 12.07 pm
This story is over 88 months old
North Kesteven Community Champion Awards finalists announced
NK community champions: The finalists for the fourth annual North Kesteven Community Champion Awards have been announced, and this year's winners will be honoured at a special ceremony.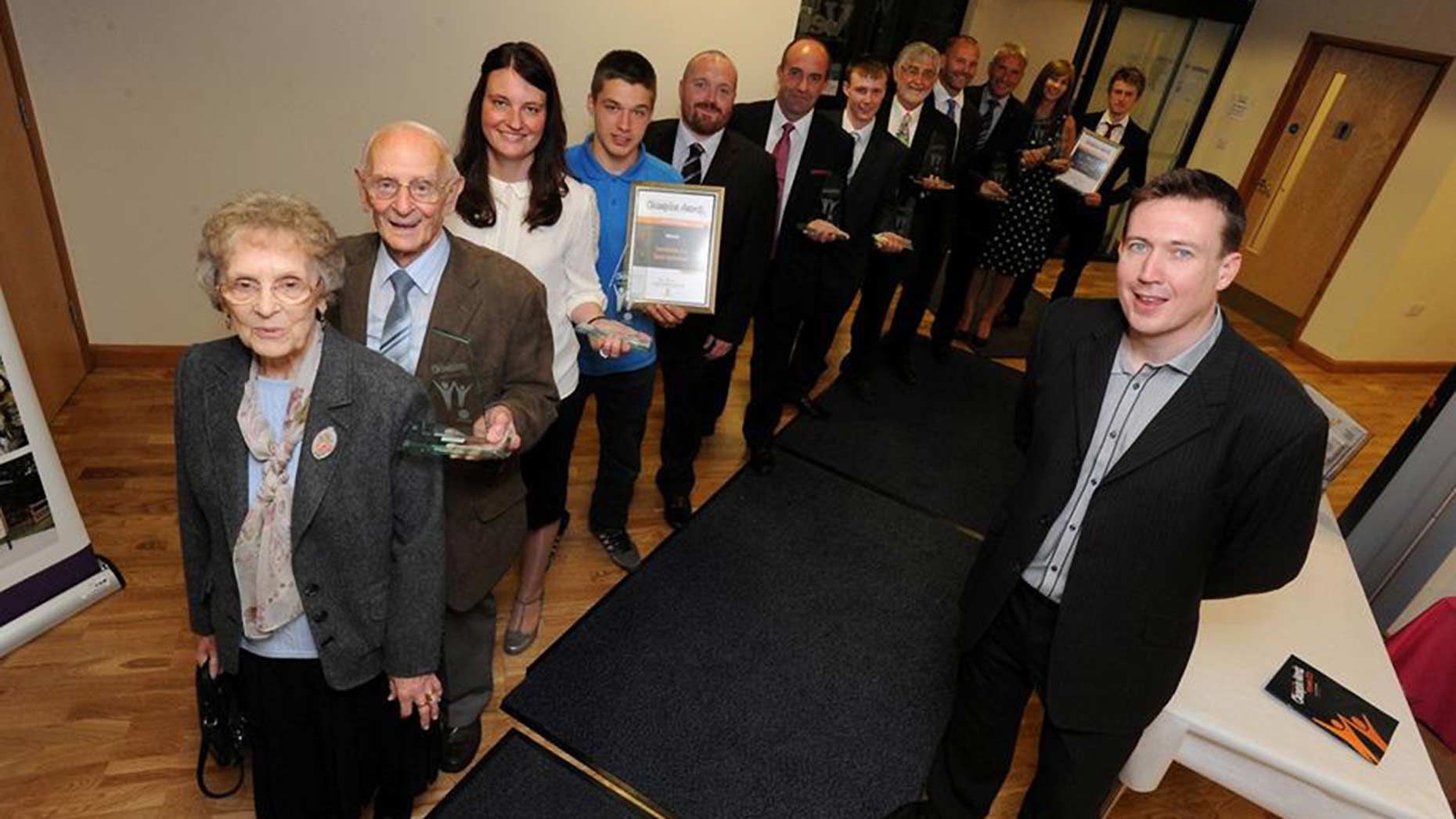 The finalists for the fourth annual North Kesteven Community Champion Awards have been announced, and this year's winners will be honoured at a special ceremony on Thursday, September 11.
The awards ceremony, organised by North Kesteven District Council in association with The Lincolnite, Lincs FM and the Sleaford Target, will take place at The Venue in Navenby.
Almost 100 special people, groups and businesses who work tirelessly and voluntarily in the district for their communities were nominated for the accolade by residents.
Tickets for the event are now available for £5 by contacting [email protected] Ticket proceeds will go to The Lincolnshire and Nottinghamshire Air Ambulance Service.
The North Kesteven Community Champion Awards finalists being honoured for their work in the community are:
---
Young Achievers Award (sponsored by Pygott & Crone)
Lewis Blake – Heckington
Passionate about football, Lewis has devoted nights to inspiring others to play 'the beautiful game'.
Lewis has been a lead volunteer on the NK Community Kickabout project in Heckington over the past three years, successfully completing first aid and Level 1 football coaching standards in order to run the sessions.
Lewis was a village player since he was four. He has been running football sessions for ages 13-16 on most weeks between April and October for the last two years.
Joel James – Sleaford
Joel has achieved a great deal overcoming the mobility and learning difficulties associated with cerebral palsy.
His family and local community raised a significant sum to send him to the USA for spinal surgery in 2012. Daily physio and hard work building his strength allows him to now walk with sticks and short distances independently and achieve good results at school.
Joel has developed a love of sport, competing in wheelchair basketball and wheelchair racing.
During the racing season he has set many personal bests and now has a Paralympic aim to represent Great Britain at the 2020 Tokyo Games.
Joel also fills his time fundraising for other children with cerebral palsy.
Matthew Livingston – North Hykeham
Matthew was born with a hole in his heart, but after undergoing open heart surgery a week before his first birthday, he went on to enjoy happy, successful early years with a flair for drama.
At senior school he encountered significant bullying, but he has always had the moral courage to stand up to the bullies.
To this end, he became a mentor at North Hykeham Youth Centre to share his experiences, help others and put something positive back into the community.
Now studying a youth work course, Matthew's confidence has begun to shine and he remains focused as a role model for others.
---
Community Business of the Year (sponsored by Duncan Topliss)
Elite Fish and Chips – Sleaford & Ruskington
In celebration of its 25th anniversary Elite set a challenge of raising £25,000 to be shared across five charities, ultimately ending up with £27,489.42 being raised by staff, customers and supporters at the three branches.
This has helped charities near and far across Lincolnshire to make a real difference to people's lives.
St Barnabas Hospice, Lives, Sleaford Scouts , Kids Strut and RNLI Skegness Lifeboat each received £5,000 and a special dining night. The surplus was then made available for other charities to apply for.
The Sleaford Scout Group nominated Elite as a community business, saying the cash had made long-lasting changes to their HQ.
Elite's ethos as a family company is to give back to its supportive communities, which was also recognized in a national award for corporate social responsibility this year.
Hodgson Elkington – North Hykeham
With a business model focused on encouraging new enterprises and promoting economic Growth, Hodgson Elkington is already directly involved in charitable work through the Junior Sports Programme Trust.
The trust is administered and managed on a voluntary basis by staff and partners of Hodgson Elkington and the firm provides its core funding, with wider support from other generous local businesses. It also raises funds, most recently achieving £12,000 at a charity dinner.
The Junior Sports Programme has supported more than 70 local clubs and schools across many sports including cricket, football, rugby, lacrosse, cycling and archery.
As well as funding equipment, trophies and sponsorship, the trust operates awards which celebrate participation and achievement over competition.
New Life Conference Centre – Sleaford
As a venue offering excellent, affordable, friendly facilities to business, corporate and social clients, New Life's mission is to generate money in support of ventures that help those in need.
All profits are specifically targeted at enhancing the lives, health and wellbeing of the young, old, hungry, homeless, lonely and vulnerable.
This is done through the community larder food bank, provision of hot meals in holiday time to those who get free meals at school, weekly dining and recreation, weekly activities and basic budgeting to help with money management.
Among New Life's 19 separate nominations one questioned "what other conference centre gives so much to so many community projects and looks after you so well?"
Beyond this, Rod Munro's good common sense and eagerness to make a difference make him a shinning example of community care in action.
---
Community Spirit Award (sponsored by Lindum Group Ltd)
Betty Ashton – Washingborough
Considered 'a little diamond' by the funding team at St Barnabas Hospice for which she has avidly raised funds over 14 years, Betty is dearly loved by the whole team and always willing to help where she can.
Betty is described as a very caring and compassionate lady who always finds time for people.
She supports friends, neighbours and family, ranging from her own mum to her great grandchildren.
She helps at every fundraising event for St Barnabas, has organized numerous community events in and around Lincoln and helped raise many thousands of pounds for the charity.
Her nomination said: "Betty is a lovely lady and an absolute asset to the local community. Everybody lucky enough to know her would agree that she deserves recognition for her undoubted community spirit."
Wendy and Richard Dann – Ruskington
Just three years after moving to Ruskington Wendy and Richard Dann have made a big impact locally, setting up a group which has opened up new horizons for many residents.
Within months of setting up last year, the Ruskington Young at Heart Club became the envy of the area as a popular club for 'men and women of a certain age to meet chat and enjoy themselves'.
Run by a committee with such enthusiastic zeal and received so terrifically well, it was never likely to fail and draws 50 or so of the 80 members weekly for the legendary afternoon teas and happy atmosphere.
"It has made such a difference to our lives," said Janet Yeates whose husband enjoys mixing with others there after a brain tumour left him slightly disabled.
Andy Dunlop – Swaton
Andy is described as a one-man Citizen's Advice Bureau, who is a good all-rounder and does an extraordinary amount for Swaton.
As Vice Chairman of the parish council, he works tirelessly behind the scenes in all manner of ways for the benefit of villagers.
Andy is a former fireman. In times of flooding, he's out there with sandbags, cones, signs and bacon butties, bringing together many agencies for flooding action.
He has championed the case of residents facing eviction and helped re-house and re-work the financial affairs of a woman with learning difficulties.
Andy revitalised Swaton Vintage Day to raise significant sums for charity, invented the sport of egg throwing, chairs Sleaford Rotary Club's community committee, helps with Sailability in North Hykeham and set up Swaton's LIVES group with which he is a responder.
Nigel Reid – North Hykeham
Alongside his day-job at Asda in North Hykeham, Nigel Reid is the store's Community Life Champion; always doing something to raise money for local schools and community groups, visiting them, holding events, contributing to sports activities and dressing up in costumes and mascot outfits.
This has been operating under Nigel's initiative for all of his seven years in store, raising money and wider awareness for scores of good causes and drawing everyone else into the fun along the way.
He proudly maintains his community wall at the store entrance, always up-dating it and telling customers and colleagues the latest news and how to get involved in the next event. So far this year £12,357 has been raised.
---
Contribution to a Better Environment (sponsored by Ringrose Law)
Henk Buijs – Swaton
Henk is best known for maintaining environmental order in Swaton.
He invest scores of hours over the year collecting thousands of items of litter, photographing it, scrawling chalk circles around dog-fouling and writing 'remove it' alongside.
Stressing the need for all villagers to get involved in direct action, he implores the parish council to revive the litter walks which used to attract 10 or so people regularly.
"Don't leave the task to only one villager. There will come a day that this voluntary service will stop," he said in his most recent report which says the problem is still a serious one.
Richard Dimbleby – Bracebridge Heath
Although Richard's quiet unassuming acts of litter picking across Bracebridge Heath may seem small, the impact of his work is anything but.
By focusing his attention on the main routes from the village to Lincoln he ensures residents and visitors using the bust entrances to North Kesteven are greeted by green and litter-free views.
Richard has great pride in where he lives, which is shown by his hard work and determination in ensuring the senseless action of the litter-throwing few do not impact on the village's environment.
Evidence of his hard work can often be seen in piles of black sacks stacked in gateways for the District Council to collect.
Sleaford River Clean Up Team – Sleaford
Andrew Greenwood was highlighted in five separate nominations as the person who 'galvanises the townsfolk of Sleaford to help keep the Slea clean and tidy.'
He organizes the monthly Sleaford River Clean Up working parties and is credited with making a 'huge difference to the river'.
Volunteers free the river of rubbish, making it a safer and more attractive place for local people, visitors and wildlife to enjoy and improving its flow.
The initiative is very much community based, set up by Andrew via social media in June 2013 as a form of direct action rather than bemoaning others and now with around 150 members operating eight times a year it is part of the Keep Britain Tidy project River Care.
---
Contribution to the Arts & Culture (sponsored by DPS Sleaford)
Alison Duncombe – North Hykeham
Without Alison's tireless work for the ACTion Community Theatre group at North Hykeham's Terry O'Toole Theatre, it is likely the group would not survive.
As treasurer, pantomime script writer, costume designer and maker, set builder, backstage crew, chaperone, director, fundraiser and marketer, her energy and enthusiasm to ensure the group delivers to the highest quality is endless.
She works in her own time most nights and weekends to do something for the group, always driving it forwards.
Heckington Windmill Trust – Heckington
Formed 23 years ago as a friends group, the newly re-named Heckington Windmill Trust is pioneering a £1m-plus restoration project to transform the iconic and internationally-unique eight-sailed mill into a major tourist attraction.
In the last year they have made bids and secured the funding, negotiated land ownership, managed the re-fitting of new sails, and pushed forward with plans to root the mill even more firmly in the local community.
Chairman Charles Pinchbeck is singled out for his vision, tenacity and zeal in maintaining the project's momentum and focus for securing a vibrant future for the mill and broadening its community appeal with open days, milling demonstrations, festivals, events and increased participation by the trust's 200 members.
James McQuade – Sleaford
Founder member of the Sleaford Concert Band, Jim has also been its musical director for all of its 16 years.
Through his own individual musical skill and as band leader, he has brought pleasure to Sleaford and the surrounding community at events including the Poppy Proms he pioneered locally.
He has also formed the 1940s band Miller Magic and is passionate about putting music back into the community not only for its own sake but also in support of charity – raising more than £50,000 for local good causes over the years.
---
Contribution to Sport (sponsored by Running Imp)
Nikki Fletcher – North Hykeham
Friendly, enthusiastic, motivating, patient and inspirational: those are words used by participants in Nikki's new Tri3 triathlon club.
Seeing the opportunity presented by the improved Sleaford Leisure Centre to introduce a new sport to the District, Nikki pioneered the popular club on the wave of its Olympic 2012 popularity.
There are now 40 members attending regularly, building in skill, speed and self-confidence through Nikki's coaching and demand for further sessions.
An outstanding athlete herself, the Team GB competitor is passionate about using her experience to guide adults and juniors to be the best they can in all three disciplines and also tireless in raising awareness and funds for the Women's Aid domestic violence charity.
Julie Leighton – Sleaford
Julie has devoted hundreds of hours to Sleaford Tennis Club, whilst holding down a full time job – in particular over the last six years while pioneering its new facilities.
Julie's nomination cites: 'Put simply if it wasn't for her Sleaford would not now have a new tennis facility worth £420,000.'
Her contribution has been described as 'massive' as she maintained the key point of contact on behalf of the club, liaising with planning, architects, contractors and funding bodies the Lawn Tennis Association and Sport England to provide four floodlit courts and pavilion.
In addition she is club membership secretary and treasurer and is regarded by committee colleagues as 'simply amazing and most deserving'.
Patsy Shields – Sleaford
With the help of family and friends Patsy is credited with bringing gymnastics to the children of Sleaford and surrounding villages.
Working endlessly for the Sleaford Elite Gymnastic Club, sacrificing time with her own family, years of hard work resulting in securing the clubs own premises last Christmas. Before that, she would drag all of the equipment out by hand for each session.
Patsy has created opportunities for club members and put Sleaford on the map for British gymnastics. Tireless in her work inspiring and training gymnasts of tomorrow, it is considered a privilege to volunteer alongside her at the Sleaford Elite club.
---
Contribution to Health & Wellbeing (sponsored by 1LIFE)
Betty Ashton – Washingborough
Caring and compassionate Betty is known for always being willing to help her family, friends and neighbours.
After overcoming breast cancer herself, Betty has, for about the last 20 years, been a member of the local Breast Cancer Support Group – only recently stepping down from the committee.
She is a point of contact for ladies who have the disease and need someone to talk to at any stage through their illness.
Her broader support for people's health and wellbeing has seen her avidly fundraising for St Barnabas Hospice over the past 14 years and consistently helping out where she can, organizing many events, being at many more and raising many thousands of pounds for the charity.
Nick Grimshaw – North Hykeham
Nick is out at least four days a week leading health walks in and around the District as park of the NK Social Strollers programme.
As well as leading the weekly Skellingthorpe walk he always covers others where needed and also leads for the Lincoln City walks, motivated by supporting people on social health walks – so much so that he will often drive people to the walk location.
Nick is always keen to share his passion for walking with others, supported the Spires & Steeples Challenge and is especially active, vocal and involved in ensuring the programme fulfills its aims.
IDEAS – Dunston
The Improving Dunston's Empty Area Spaces (IDEAS) project is delivering a legacy for Dunston which, by enhancing sporting activities and the local environment, will improve the health and wellbeing of the village at large.
Chaired by Jane Lamyman, IDEAS has proved to be such a good idea that the village is overwhelmingly in support.
When the IDEAS team canvassed every home to find out what they wanted on the playing field, 99% of respondents wanted healthy activities for the children which is now being delivered.
Play equipment is being installed after 18 months of active fundraising, a wildlife sensory space and pathway to be fully accessible and funding raising is stepping up four games courts, goal, clubhouse and changing facilities.
Ian Kendrick – Waddington
Ian and his sidekick companion Maggie consistently go the extra mile to support participants of NK's Health Walks scheme, the Social Strollers.
Having started out as a regular walker, he trained up to be a volunteer walk leader and now leads the weekly North Hykeham strolls as well as regularly helping out at Waddington and on other walks when required.
Ian is very passionate about walking and getting everyone active, making walking sticks for visually impaired walkers and supporting one in particular by driving him to the walks.
---
Contribution to Sustainable Transport (sponsored by Toyota Lincoln)
Richard Higgs – Heckington
Twenty years after setting up the Heckington Area Voluntary Car Scheme specifically to help local people access medical appointments, Richard Higgs is till key to its success.
Operating in Heckington and six surrounding parishes – Great Hale, Little Hale, Helpringham, Kirkby a Thorpe, Ewerby and Evedon – it is for anyone needing transport for any medical purpose who cannot reasonably use public transport.
It will also deliver prescriptions where people are too ill to collect their own and transport close relatives for hospital visits.
Nicholsons Chartered Accountants – North Hykeham
Nicholsons have not only supported staff's cycle rides for charity, but also broadened the appeal through a cycling club which raises charity cash.
Nicholsons have engaged with the Access LN6 initiative to encourage cycling at all levels – to the point that they are now installing new storage to cope with an uptake in staff cycling.
There are regular social cycles through the Nicholsons Cycle Club, which is open to all, and when they joined the Castle to Coast charity ride.
Paul Jowett – Leasingham
Fanatical about ensuring people can easily access train and buses as reliable alternatives to the private car, Paul's contributions towards sustainable transport are invaluable.
As a rail campaign group's representative on District transport forums, he is tireless in his efforts to keep the rail network high on public agendas.
On the ground he is especially diligent in ensuring both bus and train timetables are topped-up and visible at all local railway stations and relentless in his cause to ensure rail routes are adequately and accurately promoted.
Jon Moody – North Hykeham
Jon lives and breathes bikes – constantly enthusing children and adults into the saddle.
Whilst teaching at Washingborough Primary School he inspires children to cycle. They even won national acclaim for sharing the benefits of bikes with other schools across Lincolnshire.
Jon is a Sustrans Schools Officer, as well as contributing significantly top the local sustainable transport officer.
His enthusiasm is infectious as he goes well beyond the requirements of his role, with his passion, perseverance and hardwork speaking for themselves in the number of happier, healthier and higher achieving children now cycling locally.