August 19, 2014 11.32 am
This story is over 111 months old
New signage tells Lincoln West End revellers to SHUSH
Shush signs: Signs have been put up around the West End area of Lincoln to remind partygoers to return home quietly.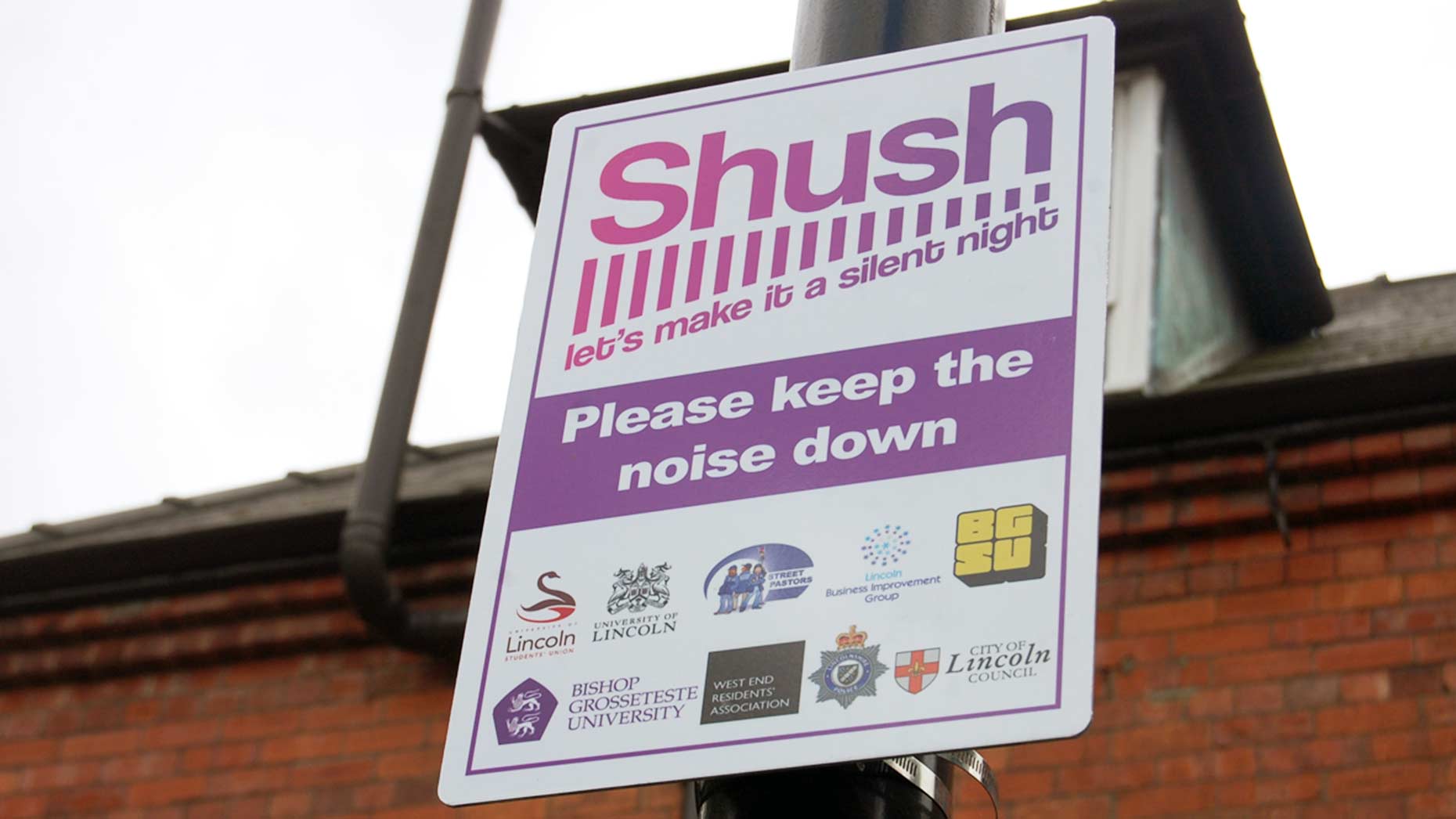 Several signs reminding revellers in the West End area of Lincoln to be quiet when returning home in the early hours are now being put up.
The signs are the next phase of the new SHUSH campaign, which encourages anyone returning from a night out to be quieter, considering those living in the area.
The signage is being put up ahead of the return of students in the city in September, when Freshers' Week events take place.
The signs feature "SHUSH, let's make it a silent night" plus "Please keep the noise down" and are located on West Parade, Newland Street West, Carholme Road, Moor Street and Gresham Street.
The signs were funded by a grant from the Community First initiative.
Next, the project will put the SHUSH logo on the flip flops handed out by Lincoln Street Pastors, place stickers on doors at venues in the city, handing out wristbands to students, make rock sweets available for the Freshers' Fair and put the logo on student volunteer t-shirts.
The campaign is a collaboration between City of Lincoln Council, University of Lincoln, University of Lincoln Students' Union, Lincoln Street Pastors, Lincoln BIG, Lincolnshire Police, Bishop Grosseteste University, Bishop Grosseteste Students Union and West End Residents Association.
Councillor Rosanne Kirk, Portfolio Holder for Community Cohesion and Social Inclusion at the City Council, said: "The signs are a proactive approach and a reminder to everyone to be considerate of their neighbours.
"The SHUSH project is really beginning to pick up momentum and I hope to see its success continue over the coming weeks and months."
PC Luke Casey, Community Beat Manager for Carholme Ward, added: "The SHUSH campaign signs displayed in the community act as a visual reminder to everyone.
"Noise nuisance and anti-social behaviour have a negative impact on our communities and the Shush Campaign aims to raise awareness around these issues. Lincolnshire Police continue to support City of Lincoln Council and our other partners in making this campaign a success."
Olivia Hill, Vice President for Welfare and Community at the University of Lincoln Students' Union, said: "The campaign is a great partnership initiative with an important message, reminding everyone to respect their neighbours when coming home late at night."