April 17, 2015 4.46 pm
This story is over 80 months old
Political round-up: On the general election campaign trail in Lincoln
Highlights: Catch up with our round-up of what Lincoln's parliamentary candidates have been up to over the past week.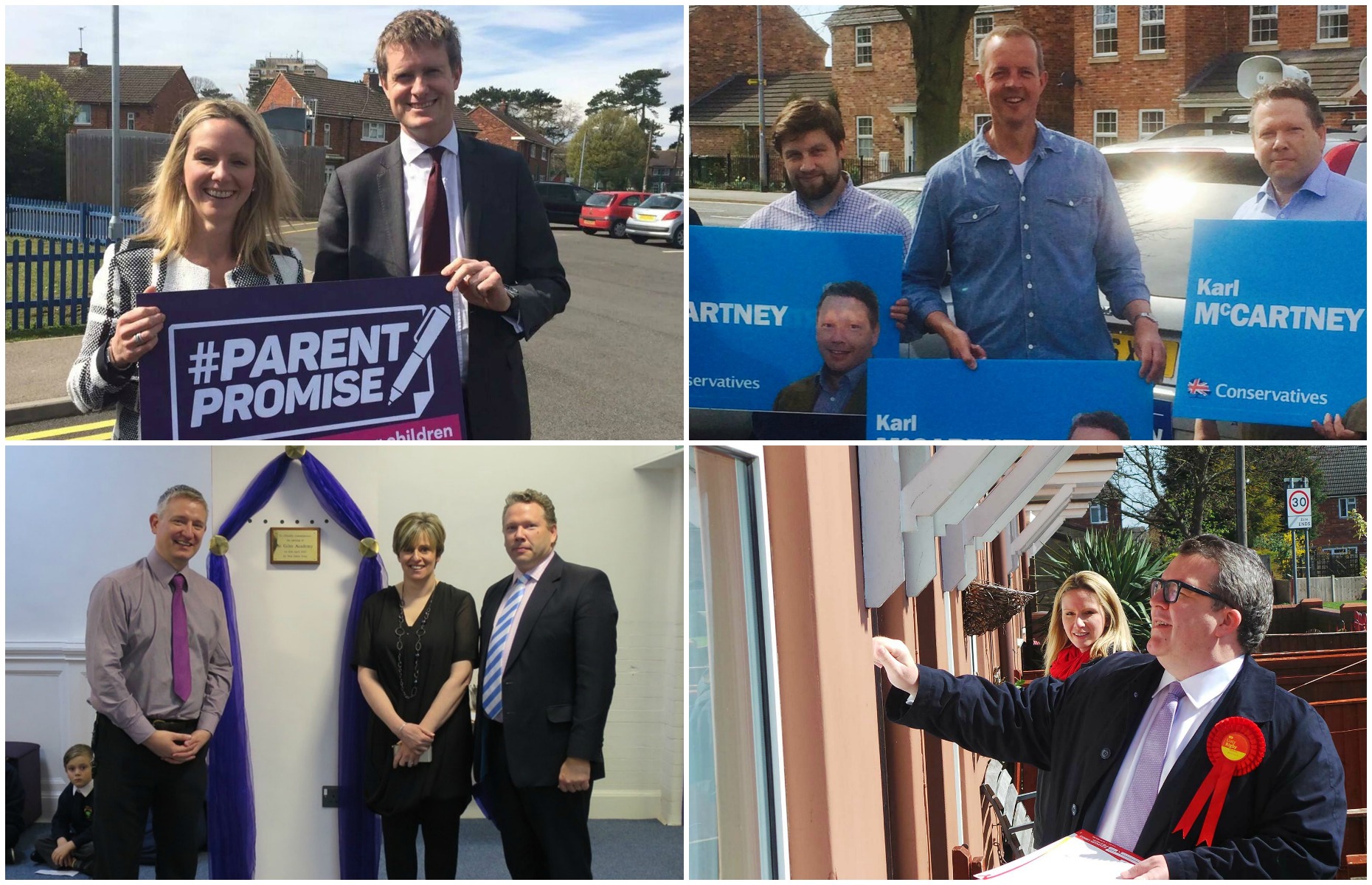 In the week where all the major parties launched their election manifestos, here is a round-up of what the candidates hoping to become Lincoln's next MP have been up to over the past seven days.
BGU hustings
On Monday evening, five of the parliamentary candidates took part in a lively hustings event at Bishop Grosseteste University.
The audience, made up predominantly of students, quizzed the candidates on a wide range of issues, with the most heated debate coming over immigration and the lack of policies aimed at younger people.
You can catch up on the highlights by rewinding through our live blog.
Alternatively, listen to what some of the audience had to say on who performed the best and worst.
Housing clash
Both the Conservatives and Labour prioritised housing in their manifestos. The Tories promised an extension of the Right to Buy scheme to housing tenants while Labour has said that it will give first time buyers in Lincoln priority over new homes.
Conservative candidate for Lincoln, Karl McCartney, said: "Right to Buy gives something back to families who have worked hard, paid their rent and played by the rules.
"It allows them to do up their home, change their front door, improve their garden – without needing permission from officialdom.
Meanwhile Labour's Lucy Rigby said: "Many people tell me that they don't think they will ever be able to afford their own home.
"We will build 200,000 homes across the country by 2020, backed by a fully funded plan and Future Homes Fund to support the building of homes for first time buyers."
Labour's big-hitters visit city
Friday morning saw Labour leader Ed Miliband arrive in Lincoln for the second time in three months to outline his party's manifesto for young people.
Hundreds of students and young people attended the event, held at Bishop Grosseteste University.
The event also drew the interest of local Conservatives, who enjoyed heckling the Labour leader during his visit.
The heckling was not well-received by Labour's Tom Watson, who replied to the Conservative candidate's tweet.
But the Labour leader was not the only high-profile member of his party to come to Lincoln this week.
Shadow Education Secretary Tristram Hunt toured Hartsholme Academy on Wednesday morning, speaking to Executive Headteacher Carl Jarvis and hosting a question and answer session.
He said: "Visiting Hartsholme Academy with Labour's candidate Lucy Rigby this morning, I was inspired by the brilliant leadership at the school. This is a pioneering school delivering first rate education.
"Labour is committed to protecting the entirety of the education budget, protecting early years, schools and 16-19 education."
Earlier in the week, prominent Labour politician and campaigner Tom Watson spent time door knocking in Glebe.
He said: "We've had a good response from people supporting one of our hardest working candidates.
"Lincoln is one of the most important seats for us. Lucy, unlike most, has been campaigning for three years. People know her already and you can tell she's done a lot of work these last few years.
"People we met with today mentioned the last visit of Theresa May to Lincoln, when she failed to commit extra funds to Lincolnshire Police. Lucy's committed to fighting that and we referred people to Yvette Cooper's recent announcement of Labour's plan of reforming savings and protection PCCs and the frontline."
Minister provides support to fellow Lincolnshire Tory
Labour were not the only ones to invite high-profile visitors to the city. Nick Boles, Minister for Skills and Equalities, made the short trip north to canvas with Karl McCartney in the centre of Lincoln on Wednesday.
Boles, who is hoping to be re-elected in Grantham and Stamford, said: "Over the last five years, Karl has been a strong local champion for Lincoln in Westminster pushing for investment on transport, jobs and tourism.
"He has had plenty of success with new investment for the Lincoln-to-Nottingham rail-line and funds to support the magnificent Magna Carta celebrations this year.
"However, there is still plenty more to do for this great city. My message is let Karl finish the job by re-electing him as MP for Lincoln on May 7."
School opening
The Conservative candidate was also busy on Thursday morning as he attended the official opening of the St Giles Academy (formerly the Chad Varah School) on Addison Drive.
He said: "St Giles may still have some way to go to achieve an 'Outstanding' grading from Ofsted, but they have made great progress in recent months, and have extremely committed staff, pupils and parents – I have every faith in their determination to continue to build on their success.
"The school is a true success story, supported by Hartsholme Academy, whose trustees and governors I know well having been one myself, after Chad Varah (their former School name) went into special measures."
Reaction to Leaders' debate
On Thursday evening, five national party leaders clashed in a heated debate televised live on BBC One.
Ed Miliband, UKIP's Nigel Farage, Green leader Natalie Bennett, the SNP's Nicola Sturgeon, and Plaid Cymru leader Leanne Wood, answered questions on issues such as housing and public spending.
Prime Minister David Cameron and leader of the Liberal Democrats Nick Clegg did not take part in the debate.
Some of our local candidates took to social media to give their thoughts on the evening's entertainment.
Safe to say Cameron that coming out of this appallingly. His record is bad enough, but being too cowardly to defend it looks truly dreadful.

— Lucy Rigby (@LucyRigby) April 16, 2015
---
You can keep up to date with the latest Lincoln politics news, interviews and events by following our Elections 2015 hub, and by using #LincolnVotes on social media.