July 16, 2015 4.28 pm
This story is over 100 months old
Artists to build giant Magna Carta sand sculpture in Lincoln
Design unveiled: A duo of renowned artists are heading to the city to build a giant Magna Carta-themed sand sculpture at Lincoln Castle this summer.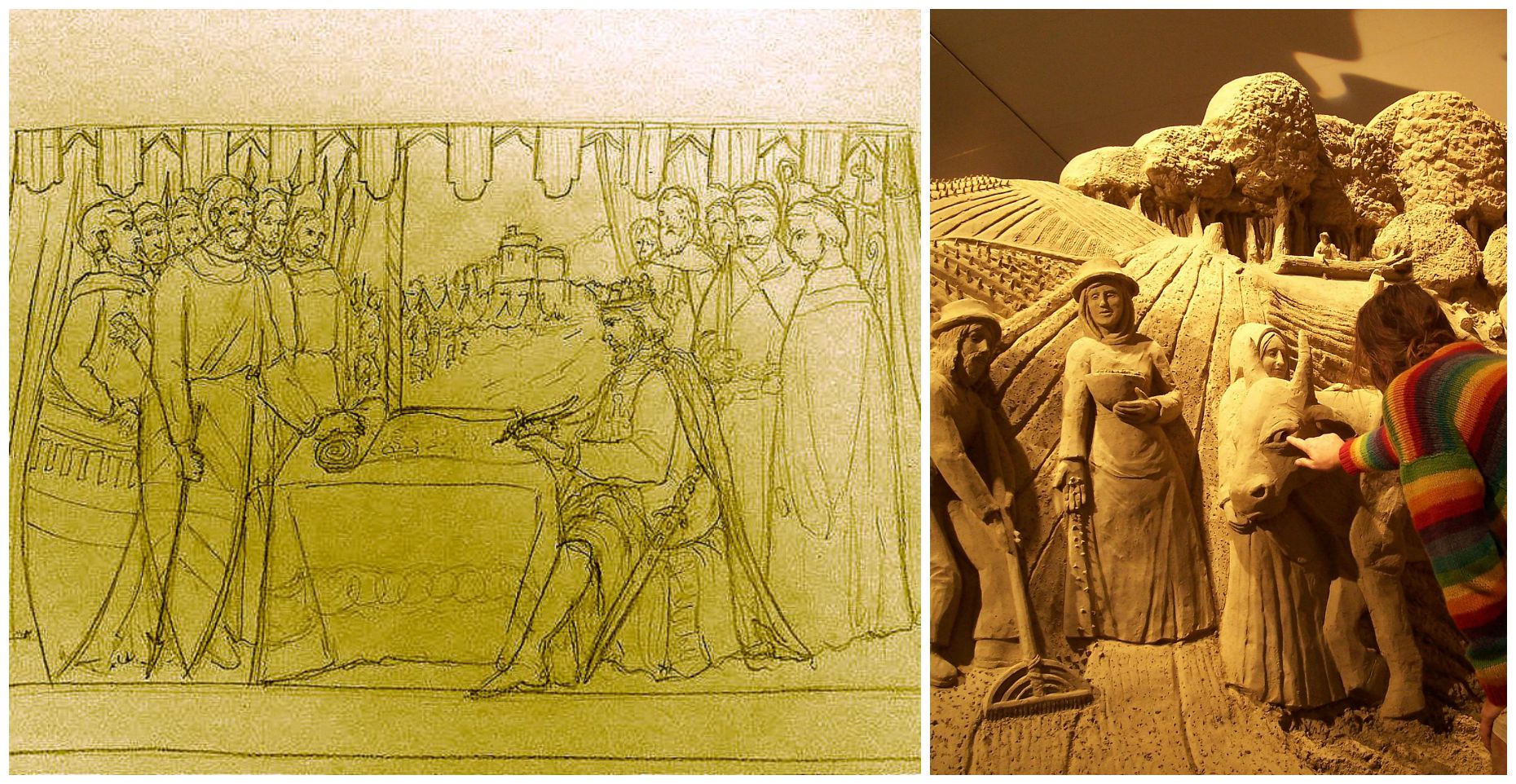 A duo of renowned artists are heading to the city to build a giant Magna Carta-themed sand sculpture at Lincoln Castle this summer.
The sculpture, which will stand at four metres tall and nine metres wide, is to be constructed as part of Festival800 – a ten day event celebrating the Magna Carta through live music, comedy, art and performances.
Dutch artist Remy Hoggard and husband Paul from Yorkshire will commence the giant sand build at Lincoln Castle on Friday, August 14, and it is expected to take two weeks to complete.
Ahead of the construction, an artistic rendering of the 3D sculpture has been unveiled, with intricate carvings of King John and the Barons as the Magna Carta is about to be sealed.
The sculpture will be moulded using sand, water and a few simple tools.
Remy Hoggard said: "With sand and water, we can make very detailed two or three dimensional works, as well as large sculptures, in a relatively short amount of time.
"It's a great honour to be invited to Lincoln in this special year, and we will make something very special for Lincoln; Wait till you see what we are creating for the back of the sculpture!"
With more than 30 years of combined sand sculpture experience, Remy and Paul have dedicated their lives to the craft, sculpting on beaches all over the world.
Paul added: "Through the physical work of moving and compacting 100 tonnes of sand, we give of ourselves through sweat, blood and, sometimes, tears onto the sand.
"This is probably one of our most adventurous project, in terms of size and scale. We're thrilled to be involved with Festival800 and can't waited to start sculpting!"
David Lambert, festival director, said: "Just like the sculpture, Festival800 is a huge statement being made by the artists and everyone else involved.
"So far, the celebrations for Magna Carta's 800th anniversary have been truly memorable; Festival800 aims to commemorate the document in a different way – focusing on its current relevance and its impact on England, and the world, since its creation.
"We see Remy and Paul's sculpture being a focal point of Festival800, acting as a monumental representation of the scale upon which Magna Carta has affected people across the globe, and can't wait to see the finished product. And right in front of the original charter!"
Festival800 is organised by cultural solutions UK on behalf of Lincolnshire County Council and supported by the National Lottery through Arts Council England.
A number of family-friendly events and well-known performers have already been announced as part of the festival and a full programme will be announced shortly.