Poppies:Wave at Lincoln Castle set for early completion
People will have their first chance to see the iconic poppy sculpture Wave, by artist Paul Cummins and designer Tom Piper, at Lincoln Castle on Thursday – two days earlier than expected. Thousands of ceramic poppies, seen previously in a famous Tower of London installation, are beginning to form a wave of scarlet reaching for the…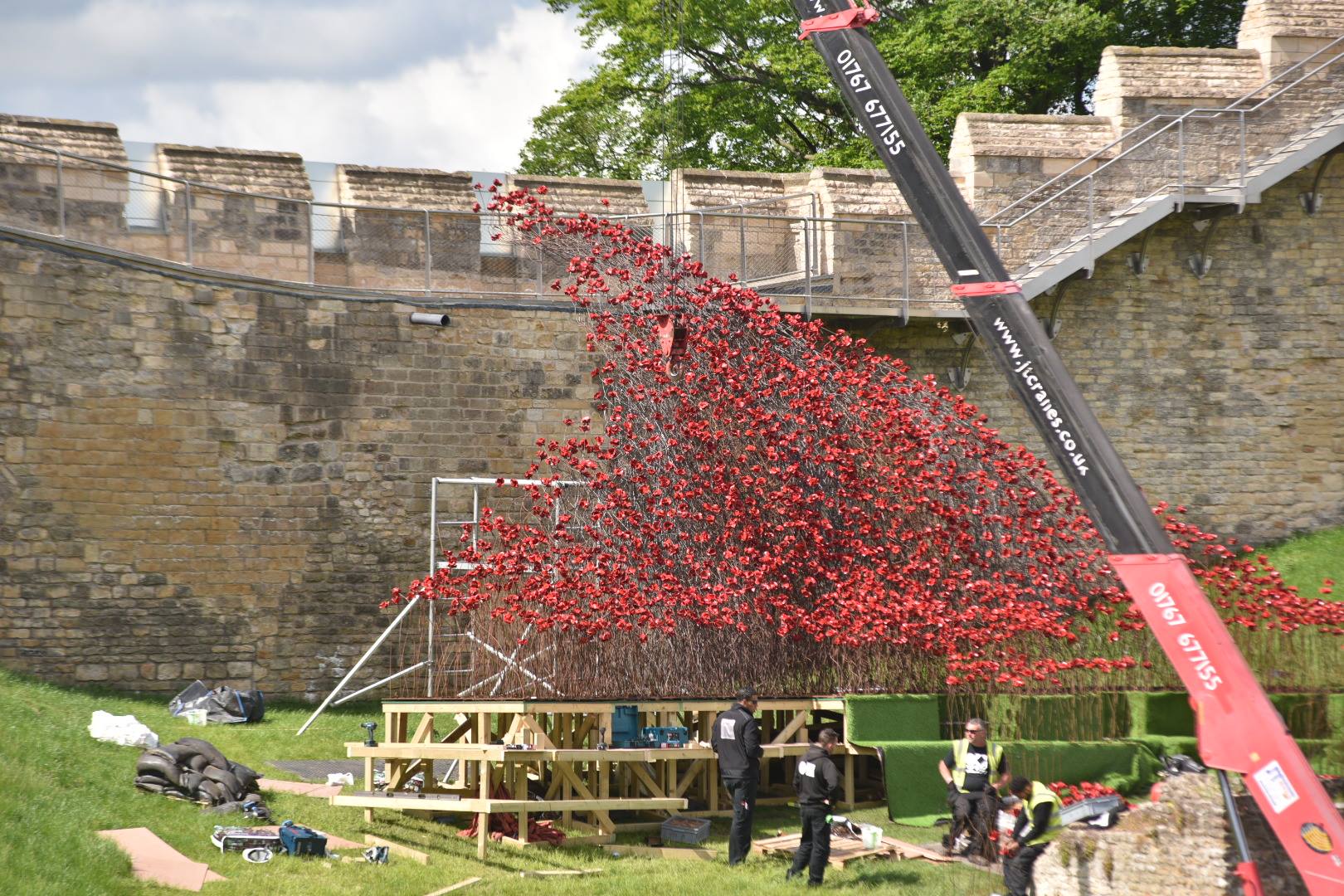 People will have their first chance to see the iconic poppy sculpture Wave, by artist Paul Cummins and designer Tom Piper, at Lincoln Castle on Thursday – two days earlier than expected.
Thousands of ceramic poppies, seen previously in a famous Tower of London installation, are beginning to form a wave of scarlet reaching for the walls of the castle as part of the UK-wide tour by 14-18 NOW.
Poppies:Wave will be open to the public earlier than planned, with two public preview days from 10am on Thursday, May 26 and Friday, May 27, ahead of the busy Bank Holiday weekend.
The installation can be seen by all those visiting the castle until September 4, 2016.
The sculpture is one of two which formed 'Blood Swept Lands and Seas of Red' housed at HM Tower of London in 2014.
Lincoln was chosen to host Wave for the First World War centenary, as it was a major centre for the manufacture of weapons and munitions during the conflict.
In particular, the city was responsible for the development of early tracked vehicles resulting in the world's first operational tank, first used in action in 1916.
Some 5,500 poppies arrived on articulated lorries on Thursday, May 19. Since, the display has been gradually assembled by a team of technicians and producers to form a cascading arch.
Wave is one of two sculptures taken from the installation Blood Swept Lands and Seas of Red – poppies and original concept by artist Paul Cummins and installation designed by Tom Piper.
The installation was originally at HM Tower of London in 2014 where 888,246 poppies were displayed, one to honour every death in the British and Colonial forces of the First World War. The installation was by Paul Cummins Ceramics Limited in conjunction with Historic Royal Palaces.
Councillor Nick Worth, Executive Member for Culture and Heritage, said: "It's a tremendous honour for us to host this iconic work, and I'm sure the castle will be a wonderful setting for it.
"The county has strong connections with the First World War, particularly the Battle of the Somme, which has its 100th anniversary coming up. Seven Lincolnshire battalions fought there, and having the poppies here will be a fitting tribute.
"Entry to the castle grounds to see the sculpture will be free, and I'm sure people will travel from far and wide to see it. That means we're likely to be very busy over the coming months, so please leave plenty of time for your visit."
Jenny Waldman, Director, 14-18 NOW, added: "We are delighted to present the poppies at the recently restored Lincoln Castle as part of their tour of the UK.
"The poppies have an incredible ability to bring generations together to share stories of the First World War, and I am sure they will have the same impact in Lincoln.
"I am hugely grateful to the government and all our supporters, in particular the Backstage Trust, and our transport sponsors DAF Trucks, for enabling this landmark presentation to happen."
Wave can be seen at Lincoln Castle until 4 September 2016. The castle grounds are open each day from 10am to 5.30pm (main castle attractions close at 5pm).
Although entry to the castle grounds is free, the usual admissions charges will apply for the other castle attractions.
There is no need to book in advance to see Poppies: Wave. However, there are likely to be queues at weekends and during school holidays.