Lincoln university staff to strike over pay amid threats of marking boycott
University staff in Lincoln will take part in a two day walk-out in a row over pay from Wednesday, May 25. The University and College Union has called on Lincoln branch members to also commit to 'contract only' working hours and begin preparations for a marking boycott during the autumn term. UCU members will be picketing at…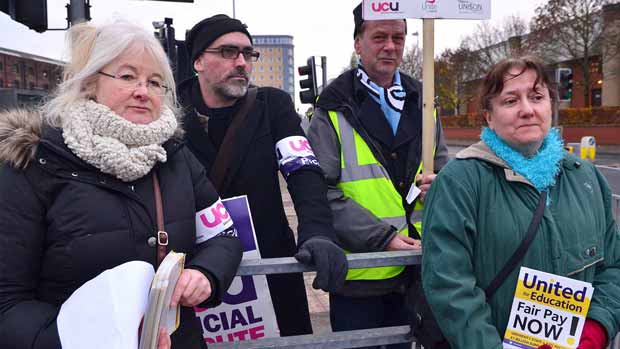 University staff in Lincoln will take part in a two day walk-out in a row over pay from Wednesday, May 25.
The University and College Union has called on Lincoln branch members to also commit to 'contract only' working hours and begin preparations for a marking boycott during the autumn term.
UCU members will be picketing at the main entrances to the University of Lincoln's Brayford Campus on Wednesday and Thursday from 7am.
The Universities and College Employers Association (UCEA) recently offered a pay rise of 1.1% to university staff.
The union accused employers of "blatant double standards," referring to a Times Higher Education Survey which revealed university leaders were receiving far greater increases in their salaries.
At a recent ballot, 65% of members voted for strike action and 77% of members voted for action short of a strike.
In response to this, the union's Higher Education Committee (HEC) agreed a comprehensive programme of industrial action.
Sally Hunt, UCU General Secretary, said: "It is clear that without disruptive industrial action, sustained for as long as it takes, there will be little movement from the employers on either the final pay offer of 1.1% or on two other substantive issues: the gender pay gap in universities and the routine use of casual contracts.
"The comprehensive survey by Times Higher Education magazine shows a latest annual increase in pay and benefits (excluding pensions) of 6.1% for university leaders.
"One in five universities gave their leaders a rise of 10% or more. The Times Higher Education compares that to an average increase of 1.3% for staff over the same period.
"Yet while university leaders have received pay increases many times higher than inflation, the final pay offer to staff of 1.1% is described by the employers as the 'very best offer' possible. This simply cannot stand."
From May 25, UCU members say they will be 'working to contract', in this case, not working longer than 37 hours a week every week until further notice and, following this, a series of one-day strikes.
The union also says it is making detailed preparations for a full setting and marking boycott to begin at an agreed point during the autumn term.
A University of Lincoln spokesperson said: "The industrial action planned for Wednesday 25th and Thursday 26th May is part of national industrial action in relation to the sector pay offer.
"Negotiations over this offer are handled on a national level by the Universities & Colleges Employers Association (UCEA). On a local level here at the University of Lincoln, we will strive to minimise any disruption to students."
It is unclear at the time of publishing whether lecturers from Bishop Grosseteste will be taking part in the two day walk-out.