Police attend altercation involving hate preachers on Lincoln High Street
Lincolnshire Police were called to Lincoln High Street this afternoon after a row broke out between shoppers and a group of public speakers. The incident occurred near to the High Street war memorial at around 2pm. A number of police officers were called to the area after reports of offensive comments made by religious preachers.…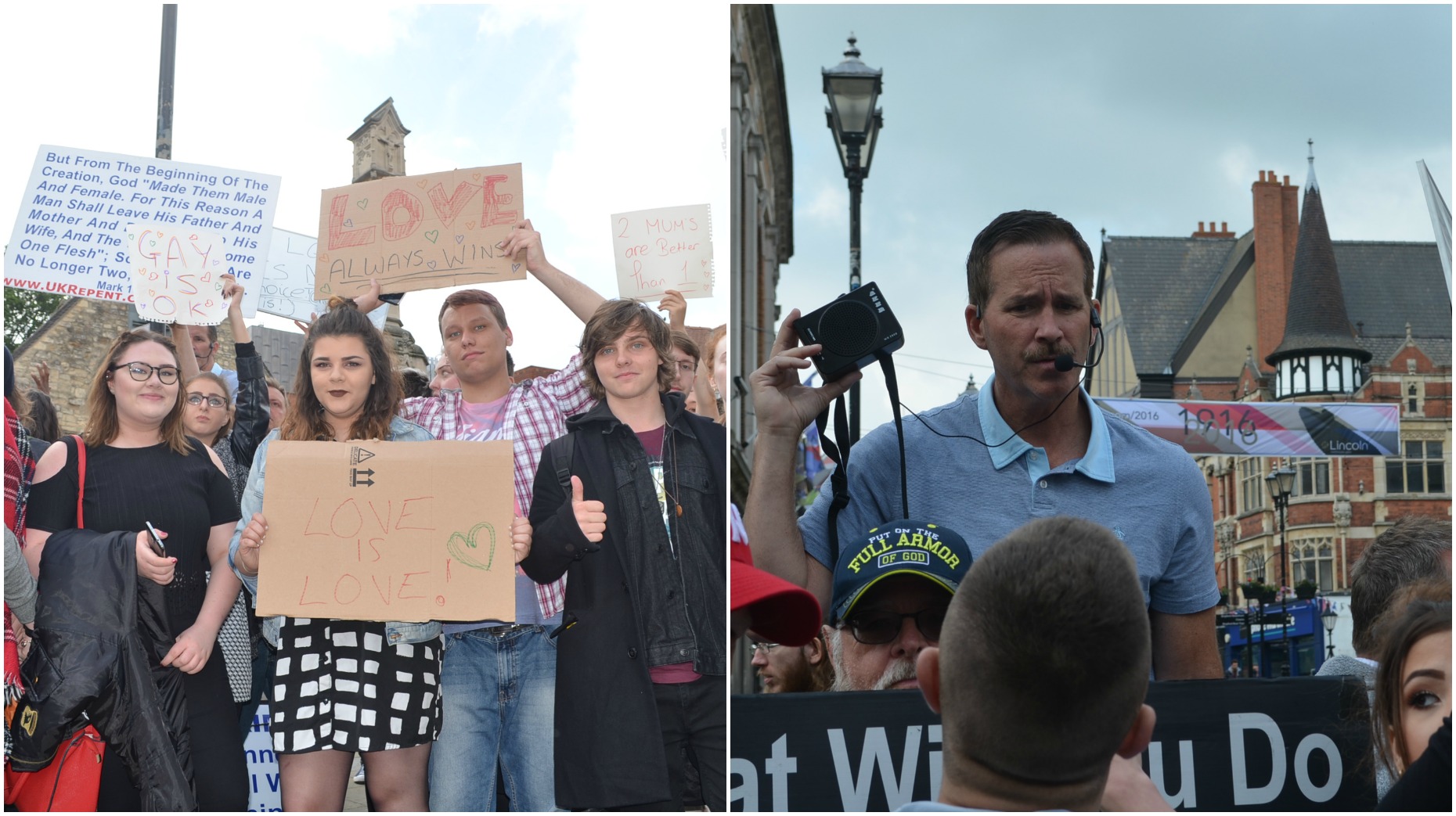 Lincolnshire Police were called to Lincoln High Street this afternoon after a row broke out between shoppers and a group of public speakers.
The incident occurred near to the High Street war memorial at around 2pm.
A number of police officers were called to the area after reports of offensive comments made by religious preachers.
A reporter on the scene described escalating aggression long after 4pm, with one member of the public pushing a speaker from his platform.
Eyewitnesses reported clashes between a group who were holding signs with the footer www.ukrepent.com and passers-by, who were angered at messages condemning "sinners".
The group of four men were standing on a soapbox with a microphone, reading from religious texts. One read: "Hate crime: To let sinners go to hell with no warning."
Blair Greenwood, 26 from Lincoln, told The Lincolnite he had confronted one man who was preaching messages of hate against homosexuality.
He said: "They were targeting people on the street and branding homosexuals as sinners.
"I approached one man and suggested the phrasing on his sign should have been re-worded in light of the recent shootings in Orlando.
"He told me 'We're warning you you'll go to hell rather than sending you to hell. You'll all go sooner or later.
"I'm married to another man and it's because of people like that that I can't walk down the street without worrying I'll be attacked. This is 2016, it isn't the dark ages.
"Even if they don't agree with how I live my life there is no excuse for giving hate crime a free pass. I'm religious and my husband is religious but never would we demonise people like that."
A number of University of Lincoln students also gathered in front of the speakers with placards reading "Gay is OK".
No arrests have been made at the time of writing. A police spokesperson said: "Whilst we understand offence was caused, we did not find evidence to suggest that the speaker was breaking the law."