Roman skeletons discovered on University of Lincoln building site
Roman remains of two infants have been uncovered by archaeologists at a previously undiscovered cemetery in Lincoln city centre. The skeletons of the infants and an adult have been found while work has been carried out to prepare the ground for the University of Lincoln's new Sarah Swift building on Brayford Wharf East. One of the infants…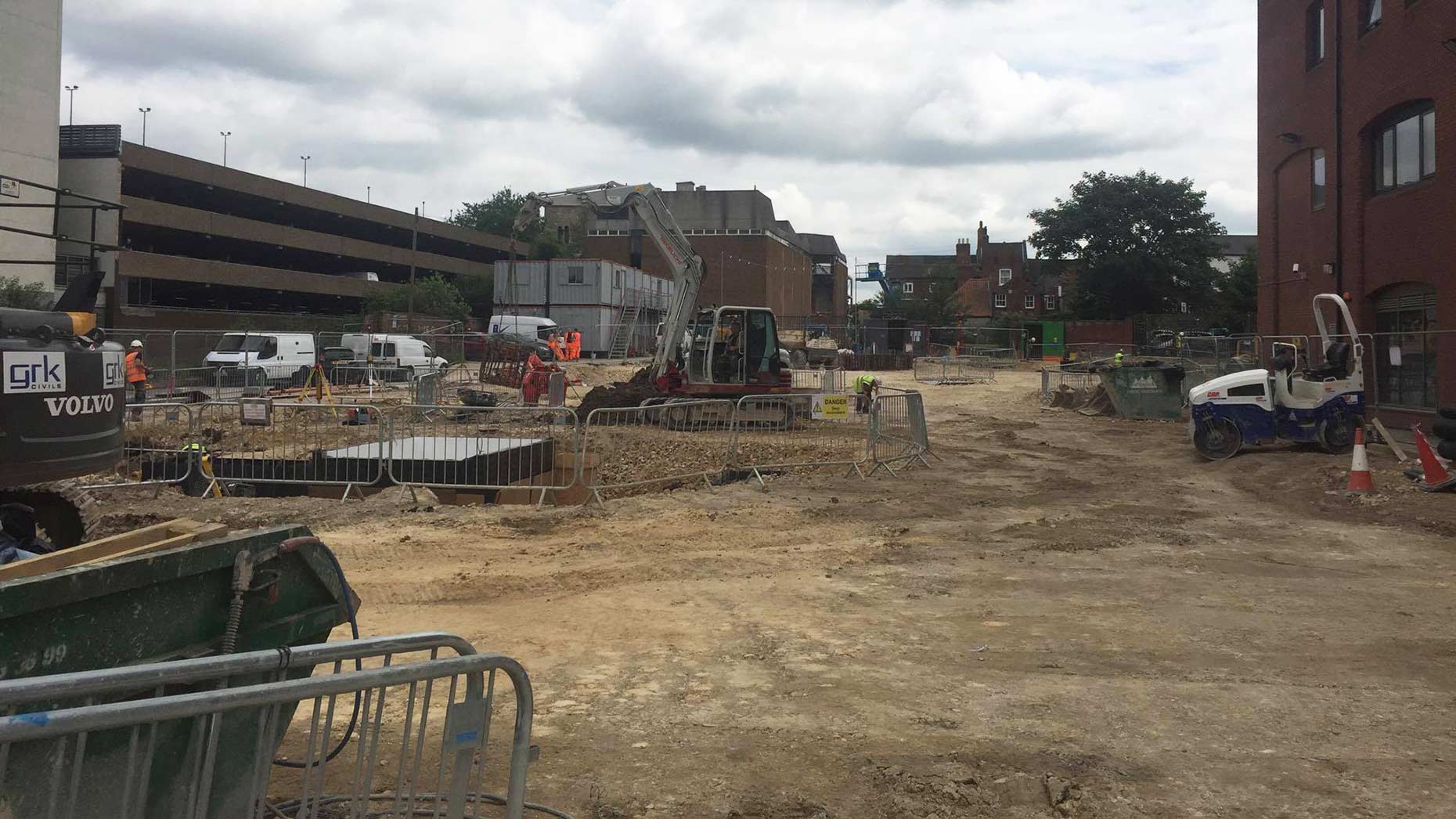 Roman remains of two infants have been uncovered by archaeologists at a previously undiscovered cemetery in Lincoln city centre.
The skeletons of the infants and an adult have been found while work has been carried out to prepare the ground for the University of Lincoln's new Sarah Swift building on Brayford Wharf East.
One of the infants had been carefully buried beneath a roof tile, and the cremated remains of a further individual were found within an urn nearby.
A large slab of stone, structures from walls, animal bones and sherds of Roman pottery have also been excavated on the site, with the first remains discovered on June 14.
The new discoveries are expected to help archaeologists further understand the Lincoln's Roman history.
City archaeologist Alastair MacIntosh said: "Previous archaeological work in the area has revealed evidence of Roman buildings dating from the 1st century onwards and until now it was thought that the area was only used for housing, so this is an exciting discovery."
Carenza Lewis, an archaeologist and Professor for the Public Understanding of Research at the University of Lincoln, added: "We'd expect burials alongside roads leading towards a Roman city, so these discoveries may reflect this area being outside the earliest city.
To find two infants in this small assemblage is intriguing. Further analysis might be able to tell us more about why these people were buried in this spot, but the tile covering suggests someone cared about this child.
The cemetery would have been located south of the Roman city, and some 500 metres away from the junction of two of the most important roads in Roman Britain – Ermine Street which ran from London to York along the route of the current A15, and the Fosse Way which ran from Lincoln to Exeter.
This is the latest Roman discovery in the city, which has its foundations in the Roman period.
A military fortress was constructed around 50-60 AD, soon after the legions first arrived in the area, but as peace was established from around 90 AD, the site was developed into a self-governing town for retired legionaries, named Lindum Colonia.
Project manager Gavin Glover from Allen Archaeology Ltd, said: "What we have uncovered so far indicates that we have probably located part of a cemetery used over an extended period of time, but we can't draw definitive conclusions at this early stage.
It's fair to say that it was not a find that we expected and is very interesting.
Once all the archaeological work is completed the remains and related finds will be displayed at The Collection museum.