July 7, 2016 10.47 am
This story is over 65 months old
Lincoln set as stage to host series of WWI tributes
Lincoln has been decked out by renowned theatre and set designers to stage a series of commemorative WWI events. Visit Lincoln and Lincoln Business Improvement Group teamed up with husband and wife designers Emma and Giuseppe Belli to dress the city in street flags, totems, plaques and bunting in time for a host of commemorative…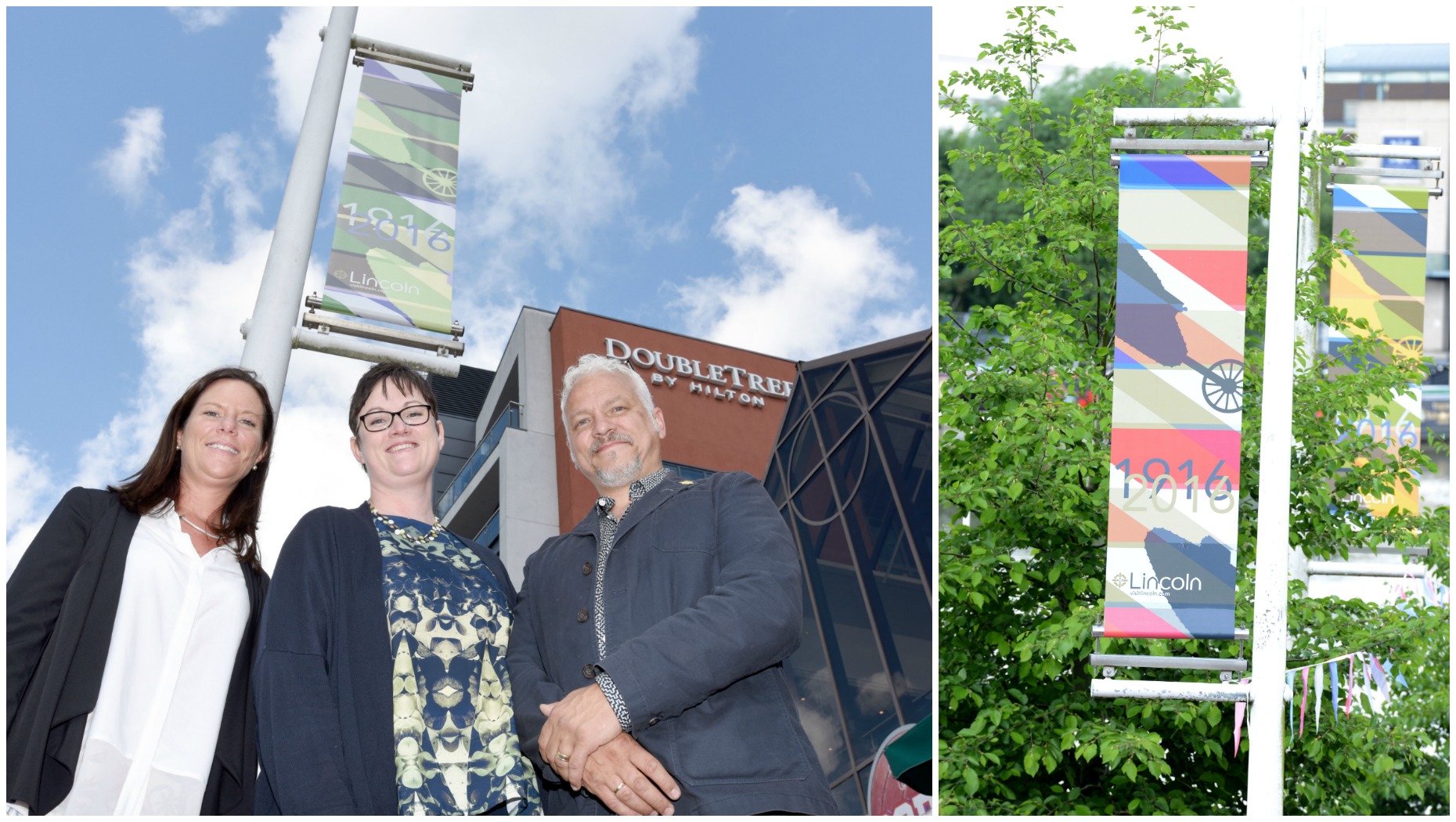 Lincoln has been decked out by renowned theatre and set designers to stage a series of commemorative WWI events.
Visit Lincoln and Lincoln Business Improvement Group teamed up with husband and wife designers Emma and Giuseppe Belli to dress the city in street flags, totems, plaques and bunting in time for a host of commemorative summer events.
The creative designs incorporate images of the M1 Tank that was manufactured in Lincoln, as well as the rhomboid shapes relating to the proportions of the tank – alluding to the fields of Lincolnshire where the tank was tested.
The red plays tribute to the remembrance poppies, the red white and blue colours reflecting the Union Jack.
Designers Emma and Giuseppe are theatre designers and co-owners of 1to25scale.com.
The couple have over 42 years' experience as freelance designers in film, TV, advertising, TV costume, and then extensively in opera and theatre set design and fine art.
Emma said: "We approached the brief much as we would for a theatre piece. We started researching history, context and environment. We also looked at artists that were contemporary to the conflict, and drew on previous research that we'd done for past shows.
"In addition to this our relative, Robin Wheeldon, had helped create the Mark 1 Tank sculpture on the Tritton Road roundabout, which meant our background knowledge was already reasonably expansive.
"The painting 'The Advance' by Bernard Adeney inspired us with the dynamic shape of the tank rising over the trench line. And the paintings 'Returning to the Trenches' and 'On the Way to the Trenches' by futurist war artist C.R.W Nevinson suggested a type of abstraction around overlap and repeat shapes.
"We hope our designs are eye-catching and vibrant, and that they support our city's cultural exposure in 2016, as we remember the people of Lincoln and their contribution to the shortening of a terrible war".
Emma Tatlow, head of Visit Lincoln, added: "July marks the centenary of the Battle of the Somme. And along with the Poppies WAVE at Lincoln Castle, there's a full calendar of summer events on offer, including the huge outdoor spectacular 'Green Fields Beyond' on July 16.
"It's a chance for people to discover more about, as well as commemorate the role Lincoln played during this hugely significant time in history".
For a full programme of events and activities commemorating World War One just visit the website here.