September 15, 2016 2.59 pm
This story is over 86 months old
Action against Upton pig farm totalling almost 8k signatures after Lincoln event
Almost 8,000 residents have signed a petition against a pig farm to be build in Upton between Lincoln and Gainsborough. Campaigners from Animal Aid were joined by local volunteers – and a giant pig mascot in Lincoln town centre, and encouraged local people to sign letters of objection to the plans. At this event they received 78…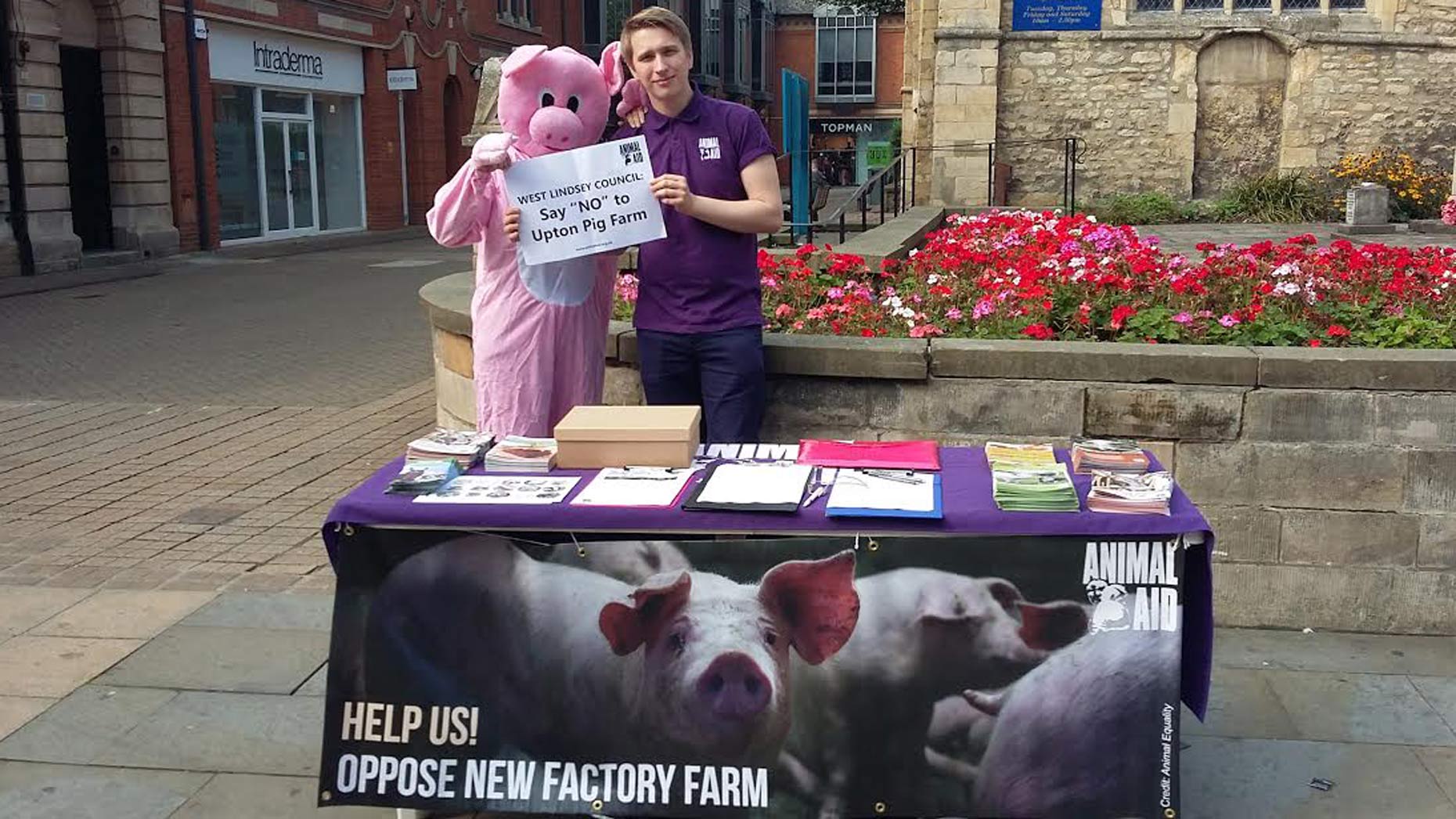 Almost 8,000 residents have signed a petition against a pig farm to be build in Upton between Lincoln and Gainsborough.
Campaigners from Animal Aid were joined by local volunteers – and a giant pig mascot in Lincoln town centre, and encouraged local people to sign letters of objection to the plans.
At this event they received 78 signatures, taking the total number of objections to 7,878.
As reported previously, plans for pig rearing units, housing 2,000 animals, a farmhouse and straw storage off Cow Lane in Upton left local residents disgruntled when it was submitted.
Many people have aired their concerns about potential noise and odours.
The plans by farmer Tim Elwess were rejected in January after a campaign sparked more than 4,000 objections.
Despite this, the plans have been resubmitted to West Lindsey District Council (WLDC) addressing noise and smell environmental impact reports, provoking a resurged public outcry.
Upton Parish Council has submitted a detailed objection to the plans, and gathered signatures of opposition from 147 residents who would be affected by the proposals.
Lincolnshire Fire and Rescue has also declared that it objects to the plans due to 'inadequate access and water supplies for firefighting.'
Isobel Hutchinson, who attended the campaign event in Lincoln, is Head of Campaigns at Animal Aid. She said: "We know that opposition to these plans is already overwhelming, and we hope that [yesterday's] event will generate yet more awareness amongst the public.
"As well as causing terrible suffering to thousands of animals, the new farm could have a deeply negative impact on this beautiful part of England, subjecting residents to increased traffic, and the threat of noise and unpleasant smells."
The applicant's agent Backside Buildings did not comment when contacted by The Lincolnite.