September 29, 2016 9.54 am
This story is over 63 months old
Red Arrows to perform in China for first time in overseas tour
The Red Arrows have today embarked on the team's biggest overseas tour in over a decade. More than 20 displays and a series of flypasts will be performed across the Asia-Pacific and Middle East regions by the Royal Air Force Aerobatic Team. The major tour, which will take two months to complete, will see the…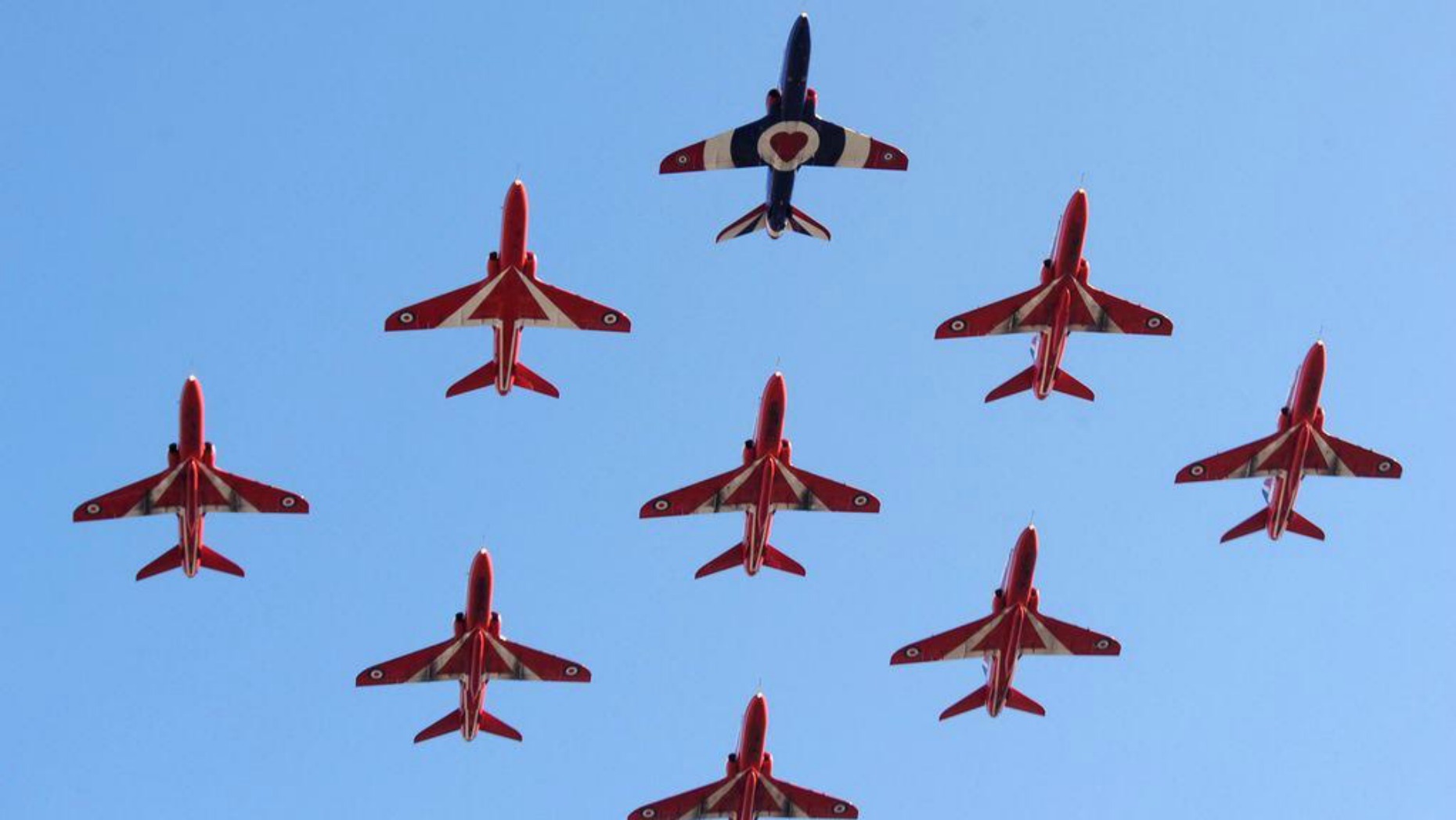 The Red Arrows have today embarked on the team's biggest overseas tour in over a decade.
More than 20 displays and a series of flypasts will be performed across the Asia-Pacific and Middle East regions by the Royal Air Force Aerobatic Team.
The major tour, which will take two months to complete, will see the Red Arrows perform in China for the first time ever.
The deployment will contribute to the UK government's GREAT campaign and showcase the best of British innovation and industry.
The Red Arrows' Tour
September 29: RAF Scampton (Departure)
October 3: Karachi, Pakistan (Flypast)
October 8: Hindon: Indian Air Force Day (Display)
October 11: Dhaka, Bangladesh (Flypast)
October 13: Singapore (Flypast)
October 14: Kuala Lumpur, Malaysia (Flypast with Typhoon aircraft)
October 17: Kuala Lumpur, Malaysia (Display)
October 20: Da Nang, Vietnam (Overnight stop)
October 23-25: Shanghai, China (Ground events)
October 28-29: Hong Kong, China (Ground events)
November 1-6 : Zhuhai airshow, China (Displays)
November 11: Hua Hin, Thailand (Displays and flypasts)
November 16: Hyderabad, India (Display)
November 17: Bangalore, India (Flypast)
November 20: Muscat, Oman (Display)
November 23: Bahrain (Flypast)
November 24: Abu Dhabi The Corniche, UAE (Display)
November 27: Abu Dhabi F1 Grand Prix, UAE (Display or flypast)
November 28: Kuwait (Flypast)
December 1: RAF Scampton (Return home)
The Asia-Pacific and Middle East Tour will see 12 Hawk T1s flown from the Red Arrows' base of RAF Scampton, in Lincolnshire, to the deployment locations.
Squadron Leader David Montenegro, Team Leader of the Royal Air Force Aerobatic Team and Red 1, said: "Ever since the team's first season in 1965, the Red Arrows have performed on a global scale.
"This year, in 2016, we are honoured to represent the United Kingdom on an even greater platform, to new locations."
China will take the number of countries the display team has performed in to 57 since 1965.
Squadron Leader Montenegro said: "Our Asia-Pacific and Middle East Tour is the Red Arrows' largest overseas deployment for a decade and will see the team perform in China for the very first time.
"The two-month deployment will raise awareness of Britain's economic offer, its industry and as a country that celebrates arts, science, sport, education and diversity.
"These performances are the result of countless people and organisations, both in the UK and overseas, who have supported the team and made this possible – for which everyone in the Red Arrows would like to express sincere gratitude."