September 21, 2016 2.13 pm
This story is over 67 months old
Santa Fun Run launched at Lincoln Castle Square
The Rotary Club of Lincoln Colonia has launched the 2016 University of Lincoln – Lincoln Santa Fun Run. The launch event, which took place on Wednesday, September 21, saw sponsors and charities meet at Castle Square Lincoln. The event on Sunday, December 11 is expected to have around 2,500 people dressed as Santa run the 3.5…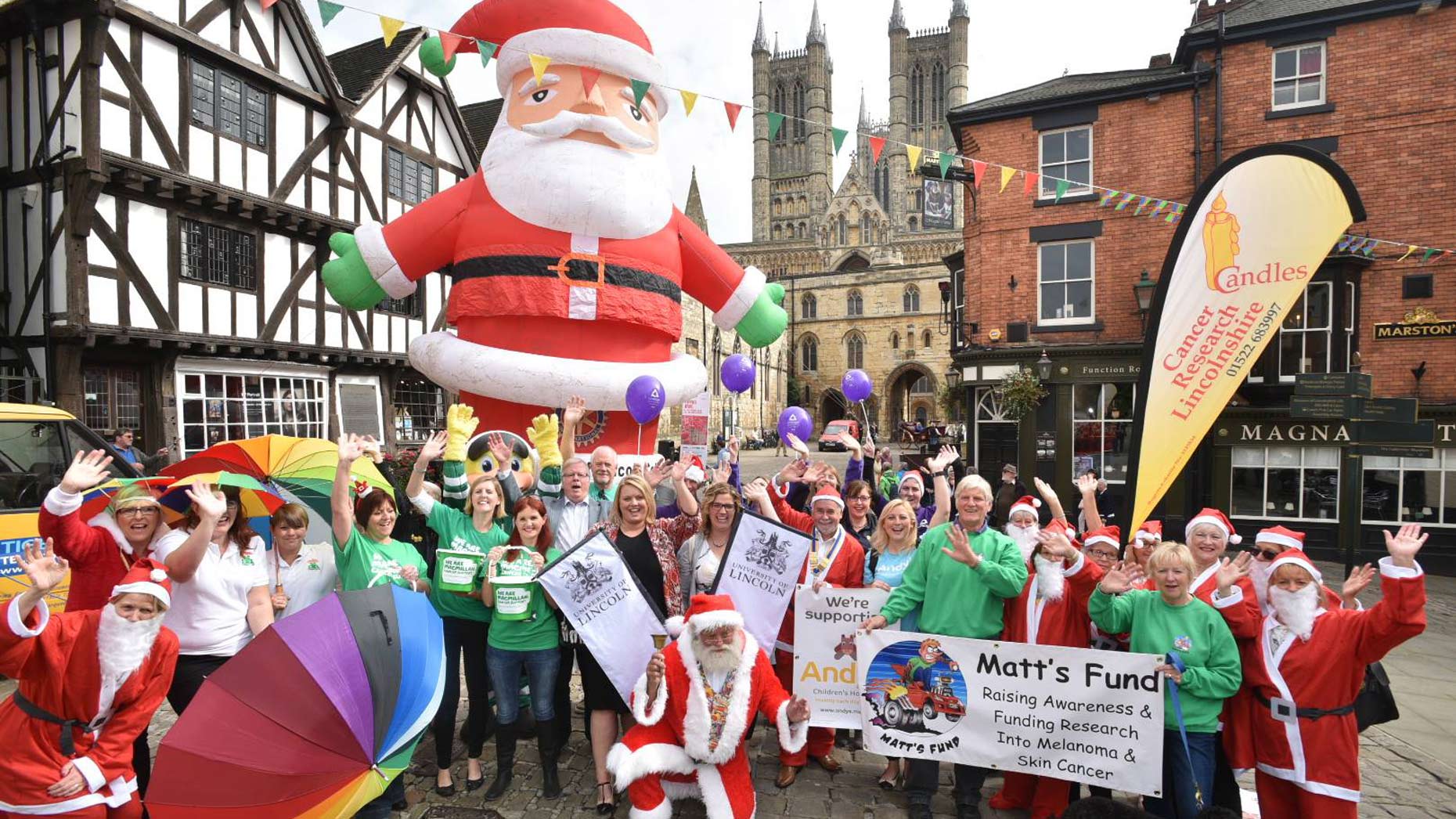 The Rotary Club of Lincoln Colonia has launched the 2016 University of Lincoln – Lincoln Santa Fun Run.
The launch event, which took place on Wednesday, September 21, saw sponsors and charities meet at Castle Square Lincoln.
The event on Sunday, December 11 is expected to have around 2,500 people dressed as Santa run the 3.5 km course around the Bailgate area of Lincoln.
This year will also see a dog run with around 200 dogs on the route and a competition for the best dressed 'reindeer dog'.
Ray Peters, organiser of this year's event, on behalf of the Rotary Club of Lincoln Colonia, said: "This is one of the biggest fundraising events on the calendar for Lincoln.
"It's a very important event and anyone can take part."
Duncan Gerrard, from the Rotary Club of Lincoln Colonia, said: "Last year we raised over £100,000 associated with the event. This year will be the eleventh year of the fun run.
"When it says it's a fun day, it is exactly that. A family fun day."
For the first time, the title sponsor for the event will be the University of Lincoln.
Lesley Bunn, assistant director of marketing at the University of Lincoln, said: "The university, we hope, is a little part of the heartbeat of the city, so the fact that there are so many organisations coming together to do something so fantastic, that was a great opportunity for us to show our support."
The ten nominated charities for the event include:
Candles
Samaritans Lincoln
Umbrellas
LIVES
Linkage
St Andrew's Hospice
Macmillan Cancer Support
Lincolnshire and Nottinghamshire Air Ambulance
Matt's Fund
The Rotary Club of Lincoln Colonia
Tanya Taylor, a fundraiser for Macmillan Cancer Support, said: "We were absolutely amazed and delighted to receive the news that we were going to be one of the nominated charities.
"It is going to make a huge difference to people affected by cancer locally.
"Every day 13 people in Lincolnshire get the devestating news that they have got cancer so the money raised will have a direct impact on local people."
For more information for the event and to download a sponsorship form visit the website.