January 27, 2017 3.55 pm
This story is over 59 months old
Dambuster war hero George 'Johnny' Johnson makes his mark on Lincoln Knight design
A Lincoln artist was paid a visit by the last surviving British Dambuster George 'Johnny' Johnson, who made a special contribution to her Bomber Command Lincoln Knight design. Rosie Ablewhite, a professional artist based in the city, is in the process of painting her 'Knights of the Skies' Bomber Command-themed sculpture, which will form part of…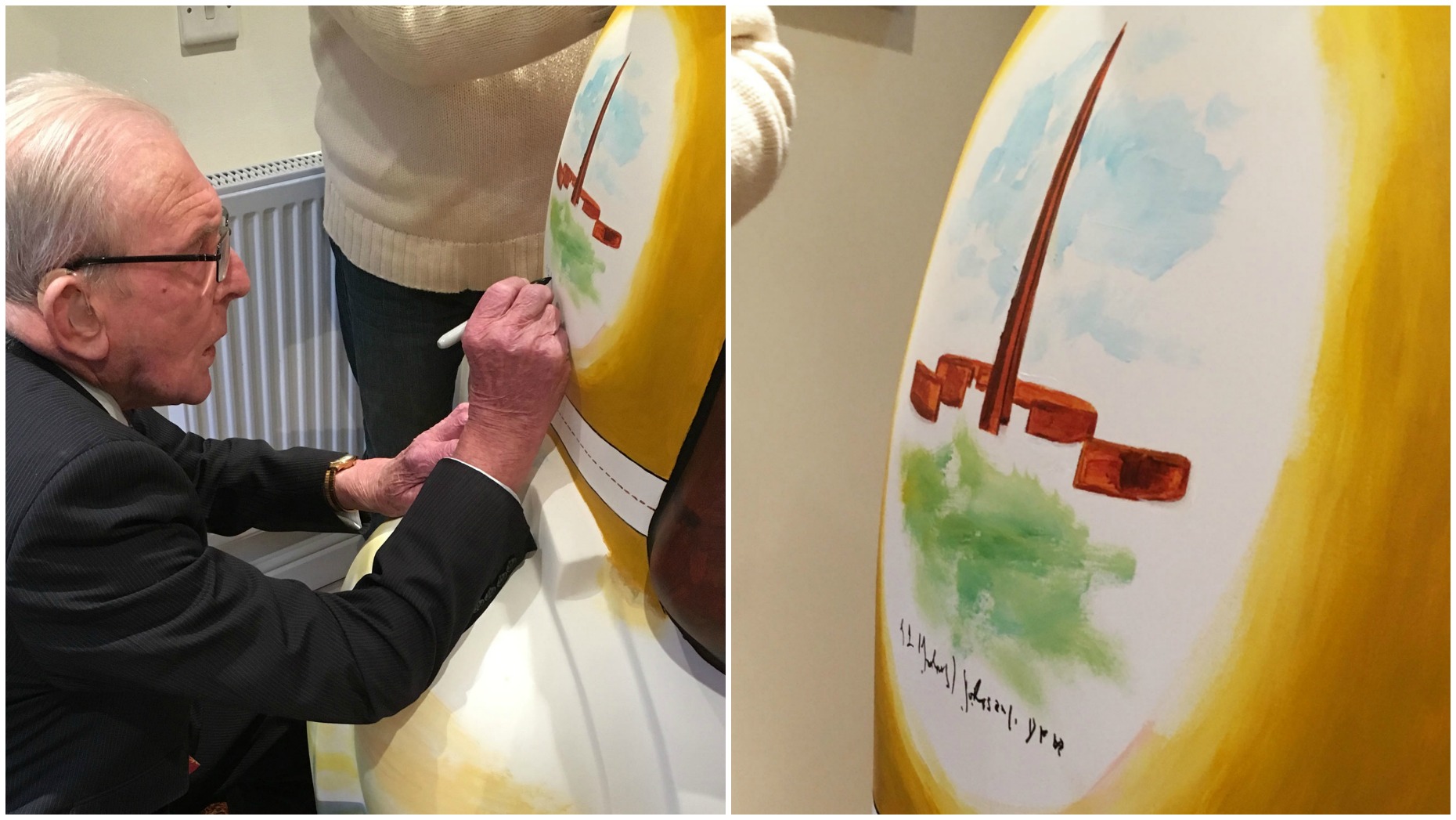 A Lincoln artist was paid a visit by the last surviving British Dambuster George 'Johnny' Johnson, who made a special contribution to her Bomber Command Lincoln Knight design.
Rosie Ablewhite, a professional artist based in the city, is in the process of painting her 'Knights of the Skies' Bomber Command-themed sculpture, which will form part of a trail through the city this summer.
Johnny, who made national headlines this week as a petition calling for him to be knighted was delivered to Downing Street by TV presenter Carol Vorderman, dropped by to see how the project was coming along.
He then added his signature to the piece, which honoured Bomber Command crews.
He'd been visiting the area to give a talk under the Vulcan at RAF Waddington for charities including the International Bomber Command Centre.
The 'Knights of the Skies' knight is sponsored by Game Engineering, based in Witham St Hughs.
A spokesman for the company said: "Our 'Knight of the Skies' is really taking shape.
"The location of our offices in Witham St Hughs is on part of the old WW11 RAF Swinderby Bomb Store, and we are huge supporters of the IBCC, which is due to open on Canwick Hill later this year.
"We wrote a brief for the artist, asking for a Bomber Command themed Knight, and the design Rosie suggested won us over. Getting Johnny's signature is the icing on the cake."
Rosie, 27, grew up in Long Bennington and studied fine art at Lincoln University. She said: "It was a privilege to meet Johnny and I fully support Carol Vorderman's campaign for him to receive a Knighthood for his charity work."
The finished Knight will be on display in the Castle Square in Lincoln from May 20 to September 2.
ALSO READ: Artists get to work bringing Lincoln Knights' Trail sculptures to life