Lincoln Cathedral ghost encounter inspires woman to start own paranormal podcast
A Lincoln woman has started her very own paranormal podcast after taking a picture of what she believed to be two ghostly figures in Lincoln Cathedral. Leah Harrison, 35, was visiting the cathedral six years ago when she took the picture, and it's been on her mind and sparking debates ever since. "There wasn't anyone…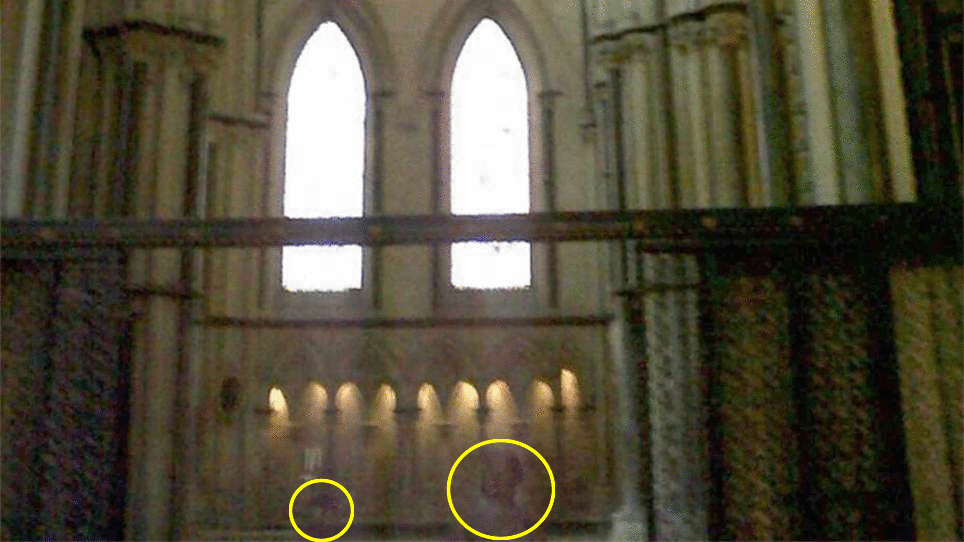 A Lincoln woman has started her very own paranormal podcast after taking a picture of what she believed to be two ghostly figures in Lincoln Cathedral.
Leah Harrison, 35, was visiting the cathedral six years ago when she took the picture, and it's been on her mind and sparking debates ever since.
"There wasn't anyone around and we were a bit spooked," Leah said. "I remember giggling and saying 'ooh there might be a ghost in there.'"
"It wasn't until we got back that we saw it for ourselves."
Leah believes that the image shows a woman (right) and a young boy in a chimney sweep hat (left). She told The Lincolnite other people have interpreted the figure as a man with a beard or a member of the clergy.
Leah said: "I'm quite an open-minded person but I still have a sceptic side.
"This sort of photo is the ticket. It's what makes me believe."
Paranormal Podcast
Six years on from taking the photo Leah is now staring her own paranormal podcast, Hitchhikers Guide to the 42.
She says that the podcast is a way for her to explore her own paranormal experiences and to help people share their own.
"My friends were sick of me sharing articles on Facebook about ufology and the paranormal.
"I had a dream about starting my very own podcast and discovering answers about how the fields of ufology and the paranormal are connected.
"The next morning I spoke to my friend. He helped me set up site and a month later I've got ten shows online.
"Not everyone on the show is a believer. I've spoken to everyone from scientists to parapsychologist Stephen Mera. Stephen has been on TV and lectures at Manchester Metropolitan University.
"The podcast is something I've enjoyed making. I find people and their lives interesting and it gives me an opportunity to share their stories."
Despite being a firm follower of the paranormal, Leah respects the fact that people can be doubtful of her experiences.
"Everyone is entitled to their opinion. We leave in a free speech world and ultimately it's down to the individual."
"It's healthy to be sceptical, otherwise you'll end up in the nuthouse"
"My mum isn't a believer. She's open to the idea and she loved the photo but she doesn't believe in the afterlife. The only thing that sways her opinion is that photo."
"If anyone has any stories to share i'd invite them to join me on my podcasts. Even sceptics, i'd love them to come on a tell me why they don't believe."