November 3, 2017 3.26 pm
This story is over 72 months old
Five jailed for total of 50 years after imprisoning and torturing drug addict
"He had a gun. I was petrified. He poked it into my mouth and on my head."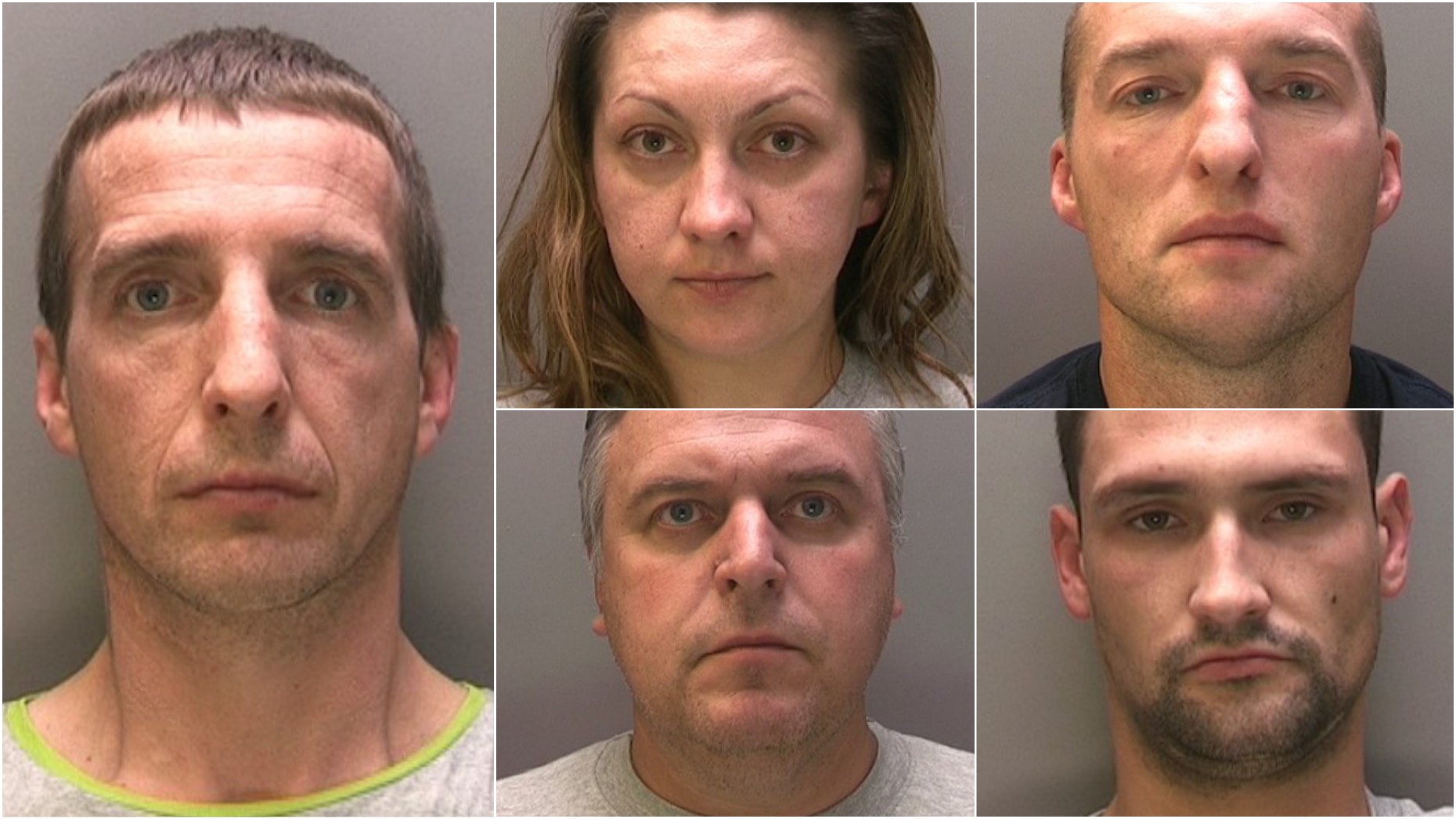 Five people who imprisoned and tortured a drug addict after he went to a house in Gainsborough looking to buy MCat were today given jail sentences totalling 50 years.
Victim Lee Torrance was left terrified after he was repeatedly kicked and punched before being handcuffed and subjected to water-boarding.
During a two hour ordeal a hand gun was also put into his mouth and then rammed against his head.
Lincoln Crown Court was told that the incident happened after he called at the home of drug dealers Aivaras Sepronas and Jurgita Makaroviene in Ashcroft Road, Gainsborough.
During the incident three other men joined in the attack and torture after being summoned to the house to assist.
Judge John Pini QC, passing sentence, described Aivaras Sepronas as the ring leader and jailed him for 18 years including a three year licence extension.
Egidijus Zukauskas and Vidas Aleksandravicius were each jailed for 10 years. Andrius Svetickas was jailed for seven years and Jurgita Makaroviene was jailed for five years.
The judge said: "This arose out of the false imprisonment of Lee Torrance and his subsequent torture and ill-treatment at your hands. Mr Torrance was petrified. The whole ordeal was utterly terrifying for him. Quite why this happened was not resolved by the evidence but I am satisfied it was drug related."
Aivaras Sepronas, 44, of Ashcroft Road, Gainsborough; Andrius Svetickas, 27, of Parnell Street, Gainsborough; Egidijus Zukauskas, 44, of Ashcroft Road, Gainsborough; and Vidas Aleksandravicius, 50, of Parnell Street, Gainsborough, all denied charges of false imprisonment and assault occasioning actual bodily harm as a result of the incident on November 15, 2015 but were found guilty by a jury.
Sepronas was also convicted of possession of a firearm with intent to cause fear of violence; possession of a prohibited weapon, possession of prohibited ammunition. He denied the charges. He denied supplying drugs but was found guilty by the jury on an 11 to 1 majority
Jurgita Makaroviene, 35, of Ashcroft Road, Gainsborough, denied false imprisonment and assault occasioning actual bodily harm. She was convicted of false imprisonment but cleared of assault. She was convicted of supplying drugs on a 10 to 2 majority.
During a trial earlier this year Mr Torrance described in graphic detail of how he was held prisoner and then tortured during an ordeal that lasted at least two hours.
He said: "I went to the house to score drugs. I rang the bell and didn't get an answer. I went round the back and jumped over the fence.
"A man opened the door and told me to go in and sit down."
He said the man went to speak to two women whom he believed were also buying drugs and then began the attack.
"He started punching me all over. There was no warning.
"I didn't try to fight back. A woman came from the living room and she was punching me as well. They were beating hell out of me.
"They put handcuffs on me. Then they put me into the corner of the room. Both of them were hitting me and punching me. They were kicking me all over.
"He had a gun. I was petrified. He poked it into my mouth and on my head."
He said he was asked who had sent him and was then struck with a baton wielded by the woman.
Three more people then came into the room, he said, and after a further beating he was blind-folded and subjected to water-boarding.
"My shoes and socks were taken off. They were tipping water over my face. I couldn't breathe. I was panicking.
"My head went into the bucket. All of it. There was water in the bucket. My head was submerged for thirty or forty seconds.
"My head was put in the bucket perhaps ten times. It finished because they got a cane and were whacking the bottom of my feet. I was screaming."
He said a gun was fired into the air and then he was allowed to leave.
Mr Torrance said he made his way to the home of relatives and the emergency services were called.
In a victim impact statement read out in court Mr Torrance said that since the attack he has had to leave Gainsborough and is now receiving psychological help and counselling.
He said he lives in fear of being tracked down by his attackers and continues to have nightmares.
He said: "The incident has affected me deeply psychologically. My life is a complete mess. I can't understand why they did this to me. I only went to score some MCat and I nearly ended up getting killed."
Shahid Rashid, for Sepronas, said his client was asleep when Mr Torrance went into the house and he thought he was dealing with an intruder.
Mark Watson, for Makaroviene, said she was not involved in the assault and told the court: "She is clearly a good person who was living at the time in the wrong place."
He said that since her arrest she has been diagnosed with cancer and has undergone chemotherapy and radiotherapy treatment.
John Lucas, for Zukauskas, said he was a hard-working man who came to the UK from Lithuania to earn money to support his family.
"He regrets doing it. He made a fatal error of judgement and got involved."
Michael Cranmer-Brown, for Aleksandravicius, said he was told that Sepronas had been attacked and agreed to drive Zukauskas, who was his boss, to the property.
"He came here to work and earn more money than was available in Lithuania."
John McNally, for Svetickas, said he was asked to become involved as he speaks good English and acted as an interpreter during the incident. He then helped Mr Torrance who later told police: "If it wasn't for him I don't think I would have got out."