February 1, 2018 3.39 pm
This story is over 46 months old
Lincoln's 'Brain Damaged Baron' sets worldwide walking marathon challenge
Walk with the Brain Damaged Baron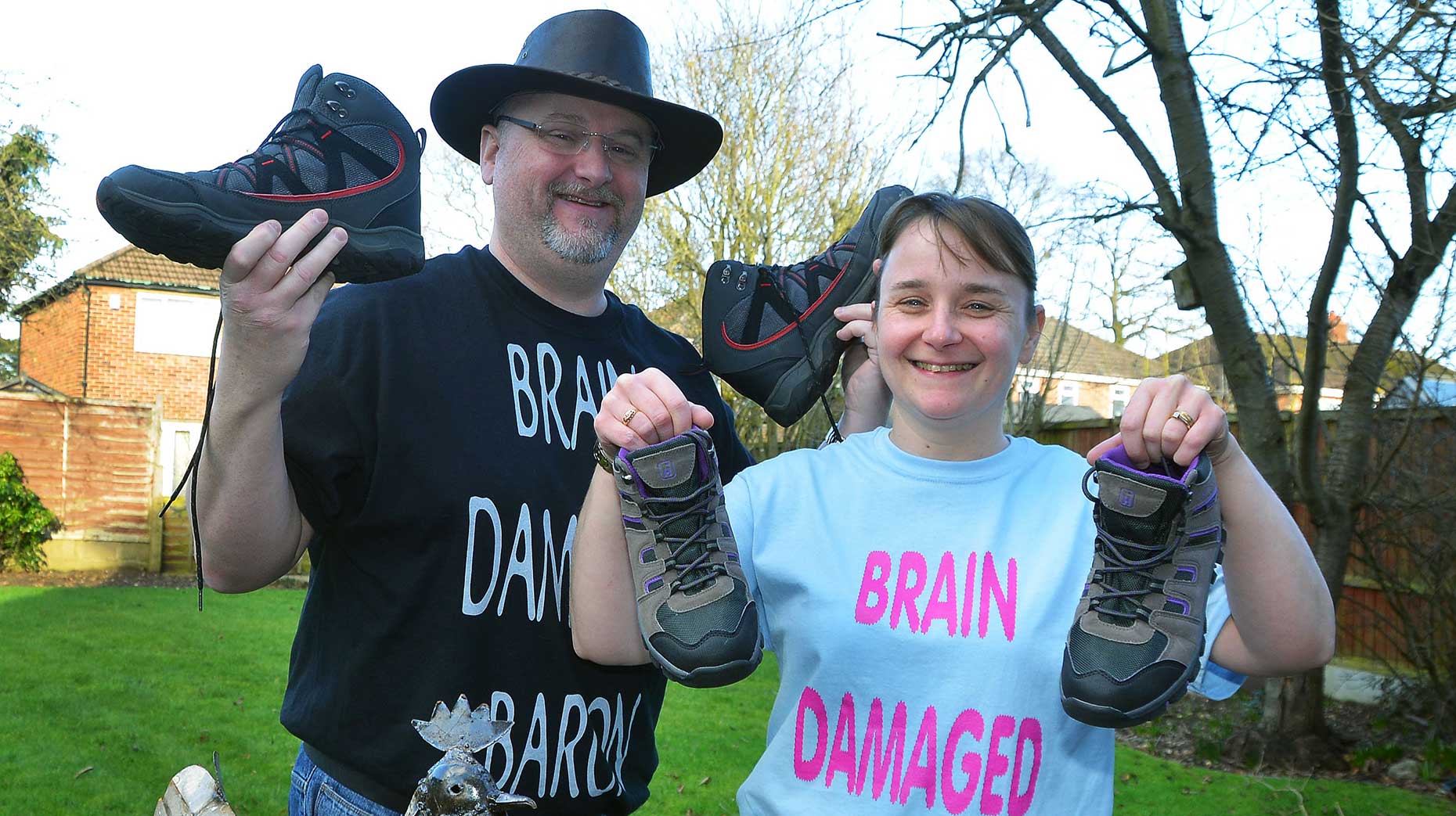 Brain injured Lincoln veteran Andy Nicholson is inviting fundraisers to don their boots and walk a marathon for charity.
His ambitious mission has touched the hearts and minds of people from across the globe and is slowly gathering pace online.
Andy, 48, incurred his brain injuries 23 years ago when he fell 20 feet down a partially built house stairwell on a German construction site.
He was left in a coma. His devastated family at his bedside had been told he would probably not survive.
Today, he considers the best medicine to be laughter, which he shares in abundance with wife and full-time carer Sharon, who he has been married to for three years, and her children Holly, 12, and Joshua, 16.
Andy has dubbed his fundraiser on July 1, 2018 'Walk with the Brain Damaged Baron', a hereditary title he won in a fun auction.
Along with other willing fundraisers, we'll trudge 26 miles to Leadenham and back from the Plough Pub in Bracebridge, Lincoln at 10am.
Walkers will be able to stop at shops, pubs and toilets. There are also plenty of regular buses for walkers who may wish to finish early.
His initiative has already captured the minds of groups and organisations from at least six other countries.
Andy said: "The early feedback has been astonishing. Small groups all over the place are springing up in support.
"The Brain Injury Association of America has offered to "partner up." Headway UK, Epilepsy Action, Brain Injury Australia and others are interested. To me, sitting here on my sofa, that is amazing.
"My Facebook page has attracted followers in Australia, Ireland, Switzerland, New Zealand, Canada and Indonesia organising walks too.
"I am so enthusiastic about my idea, I decided to 'go global', by encouraging people who are physically unable to join me in Lincolnshire, to be with me in spirit by walking for their chosen charity at the same time as me wherever they happen to be in the world.
"I want them to do their own marathon. Depending on their individual ability, that might be 26 miles or 26 metres. That doesn't matter. Everyone's effort will count and make a difference to the lives of others."
"People don't see my chronic fatigue, short-term memory problems, lack of co-ordination, the fact that I am partially-sighted or suffer from epilepsy," added Andy, who takes a daily cocktail of four different medications, uses inhalers and still regularly attends hospital.
"Raising money is vital, but I think it is even more important to increase people's understanding of what life is like for someone with brain injuries. Raising awareness is now my mission in life."
Lincolnshire alone has one of the highest numbers of brain injury survivors in the UK per head of the population.
Headway Lincolnshire Information and Support Worker Ann-Marie Smith said Lincolnshire is a hot-spot for brain-injury survivors, a situation not helped by the numerous accidents on the county's rural roads and the fact that many older people, who have suffered strokes and falls, now live at the county's coast.
"We are delighted Andy is raising awareness about the devastating injuries caused by brain injuries by organising this global walk," said Ann-Marie.
"Injuries of this nature challenge every aspect of a person's life – walking, talking, thinking and feeling. Losses are severe and permanent. People lose the life they once lived and the person they once were. Many have to relearn how to walk and speak. We wish every Andy every success with this marathon effort."