May 4, 2018 9.41 am
This story is over 50 months old
Concerns over Viking Link impact in Lincolnshire
Councillors worried about natural impact.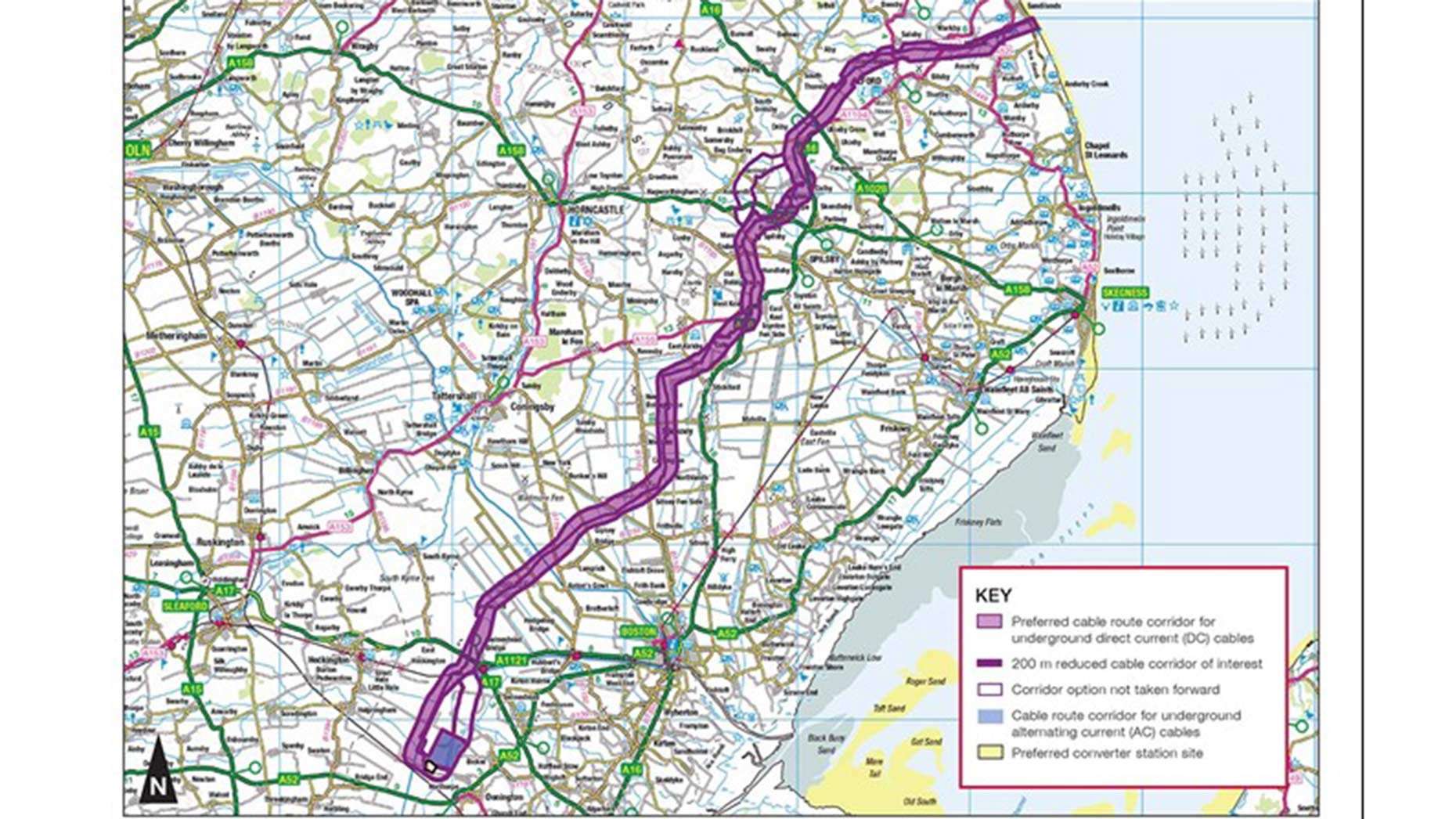 East Lindsey district councillors indicated that they would not support plans for an electricity network between Denmark and Lincolnshire in their current form due to potential damage to the Lincolnshire Wolds and impact on local businesses.
Councillors on the authority's planning committee voted by a margin of eight to four against the Viking Link scheme at a meeting in Manby on Thursday, May 3, with their comments set to be passed over to the government.
The Viking Link is a proposed 473-mile long electricity interconnector between Bicker Fen near Boston and the substation Revsing in southern Jutland, Denmark.
Electricity would pass through cables under the North Sea, arriving on the Lincolnshire coast next to Sandilands Golf Club south of Sutton on Sea in East Lindsey.
Underground cables passing through the districts of East Lindsey, Boston, North Kesteven and South Holland would carry the electricity around 41 miles to a new converter station before it is connected to the existing National Grid substation.
Planning applications were submitted to all four district councils in August 2017, with both South Holland District Council and Boston Borough Council indicating their support for the project.
Councils have been instructed by the government not to grant planning permission without specific authorisation. This allows the application to be referred to new Housing Secretary James Brokenshire for a final decision.
A number of public speakers raised concerns about the impact on farms where the cabling would pass through, and the potential to damage the Lincolnshire Wolds Area of Outstanding Natural Beauty.
Councillor Will Grover, Conservative member for Hagworthingham, was one of the speakers. He cited comments made by Danish renewable energy expert Brian Vad Mathiesen who questioned the cost and feasibility of Viking Link.
Councillor Grover, who is not a member of the committee, said: "I strongly believe that the routing needs to be reconsidered and redirected.
"Let me make this very clear. Viking Link is not a nationally significant infrastructure project. It is not needed, it is not essential and it is not economically feasible.
"I feel the current route has been chosen as the simplest option. This option if approved will quite simply have a negative impact on the Wolds and the residents who live and work there."
Councillor Jim Swanson, East Lindsey Independent Group member for Halton Holegate, was concerned about road safety on the A16.
He added: "I think it would be a distinct benefit to residents if we could keep the lights on so I think it has merit. I'm extremely worried about the damage it's doing to commercial activities, particularly agriculture up and down the route. I feel there has to be some kind of compensation.
His colleague, Councillor Jill Makinson-Sanders, who represents Louth St Marys, said: "I think we all support the idea of Viking Link but we've got misgivings about the route. We are the only Area of Outstanding Natural Beauty in the East Midlands and it is our duty to protect it."
Councillor Neil Jones, Conservative representing Sibsey and Stickney, supported the proposals.
He said: "I think this is nationally important in that we're going to get a supply of electricity to the country. I think the infrastructure can be repaired – I know it leaves a scar for a short period of time but I'm sure the companies will do everything to reinstate the Wolds as we know them."
North Kesteven District Council will be the final council to consider the Viking Link plans, and is expected to hold a meeting in the next few months discussing it.
In the last few weeks, a final investment decision on the project has been delayed for Viking Link partners Energinet and National Grid to seek "further clarity" on planning consent in Lincolnshire.
This means a probable delay in the £1.6 billion project co-funded by the European Union.
National Grid Viking Link has said that the scheme would reduce the cost of electricity and provide low carbon energy for one million households.