Steelworkers protest Donald Trump tariffs
MP Nic Daikin has invited to Scunthorpe Trump for frank discussions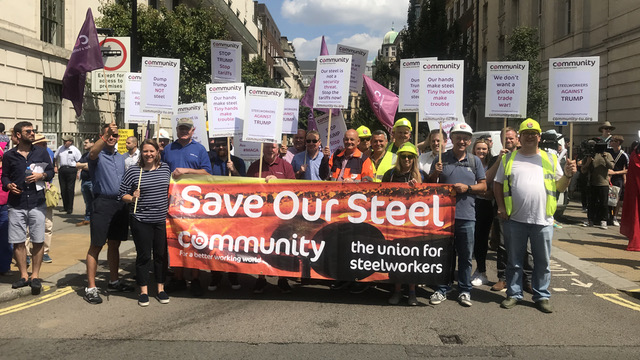 As steelworkers protested steel tariffs imposed by Donald Trump in London, the MP for Scunthorpe said he would welcome the President to the town for frank discussions.
Earlier this year, the President of the United States imposed tariffs of 25% for imports of steel and aluminium.
Now, a group of Scunthorpe steelworkers for the 'Community Union' have travelled down to London to protest the tariffs.
Some of the placards read: "Our hands make steel, tiny hands make trouble," and "metallurgists against grabbing ass."
The 'Save Our Steel' demonstration took place amid wider protests of Donald Trump's UK visit.
As the protests were taking place, Member of Parliament for Scunthorpe Nic Daikin welcomed the President for frank discussions about trade.
He said: "I want to make it clear that what Donald Trump is doing is an attack on free and fair trade. British Steel are not asking for a special trade agreement, just a fair and level playing field.
"There is already evidence of a spike in steel dumping immediately after the tariffs were imposed, so we need to do something.
"We would be pleased to see him in Scunthorpe for frank discussions about trade, that would be very positive.
"I have spoken in Parliament many times about the need for the tariffs to be removed, and I am trying to work with Donald Trump to stop the tariffs.
"The steel industry needs protection, but I have no confidence in the current Government to keep any of the protections that the European Union offers."
Speaking ahead of the protest, Roy Rickhuss, Community's General Secretary, said:
"British steelworkers need their government to stand up to Trump's bullying and use our so-called 'special relationship' to protect our jobs and our industry.
"We are sending a clear message to both Donald Trump and Theresa May that these tariffs are unacceptable and put jobs at risk on both sides of the Atlantic.
"Donald Trump is more interested in funny tweets than fair trade, and his reckless behaviour will end up hurting his own people as much as anyone else."