The Lincolnite taste test: New vegan treats from KFC, Subway, Pizza Hut and Burger King
We tried four more new vegan alternatives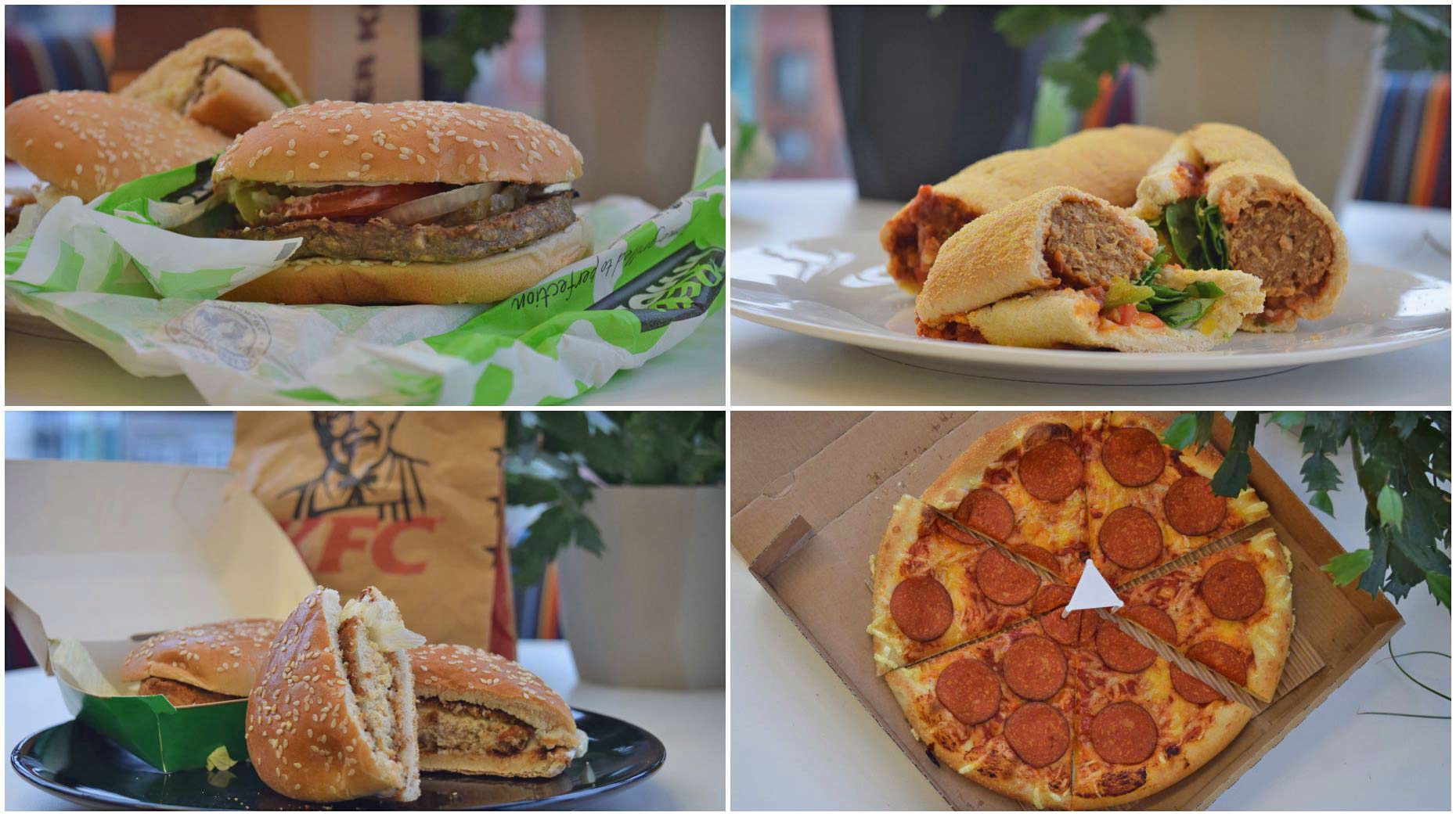 Meat-free items can divide opinion, but with 'Veganuary' currently underway more vegan delights worth checking out have been put through The Lincolnite taste test.
We already tried Greggs' Vegan Steak Bake, Costa's Vegan Smoky Ham and CheeZe Toastie, and McDonald's Veggie Dippers last week. See which came on top.
Today we tried even more vegan meat replacements from top takeaways, with the latest offerings from Subway, KFC, Pizza Hut and Burger King.
---
Subway's Meatless Meatball Marinara
The new Meatless Meatball Marinara has plant-based meatless meatballs smothered in a marinara sauce and topped with vegan cheese.
A footlong is £5.79 in Lincoln (40p more for extra cheese) and has 690 calories (without the extra cheese). A six inch is priced at £3.69 and has 354 calories — compared to the original which has 438 calories.
It has a nice texture with a good flavour to the sauce. Although it was generally enjoyed in the office, some said the meatballs themselves lacked flavour.
It had an average rating of 3.1/5. However, our vegetarian reporter said the meatballs were suspiciously meaty — in a good way.
The Lincolnite also took Subway's six-inch Vegan Patty for a taste test in April 2019.
---
KFC's Vegan Burger
KFC's new Vegan Burger has a 'very chicken-like texture'. You can enjoy it without the guilt, but with the full taste of KFC spices. What's not to love?
The burger is priced at £3.99 on its own (meal deal is without fries, as they're not vegan, but you can choose beans or corn).
It's quite plain in appearance, but certainly tastes good with the spices and plenty of flavour to earn a rating of 3.5/5 from the team.
At 456 calories, it provides a meat-free alternative to the classic chicken fillet burger (475 calories). It replaces the usual chicken breast fillet with a Quorn alternative (made from Mycoprotein), coated in the Colonel's secret blend of 11 herbs and spices.
It is served with vegan mayonnaise and iceberg lettuce in a soft-glazed bun. It is fried in vegetable oil before it comes to the restaurants, where it is finished off in the ovens.
---
Pizza Hut's Vegan Pepperphoni Pizza
This pizza is topped with tomato sauce, Violife vegan cheese (made from coconut oil) and meat-free Pepperphoni (made from pea protein).
The Pepperphoni itself is tasty and spicy, but the cheese did not go down too well in the office. The cheese was described as tasting rubbery in texture and quite sour and overpowering. It also sticks to your teeth.
Pizza Hut Lincoln said it is only available through Deliveroo and Uber Eats – not its own collection or delivery services. We could not find it on Uber Eats at the time of writing, but we had it via Deliveroo.
An individual regular pizza is priced at £12.29, with a larger sharer available for £20.89 — plus delivery charges. The nine inch is a pan base and gluten free and the 11 inch is a thin base.
The pizza is available for Veganuary only so far, but could join the vegan menu permanently if the topping proves popular.
---
Burger King's Rebel Whopper
Burger King is cheating a bit. Its patty is 100% plant-based (soy), but the whole burger itself is not vegan because it's cooked on the same broiler as the meat whoppers to deliver the "same unique flamed-grilled taste".
So this one may be better suited for flexitarians or vegetarians who don't mind animal fat 'contamination'. The Burger King fries however are vegan — though you should check with your local branch before ordering.
The burger, priced at £4.99 on its own, is served with sliced tomatoes and lettuce, pickles, onions, mayo and ketchup on a toasted sesame seed bun. The new menu item has 596 calories.
It is not obvious from the taste that it is vegan, so it is a good alternative with some in the office saying they would happily order it again. It was given an average rating of 3.2/5 but our office vegetarian did not want to try it due to it being cooked on the same broiler as meat.
Burger King's Rebel Whopper is exclusively available on the BK App on January 6 and 7 and will become available in most stores nationwide from Wednesday, January 8.
---
ALSO READ: The Lincolnite taste test – New vegan treats from Greggs, Costa and McDonald's
---
Coming up on Wednesday — Nero is launching its own vegan sausage roll, so we're going to pit it against Greggs' popular alternative. Stay tuned.