March 5, 2020 3.40 pm
This story is over 43 months old
From breakfast to midnight feast: Step inside Lincoln's tiniest food bar
It opens on March 6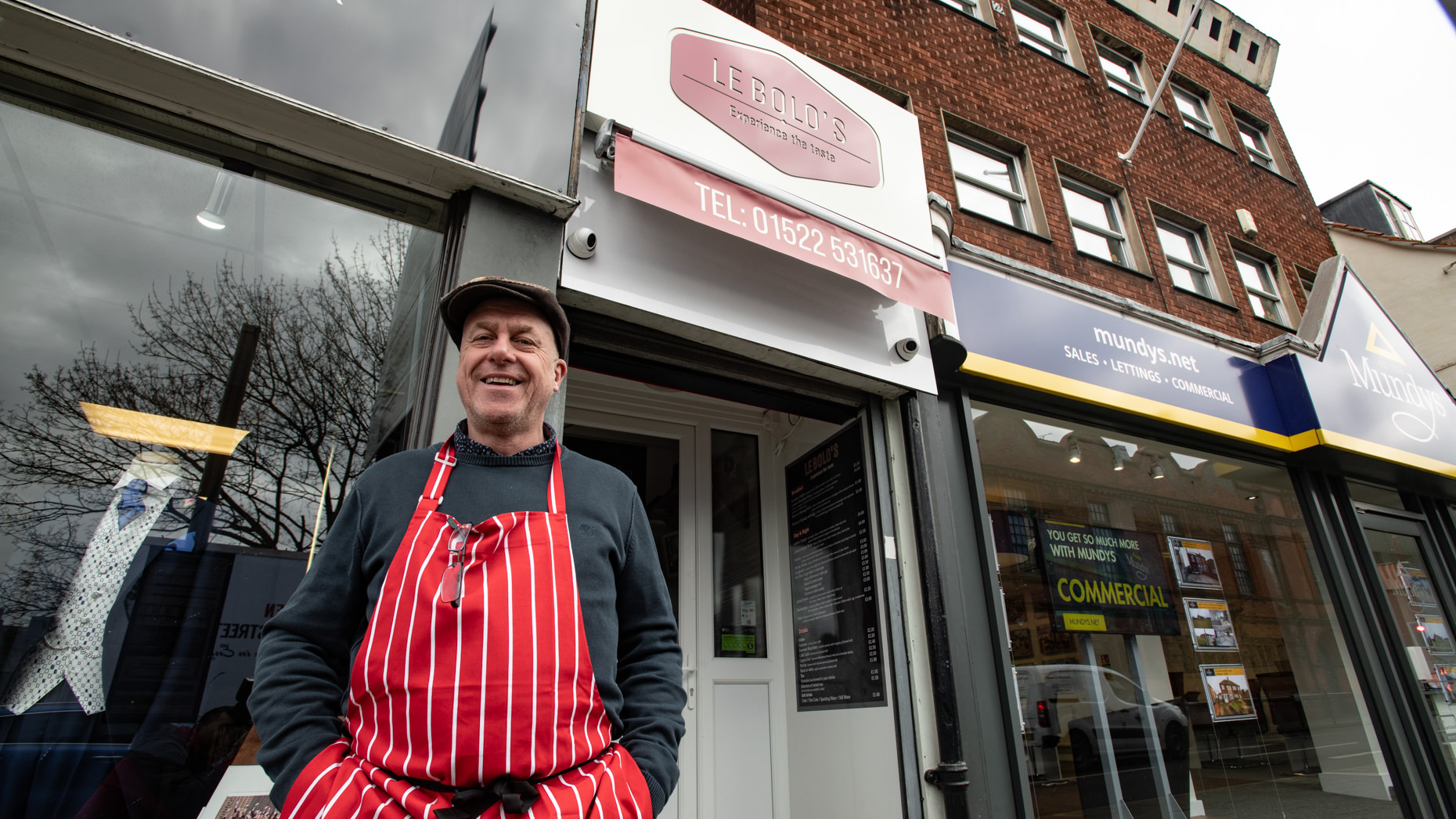 A new owner has brought Lincoln's smallest cafe back to life and turned it into a food bar, serving breakfasts, burgers, wraps, pizza and other tasty late nights treats.
Lee Pettefer, who also runs a local building firm, will open Le Bolo's, tucked between Silver Street estate agents, on Friday, March 6 after a £30,000 refurb.
It will be open from 7am-5pm Monday to Saturday, as well as from 8pm until close (around 4am) Wednesday to Saturday "to accommodate the late night revellers".
Breakfast offerings, which will be served until 12pm, will include a Lebolo's breakfast wrap, breakfast muffin and bacon, sausage and egg rolls. The day and night menu includes burgers, wraps, hotdogs, Longboats (stuffed potato skins), pies, pizza and Wiener Winks (pigs in blankets served with a pot of sauce).
The menu also includes vegetarian and vegan options, such as vegan Moroccan-style pie and vegan sausage rolls.
Pettefer, 58, who has lived in Lincoln for 25 years, told The Lincolnite there will be less waiting than at a usual takeaway as their brand new ovens can cook within minutes.
He said: "I always wanted to go into the food industry. Food is a big passion of mine and I am used to cooking for the family. I have 12 grandchildren!
"I have seen this empty for several years, but could see the potential as it's next to the taxi rank and near bars and nightclubs. It is an ideal venue for someone who wants a late night snack or a great breakfast."
Lee has owned the business for 18 months, with his mother's maiden name above the door. She emigrated from Italy to Soho in London and Lee wanted to keep the family name alive.
The food bar has created six new jobs, including chef David Friest who has worked in the building trade with Lee for a number of years.
Lee added that he hopes to bring in meal deals and discounts for regulars in the future, as well as aiming to join Deliveroo.
In addition, Lee hopes to serve ice cream, milkshakes and other treats in the summer, and gain an alcohol licence over the Christmas period to sell drinks like mulled wine.
Looking to give something back, he's researching a similar scheme to Billy Chip in London in the future to help the homeless in Lincoln.
Essentially, it would mean when people buy something there is an option to get a token for £2. The shop will match the remaining cost so it can be used by a homeless person to buy food and a drink.
The Little Espresso Company previously occupied the unit before closing in October 2013.
The following year, entrepreneur Laurie Griffiths took a back seat from his 37-year career in television set construction after spotting the smallest coffee shop in Lincoln listed on eBay.