May 29, 2020 5.25 pm
This story is over 19 months old
Lincolnshire actor felt like he was going to die before air ambulance rescue
He doesn't remember too much about the incident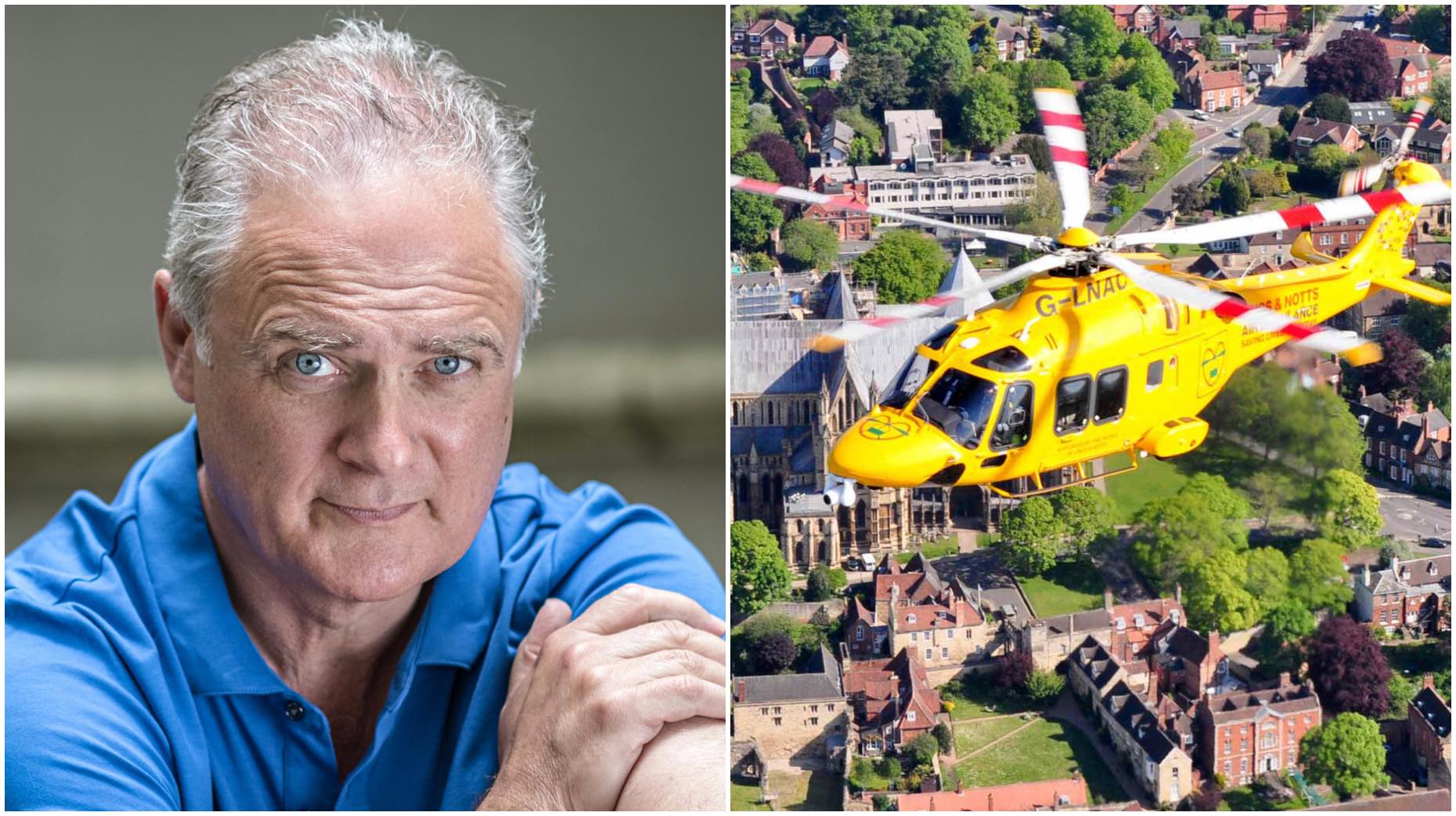 A Lincolnshire actor said he experienced a feeling like he was going to die before being rescued by the Lincolnshire Air Ambulance.
Alasdair Baker had been mowing his lawn at his home in Spalding on Sunday, April 19, but as he emptied out some grass, the world went dark.
It is thought that he slipped over, broke an ankle and hit his head, but Alasdair doesn't remember too much about the incident.
He recalls seeing people crowded around him as he lay on his back on a neighbour's lawn. He also remembers being put into a helicopter and seeing the estate where he lives get smaller and smaller as he took to the sky.
He was treated at the scene for a severe break to his lower leg and ankle by clinicians on board the air ambulance. The break was so severe that he was told by his consultant that he could have lost his foot if he hadn't arrived at hospital so quickly.
Alasdair said: "I kept thinking, I'm dying, I'm dying, but when I recognised my house and estate below, I thought I was ok as it was the first lucid moment I'd had.
"I said to the doctor, 'I'm not dying am I?' and he said 'no but you've been badly hurt'. I saw the fields for a few seconds and the next thing I remember is waking up in hospital."
"It was like I was falling down a well, like Alice in Wonderland, and there was a ringing sound. Nothing made sense.
"I'm still trying to get my head around it, I don't remember anything about how it happened. It's so weird how something so dramatic could be this black hole. One minute everything's normal and the next you're being scooped up from a god-awful mess and in my case, flown to this major trauma centre and given the best treatment at every stage."
Alasdair's neighbour helped to fill in the blanks. He walked as best he could on his broken leg to his neighbour's driveway, who then saw a trail of blood leading back to where he had come from.
As he tried to walk across a lawn and was heading towards a main road, he was stopped by three of his neighbours, who called an ambulance. The neighbours had to keep him on the ground as he was determined to keep moving.
Because he was being held down, the paramedics called the police on arrival. At first police thought there had been a burglary and ran into the house ready to confront someone before the neighbours were then able to explain what had happened.
The Lincs & Notts Air Ambulance were then called before carrying out some clinical interventions on arrival. Alasdair was transported to Queen's Medical Centre in just 17 minutes.
Alasdair isn't out of the woods yet as his injury was at a high risk of infection. He has had the stitches out and is continuing his recovery.