June 26, 2020 4.35 pm
This story is over 25 months old
Second Black Lives Matter protest planned in Cleethorpes
Protestors want to take their voices back to the streets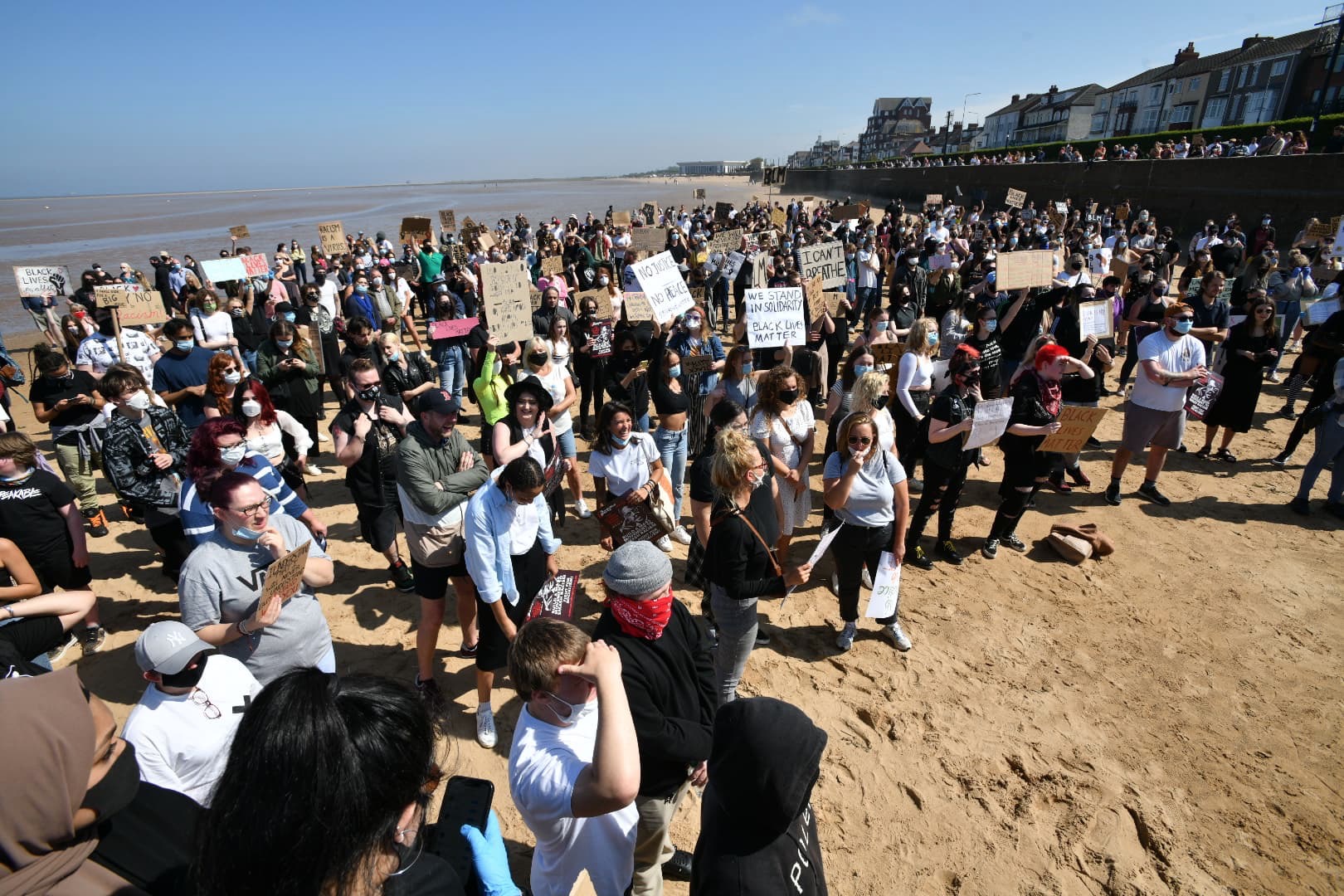 A second Black Lives Matters protested has been organised in Cleethorpes for next month as protestors want to take their voices back to the streets.
The newly renamed group 'Black Lives Matter North Lincolnshire' has organised a peaceful protest to take place in Cleethorpes at 2pm on Sunday, July 12. The group is in discussions with police and the exact location in the town is still being finalised.
Hundreds gathered for a march in the Lincolnshire town on Saturday, June 13 and the group wants to build upon "the foundations we have laid to ensure a better future for all going forward".
However, the first protest did not pass without trouble as police officers had to keep away an opposing smaller group and even had to pepper-spray them to get them to back off.
Grimsby Town FC condemned the behaviour of "certain individuals wearing the club's shirts and chanting songs associated with the club", while comedian Lloyd Griffith slammed a thug who threw eggs at the BLM protest.
The motivation for organising a second protest was Black Lives Matter North Lincolnshire's disappointment at the responses its protesters received from local MPS.
Brian Milne, founder of Black Lives Matter Lincolnshire, told Lincolnshire Reporter: "(MP) Martin Vickers said he doesn't agree with our protest and his response to one of one our protestors was very negative.
"We weren't happy with the response and that of our local MPs, so want to take our voices back to the streets to get them heard once more."
Disagreement with local MP
One of the protestors wrote anonymously to MP Martin Vickers saying they'd like to ask "why you have shown no support to people of colour in your consistent during what must be an incredibly traumatic time for them?"
They said they see "acts of racism take place in this town often" and were frustrated that he encouraged people not to attend the protest, but offered no words of support to the black community."
"It was very telling that representatives from Labour, Green Party and Liberal Democrat parties were present, but none from Conservative.
"In fact, we heard speeches from members of all the parties mentioned, but again, nothing from you, our local MP, or anyone representing you."
Reports that I will be at today's Black Lives Matter protest in Cleethorpes are wrong No MP councillor or official representative should be there. Under coronavirus restrictions there should be no gatherings of 6+. We want to restrict infection Please stay away & stop the spread

— Martin Vickers (@MartinVickers) June 13, 2020
The MP sent a lengthy response, which was seen by Lincolnshire Reporter , which said that "we can agree that racism is an evil that needs stamping out. Clearly we differ on how to achieve that."
He said he did in fact speak three times to the senior officer in charge of the police operation for the first protest, as well as contacting the leader of the council who had 'grave concerns' about the event. He also discussed the concerns of local people personally with the Home Secretary.
He said: "Protesting is a right, again one that is not available in most parts of the world, but marching at a time when we are fighting the coronavirus is irresponsible."
He added that he doesn't in any way support the thuggish behaviour of those who gathered to oppose the protest.
The MP said he takes the issue of racism seriously and said that "All Lives do matter and I work hard to ensure that all my constituents are treated equally."
Lia Nici, the Conservative MP for Great Grimsby, also caused a stir before the protest after appealing for people not to attend.