July 17, 2020 11.38 am
This story is over 17 months old
Petition uproar over dog's gravestone at RAF Scampton
"The name has been removed, history hasn't"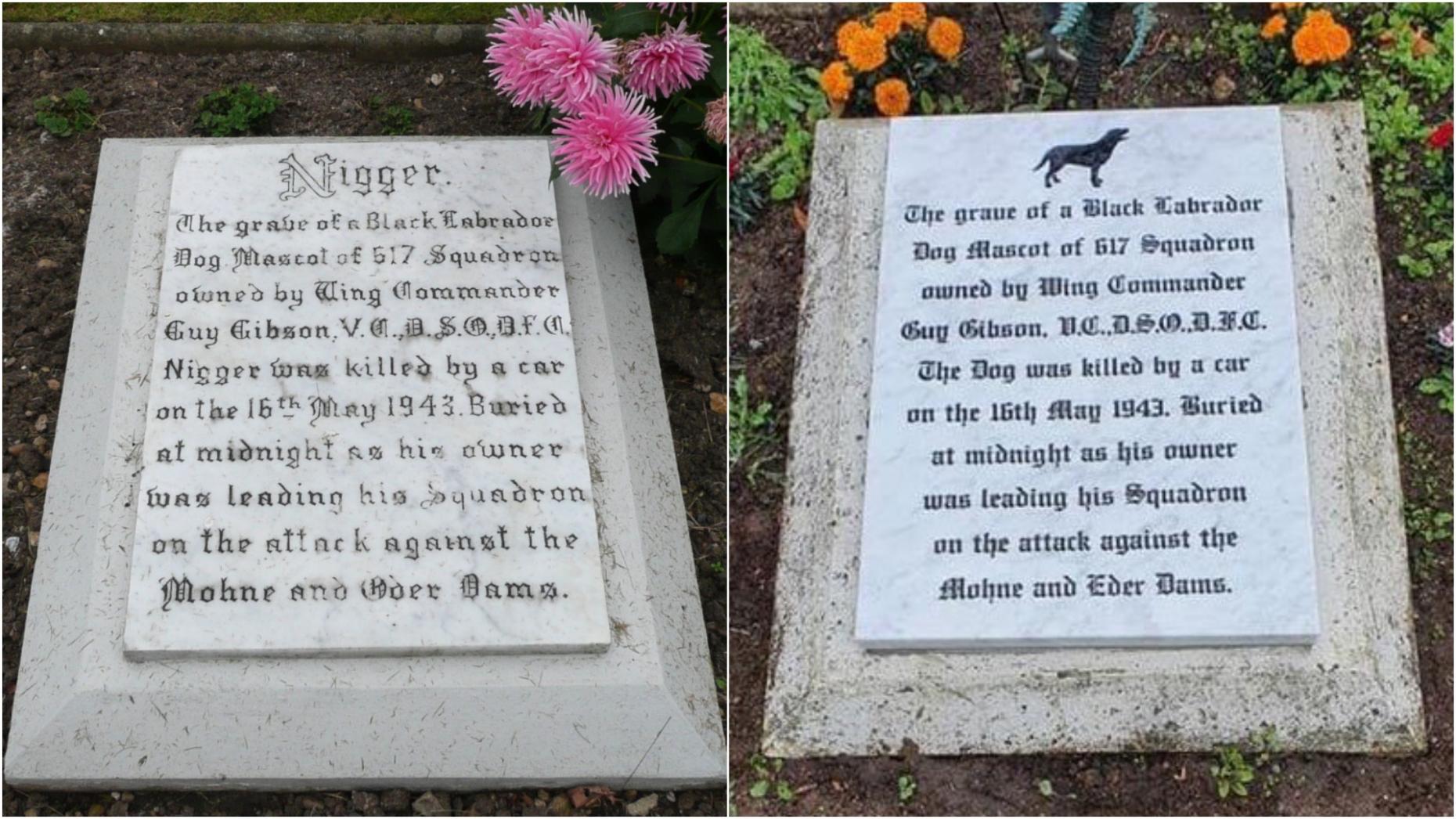 Thousands of people have called for a dog's name, which is a racial slur, to be put back onto a gravestone at RAF Scampton.
The removal and replacement of the plaque was done by Drapers Memorials this week and caused huge uproar, with many saying it is a big part of history that needs reinstated.
The gravestone paid tribute to a black Labrador dog mascot of the RAF's 617 squadron called Ni**er.
Sarah Hobday, whose great uncle was a Dambuster (Sydney Hobday) and part of the crew that breached the Edersee Dam, started the petition which continues to grow in signatures.
At the time of publication, just over 3,000 people had signed the petition.
She said she wants to get the memorial plaque "back where it belongs" as "not only is this history, but it's apart of my family's history as the men knew the dog".
Sarah told The Lincolnite: "It was a dog and that was his name. It is a part of history and a famous part of history too and it was his gravestone of where the dog was ran over. If a human being had that on its headstone would it be removed and be somewhere else?"
She added: "History is history, let it lie and let others enjoy the past and what great, or maybe not great, these people have done but we don't live backwards we live forward."
"It's part of history"
The decision was slammed by thousands of people, including Gareth Jones who said: "It was Guy Gibson's dog's name and it's a part of history. Don't be scared of telling the truth about history. You cannot change the past!"
Phil Hyland said "the name has been removed, history hasn't," while Paul Blakey felt "ashamed of the RAF for the way they've rewritten history just two years after their centenary" as it was a "two faced way of remembering their history."
Angie Hart said: "Why should the dog's name be removed and changed, I don't understand? It was not racist in any way, but yet when I watch films that have ethnic minority in it they use the N word to each other and that is acceptable, make your minds up."
Twitter user ;@xbaeniex' said: "By removing the name you are dishonouring his memory and service. Would you do the same if it was a human?"
Andy Good added: "Grow a pair and man up and stop pandering to the snowflakes. This is history and it's not offending anyone."
Sharon Chippington said: "Be honest. The majority against the change didn't have a clue about the name before this. It's just a great excuse for racists to push their racism under the cover of a dog's name being changed."
However, Willa E Jamieson doesn't believe the decision will be changed, saying: "The RAF commissioned the new stone as the racist slur on the old one does not represent what they stand for. They are not going to backpedal on this."
She added: "Well done RAF Scampton. Absolutely the right thing to do to remove the focus on the dog's name. Cue the racists complaining that history is being rewritten, it's not!
Newt Andrews said: "If I change my name fat old c**t how would you like it if I were buried next to your loved one with that in big letters. People who can't see the offence here need to take a look at themselves. It's not protecting history, it's condoning racism."
RAF response
RAF Scampton said that a review of its historical assets is ongoing, with a focus on "not giving prominence to an offensive term that goes against the ethos of the modern Royal Air Force."
An RAF spokesperson said: "As part of an ongoing review of its historical assets, the RAF have replaced the gravestone of Guy Gibson's dog at RAF Scampton. The new gravestone tells the story of Guy Gibson's dog, but the name has been removed."
The current gravestone will be stored in a safe location while any next steps are considered.