Life in jail for murderer of Boston dad of two
He'll serve a minimum of 20 years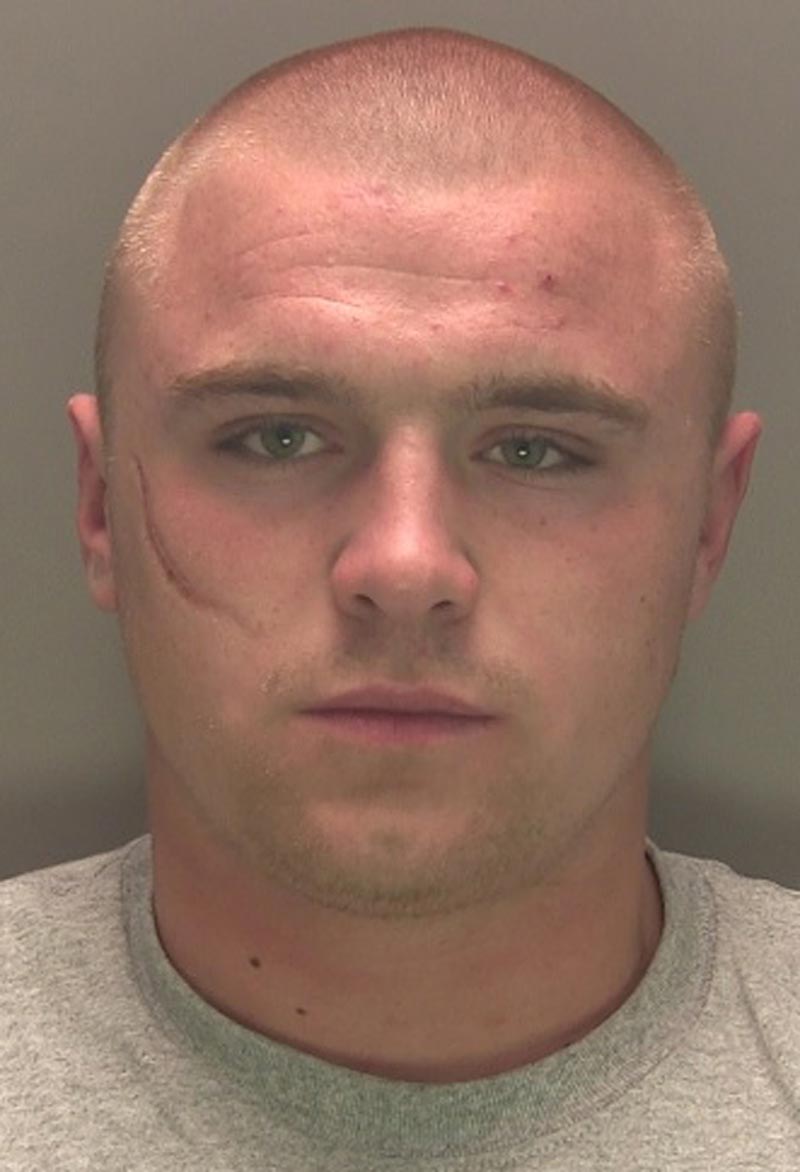 A man who murdered a cyclist during an attack with a knuckleduster was jailed for life at Lincoln Crown Court on Friday.
Cole Newark, 22, had denied the murder of father of two Darren Birks, age 40, but was found guilty earlier this week following a trial at Nottingham Crown Court.
On Friday Judge John Pini QC, passing sentence at Lincoln Crown Court, ordered Newark to serve a minimum of 20 years before he can be considered for parole.
The court was told that the fatal attack took place on the evening of April 29 last year as Mr Birks was cycling past a Premier shop on Shaw Road, Boston.
Newark, who had a grievance with Mr Birks, ran after him into Ingram Road where he carried out the attack with the knuckleduster.
The assault lasted for a very short period of time during which Newark inflicted devastating injuries to his victim, leaving him lying on the ground covered in blood.
Mr Birks suffered serious brain damage together with fractures to his right eye socket, his right jaw and his right cheekbone. He was placed in an induced coma in hospital but died on May 9.
Newark claimed he had no recollection of the incident and did not give evidence during his trial. He has never revealed his motive for the attack.
After his conviction he wrote to the judge apologising but disputing the fact that he had a knuckleduster on him at the time of the attack.
The court heard that Mr Birk's family have been left devastated.
In a statement read out in court, his mother Nicola Birks said: "Never does a mother want a knock on the door in the middle of the night to see the police standing there. I was told that my son was not going to live.
"I watched Daz take his last breath. He has two children. I couldn't let them see their dad with the horrific state he was in.
"Members of my family have been really struggling to deal with what happened to Darren."
Judge Pini today told Newark: "You have shown no remorse. There is no doubt that you pose a real danger to the public.
"Darren Birks cycled towards the store and turned right into Ingram Road. You saw him and took off at speed after Darren Birks.
"You inflicted devastating injuries to him before running back towards the shop. He was left covered in blood.
"You were standing nearby saying you hadn't done anything. It was a truly devastating and quite determined assault."
James House QC, prosecuting, said: "Anyone who uses such a weapon, uses it for one thing and that is to cause very serious injury or indeed to kill.
"This man used a knuckle duster and caused serious head injuries, multiple fractures causing damage to the brain.
"He [Mr Birks] never regained consciousness and died ten days later."
Two months earlier Cole used the same knuckleduster to attack a former friend, Mark Storr, during an incident outside the Stump and Candle pub in Boston.
Newark pulled the weapon from his pocket and struck Mr Storr to the head. Mr Storr was left dazed and was held up by his friends but Newark continued the attack striking him twice more. One of the blows was so powerful that it dented a titanium plate previously inserted in Mr Storr's head.
Newark, 22, of Witham Bank West, Boston, denied the murder of Mr Birks and possession of an offensive weapon on April 29, 2019 but admitted manslaughter. He was convicted of both murder and possession of an offensive weapon.
He also denied attempting to inflict grievous bodily harm with intent to Mr Storr on February 16 last year, but pleaded guilty to possessing an offensive weapon on that occasion. The jury found him guilty of attempting to cause GBH.
Clive Stockwell QC, in mitigation, said that Newark was only 20 at the time he carried out the attacks.
He said Newark has been diagnosed as having learning difficulties.
"There was a lack of premeditation. There was no way of Cole Newark knowing that Darren Birks was going to cycle past.
"In his letter he says he still disputes having the knuckleduster and using it in the assault on Darren Birks. In the letter he expresses apologies for his actions."
After the trial the family said: "We as a family would like to thank everyone that has been involved in bringing us justice. In particular, Keith Roberts, Karl Whiffen, Calley Murray and all their team who we know have worked tirelessly collecting the evidence needed to bring us this verdict. We definitely wouldn't be where we are now without them.
"It has been an extremely difficult struggle and a long time coming. But with the continued support of family and many friends we have held on to each other and come through this. I truly can't stress enough how grateful we are to you all, you've held us up, and Darren can now rest in peace.
"The attack on Darren was particularly vicious, and no amount of years will fade that from our memories!
"Left in the aftermath of Cole Newark's actions are myself along with Darren's sister, brothers and many other relatives and friends. But most of all are Darren's two beautiful young children who have lost their dad! They need to grow as children should now, without this shadow forever hanging over them!
"We'd also like everyone out there to remember that Cole Newark's actions have affected two families and not ours alone.
"And finally, please, please, please do not carry a weapon! If you don't have it, then you can't use it!"