Bring the bar to your home for Valentine's Day
Either with your partner at home or online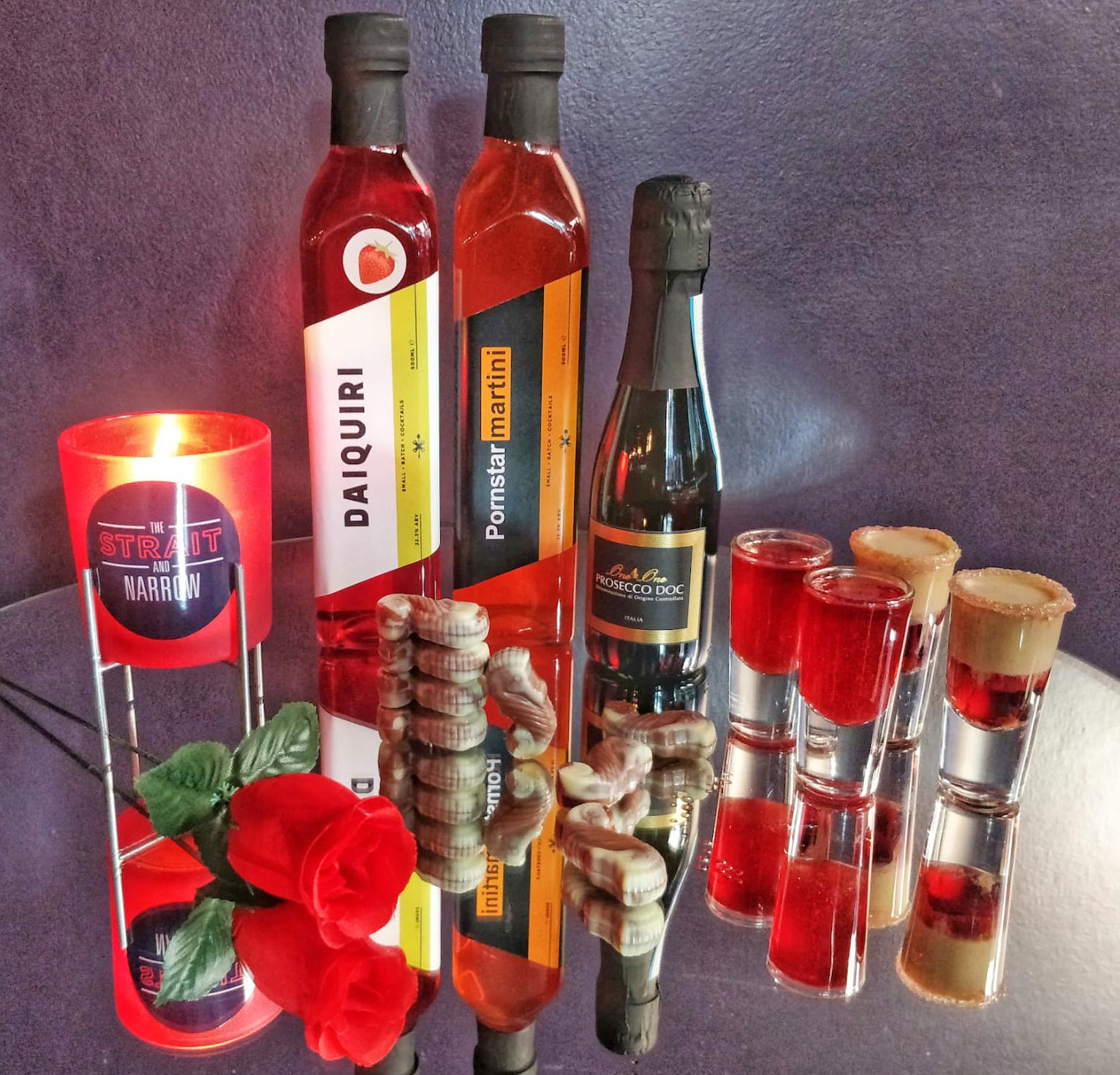 A popular Lincoln bar has launched Valentine's Day date packs to help couples enjoy a romantic lockdown indoors, either together or online via Zoom.
The Strait & Narrow launched the new packs earlier this week, along with a competition in partnership with The Lincolnite to help find someone who could do with a bit of love… in drink form.
The Valentine's Day Pack (2 person) costs £42.95 and includes two 500ml cocktails of your choice, two jam donuts, two of Ben's Sexy Love Potion Shots, a 'Strait Lovin" candle, a DJ playlist with the Iron Fists – Sexy Hip Hop mix, a box of Belgian chocolates and a rose.
The Zoom pack is similar, but for one person and costs £24.95.
Customers can choose from a wide range of cocktails including Amaretto Sour, Banana or Strawberry Daiquiri, Espresso Martini, Mixed Berry Caipiroska, Negroni, Old Fashioned, Piña Colada Milk Punch and more. Mocktails can also be provided on request.
All packs will be delivered on Friday or Saturday, February 12-13 unless you require it sooner. The last day for UK wide courier orders is Wednesday, February 10.
Delivery is free for anyone living in postcodes between LN1 to LN6, but anyone outside of this area will need to pay a courier charge.
Jez Nash, who owns the Strait & Narrow, said: "We've evolved into a lot more of a community business this year which has been great and it's taken us down some great avenues – foodbank donations, buying Christmas dinners for people who are struggling, sending snacks to key workers, and we're trying to always do some cool things for people whilst taking The Strait into different ways of trading."
The online Strait Crates business continues to be busy and Jez added that he has expanded the beer offering, including exciting breweries such as Bad Bunny in Derbyshire and Franklins Brewing Co from Maresfield near the south coast.