April 26, 2021 3.00 pm
This story is over 8 months old
"Another nail in the coffin for our town centre": Scunthorpe hotel and retail park approved
Councillors welcome investment, but split on impact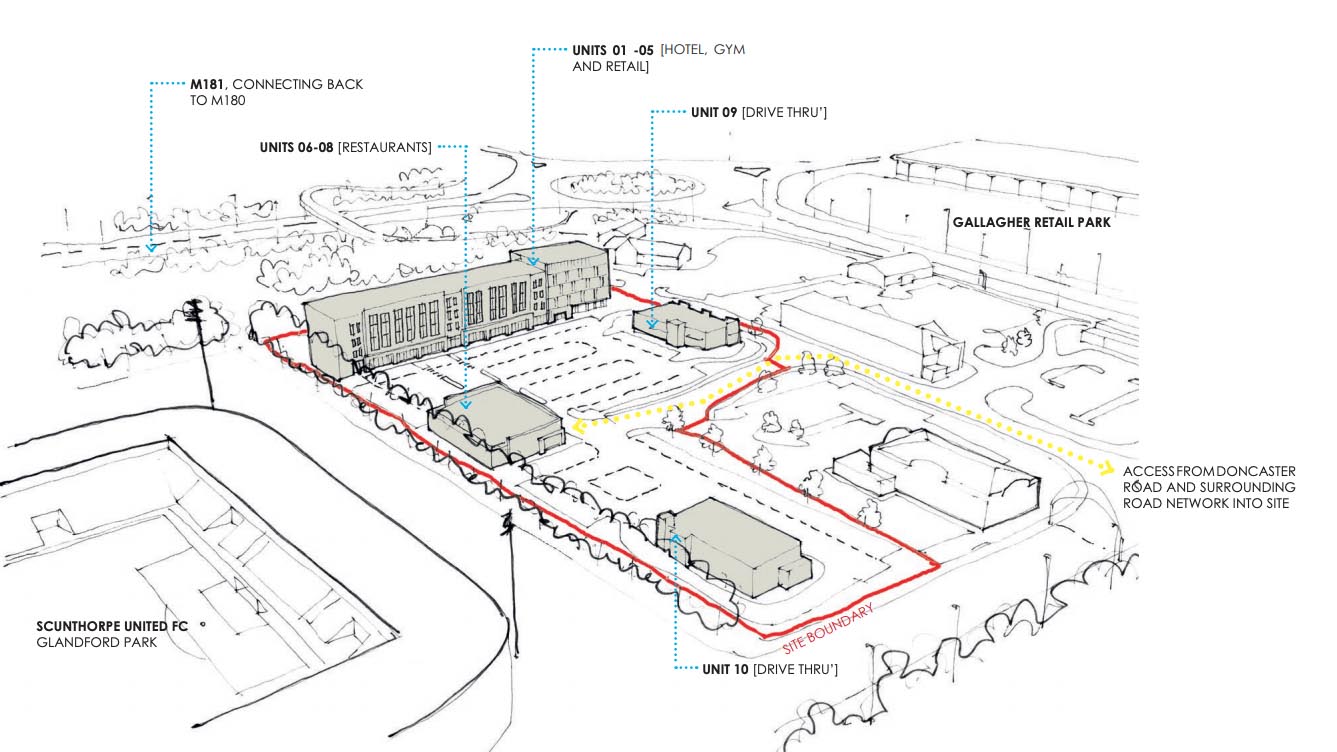 A new retail park on the edge of Scunthorpe, which would include a 120-bedroom hotel, five new restaurants, four shops and a gym, has been given the go ahead.
Rafkins (Scunthorpe) Leisure Park's plans for land off Jack Brownsword Way was approved by North Lincolnshire Council's planning committee on Monday.
The applicant said the development next to the former Frankie and Benny's on the Gallagher Retail Park will create more than 100 full-time jobs.
Two of the restaurants are planned to be drive-through facilities, while more than 150 car parking spaces will be provided in the plans.
Moving approval, Councillor Carl Sherwood said: "It's a very extensive application, it's going to bring employment to the Scunthorpe area and I can only think that it's going to be very positive."
Officers said the plans would "carry high socio-economic benefits for the locality in the creation of business and jobs".
A letter from ward Councillor Josh Walshe said there had been concerns from local residents.
He said: "While I support any investment in this and the jobs it will create for local people, I would also express concerns about the impact the additional traffic would have on an already busy Doncaster Road matchday car parking when it returns. It brings considerable challenges to the area, along with seasonal shopping at the already established retail park."
He welcomed, however, financial contributions being asked of the developer and a number of conditions in relation to flood risk.
One objection to the plan had asked for drive-thru restaurants included in the plan to be scrapped and replaced by "proper restaurants" and for the development to attract "upmarket" chains like Nando's and Pizza Express.
However, Councillor John Davison said: "We would all like some posh restaurants, but I think that's beyond our control."
Some members, however, remained unconvinced, with Councillor Sandra Bainbridge saying she felt there could have been "some town centre development" as part of the plans.
"The developer could have benefited from both aspects of introducing new jobs and opportunities down on the Gallagher site while contributing to the regeneration of the town centre."
She was backed by Councillor Darryl Southern, who said it "really just seems to be another nail in the coffin for our town centre."
Both councillors were among four who abstained from the vote.