April 19, 2021 11.01 am
This story is over 14 months old
Lincoln mother devastated as daughter's grave is vandalised
"I feel like that last bit of her has been taken away again."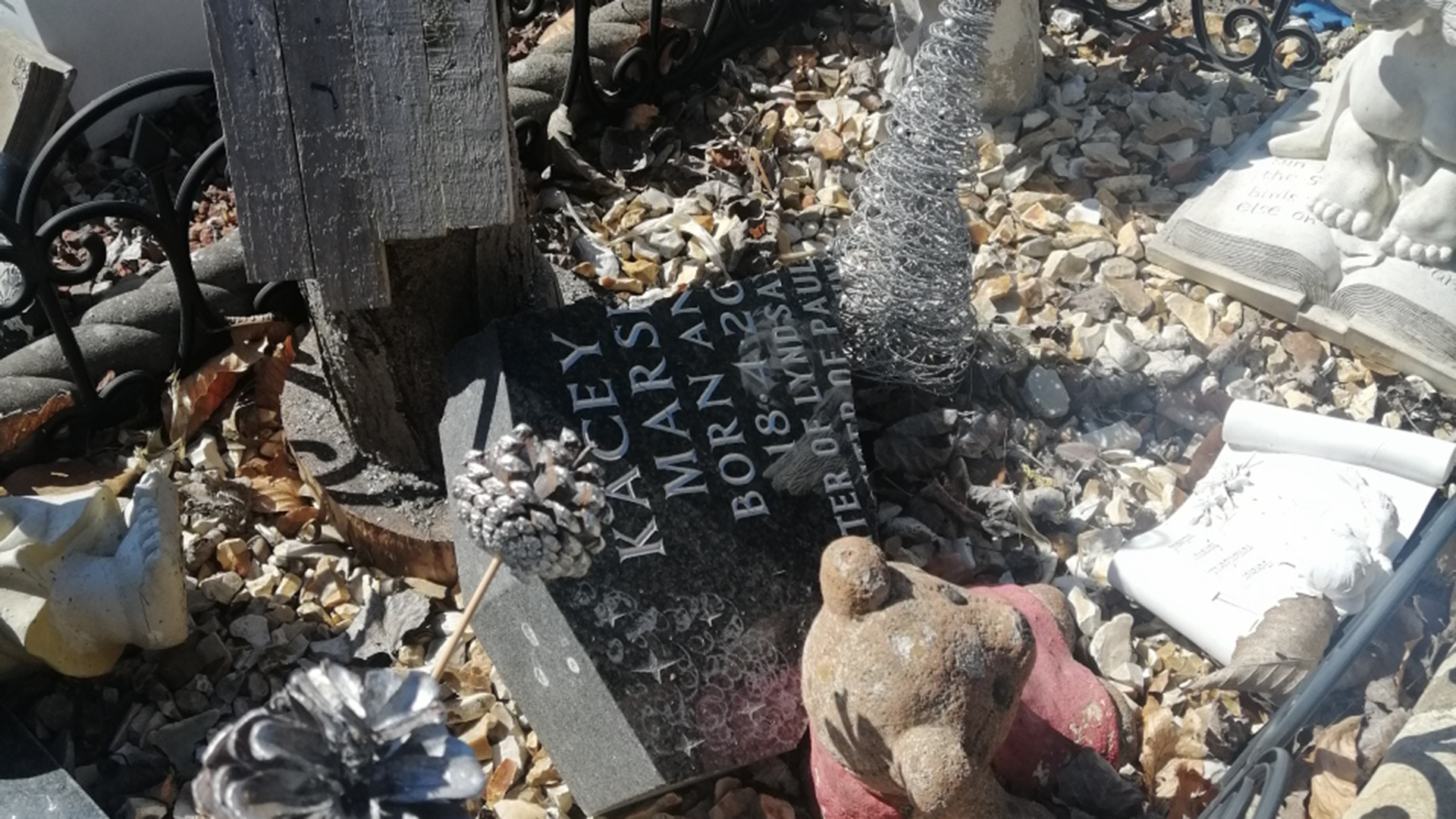 A mother from Lincoln is devastated after finding her daughter's grave had been vandalised with a hammer at the weekend.
Lyndsay Marshall had been to visit her daughter Kacey's grave at Washingborough baby cemetery, to celebrate what would have been her 17th birthday on Sunday, April 18.
Kacey was born in 2004, but survived a matter of hours after being born premature at just 28 weeks of Lyndsay's pregnancy.
So on the day of Kacey's birth, Lyndsay went up to the grave to take with flowers, only to discover something horrifying.
Lyndsay told The Lincolnite: "The sun was shining, it was a beautiful day. I walked up to her grave to find it had been smashed to bits with a hammer. I fell to my knees.
"Today has hit me hard. I feel like that last bit of her has been taken away again. 17 years of memories gone.
"I've sunk tonight. I feel numb. I feel sad. I feel angry. I feel sick that some one can do this to my baby's grave."
Lyndsay herself was only 18 when Kacey was born, and she would visit the grave every week.
She has gone on to have three more children, a 15-year-old daughter, a 12-year-old son and another daughter born last year, but she would still visit Kacey regularly.
"Ever since my older two kids have been old enough to understand, I would talk about Kacey to them and take them up to visit her grave regularly.
"Recently we took our newborn up, even though the kids never met their sister, I want them to know about her.
"I learned to live with the grief and the heartache. People used to say to me it gets easier. Well it doesn't, you learn to put a mask on and act like you're not dying inside.
"I put on a brave face so the kids don't see my heartache."
Lyndsay's sister-in-law Hannah Ludkin has set up a fundraiser to help restore Kacey's grave after the incident, raising over £1,000 already.
---
You can donate to the fundraiser yourself by clicking here.
---
Lincolnshire Police are issuing an appeal to find the person responsible for this incident.
It was reported to officers at around 11.50am on Sunday, April 18 and is believed to have taken place between Friday and Saturday night.
A spokesperson for the force said: "We can't imagine why anyone would do this.  This is beyond despicable and our hearts go out to the family.
"We appeal to anyone who has any information that will help us find who is responsible to contact us."
To contact police, call 101 and quote incident 170 of April 18.