July 1, 2021 3.16 pm
This story is over 27 months old
New map shows vaccination hotspots as 85% of Lincolnshire had first dose
Areas with lower double-dose jabs appear to have higher infection rates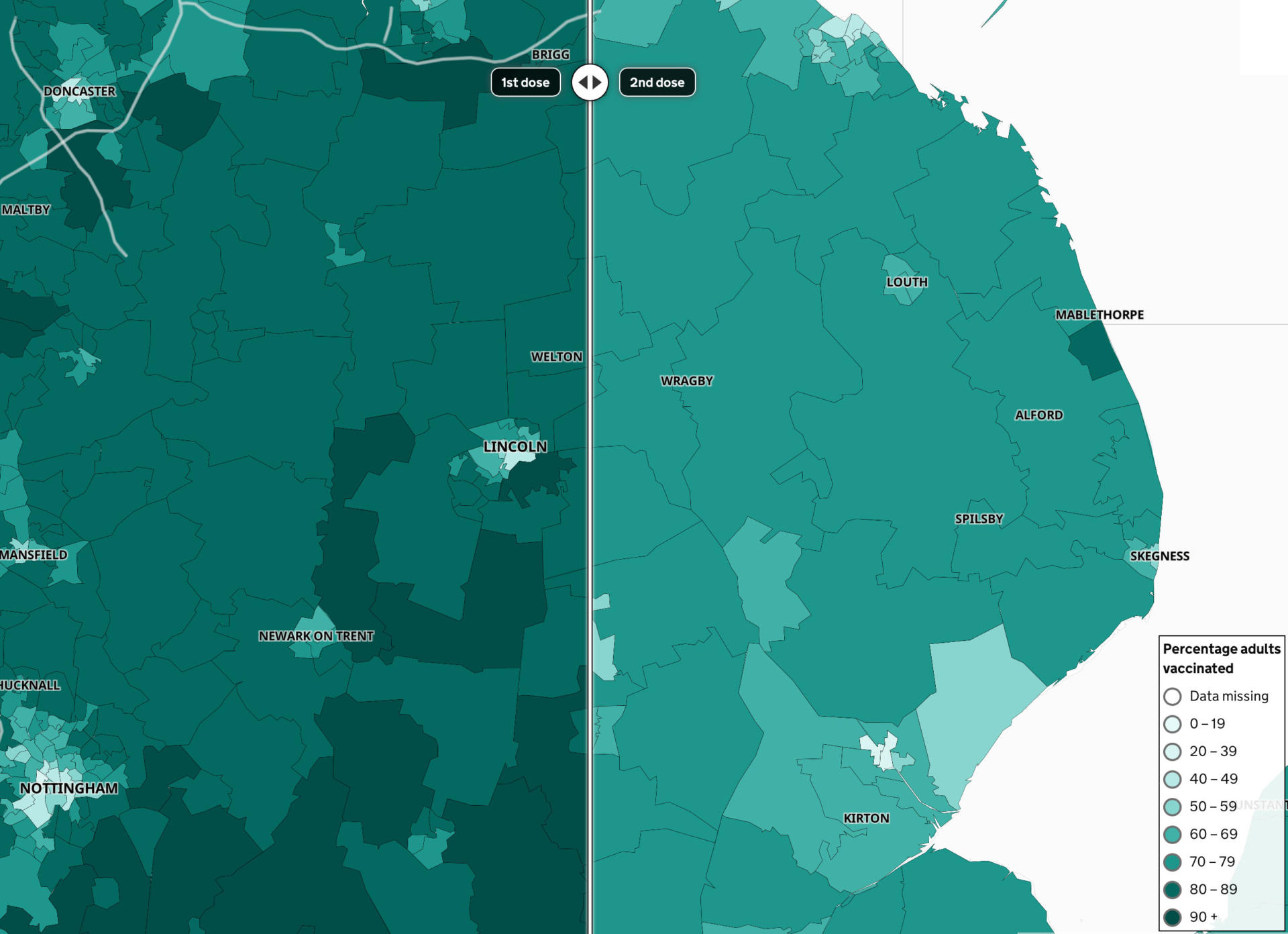 A new interactive map shows the areas in Lincolnshire with the highest and lowest doses of COVID vaccinations, as the latest figures show 85% of Lincolnshire adults have now had their first jab.
The latest vaccination data released on Thursday shows that there have been 961,565 cumulative doses of the coronavirus vaccine in Lincolnshire between December 8 and June 27.
This is a rise of 27,815 from last week —  5,834 fewer than the 33,649 jabs given in the previous week.
It shows that some 536,272 Lincolnshire residents have received their first vaccine dose. A total of 425,293 of those have had their second dose.
Of those aged 18 and over, 534,399 have received their first vaccination and 424,511 have had their second.
Some 1,873 people aged under 18 have received their first dose, with a further 782 receiving a second jab so far. This includes those who are clinically vulnerable and at more risk of serious symptoms of coronavirus.
Office for National Statistics estimates put the total adult (16+) Lincolnshire population at 629,926, meaning that around 85.13% of residents have now received their first jab and 67.39% their second.
North East Lincolnshire has given out 182,989 cumulative doses to date, with 79,508 of those being second doses.
Meanwhile, North Lincolnshire has given out 209,507 vaccinations, of which 92,289 were second jabs.
The new vaccination rates map includes a split-screen slider which shows both first and second dose percentages.
At the time of publication data was up to and including June 29, 2021.
For instance, at a county level North Kesteven has the highest percentage of first doses for its population at 87.3%, whereas Boston has the lowest at 67.1%.
According to infection rate data, in the seven days up to June 29, Boston had the second highest infection rate in the county at 92.6 per 100,000 population.
When it comes to second doses, however, Lincoln has had the lowest percentage of its population double-jabbed at 49.8%, while West Lindsey sits top at 86.6%.
Lincoln had the highest infection rate in the county at a rate of 94.7 per 100,000 per population in the latest data.
Both sit far below North East Lincolnshire, however, which was 37th nationally with an infection rate of 278.9 per 100,000.
According to the map, 78.8% of the region has had their first jab and 60.5% have had their second.
North Lincolnshire, meanwhile has seen 81.5% of its population given their first dose and 64.3% given their second.