September 2, 2021 4.24 pm
The Lincolnite Tries: A truly gigantic Cathedral burger at The Fox & Hounds
Can you topple the Cathedral burger?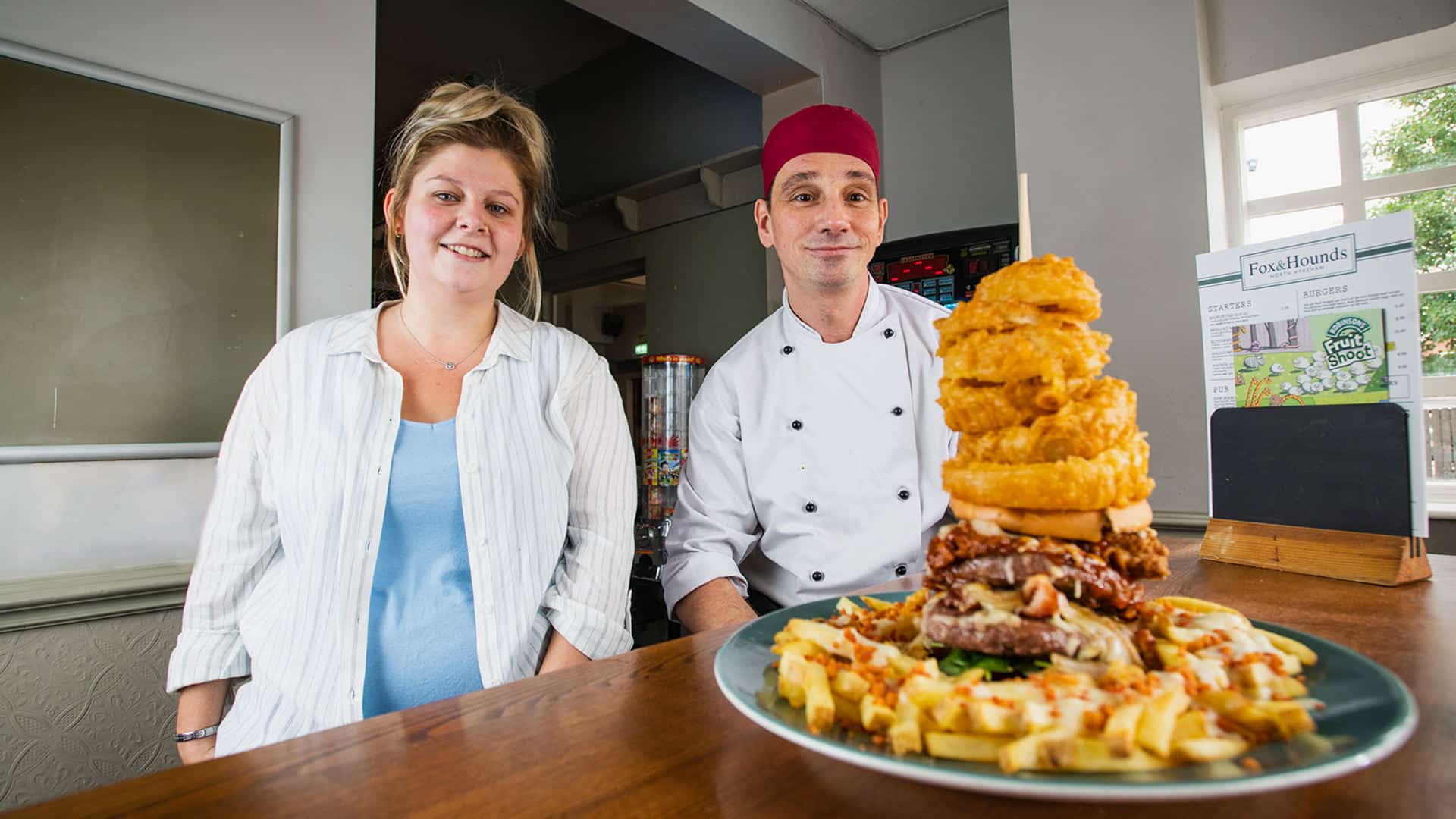 A pub in North Hykeham has launched an audacious food challenge which tasks customers to eat a huge triple stacked burger with chicken, pulled pork and beef patties inside.
The Cathedral burger was set up by the Fox & Hounds pub in North Hykeham on August 6, and so far the eight people to try it have failed to complete the challenge.
The monstrous burger contains two beef patties, southern fried chicken, BBQ pulled pork, streaky bacon, fried onions, chilli jam and melted cheese. If that wasn't enough, there are also five homemade onion rings on top of the burger, and it is surrounded by dirty fries and homemade coleslaw.
The idea came from chef Rob Turner watching popular competitive eater BeardMeatsFood on YouTube, and wanting to create something of a similar ilk to the challenges he takes on.
Rob and bar manager Jasmine Buttery told The Lincolnite: "We took over the pub in October and wanted to create something that allowed us to transform back into more of a food-serving pub again.
"Having been locked down for a year we needed something to encourage more people to come back here, and we saw the popularity of food challenges elsewhere so decided to try our luck with the Cathedral burger."
It costs £14.99 and if you can complete it, you will be given a free dessert voucher as well as a certificate of achievement, and the pub plans to introduce a time limit once people start to successfully finish.
The Lincolnite just had to try it out, and the taste was fantastic, but unsurprisingly the quantity was a step too far for us.
The kitchen at the Fox & Hounds is open at the following times:
Wednesday to Friday – 12-2pm and 5-8pm
Saturdays – 12-8pm
Sundays – 12-6pm