The Lincolnite Tries: Fudgestuff's marmite and Unicorn Poop flavours
Fudge with chocolate coated bacon too!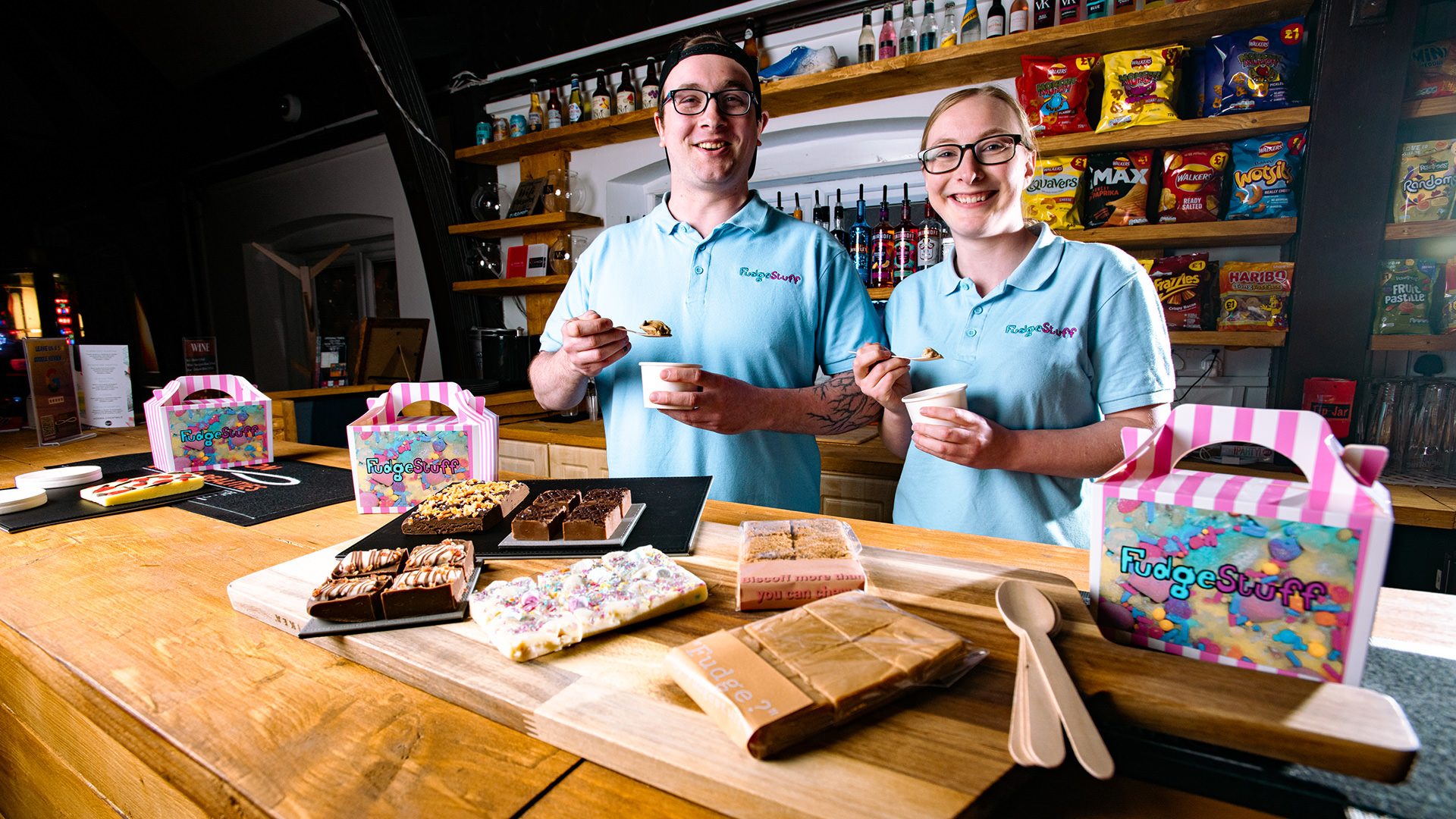 A Lincoln couple created a new fudge company in lockdown with  over 40 quirky flavours including milk chocolate marmite, Jägerbomb, Old Fashioned, and the best seller of 'Unicorn Poop'.
Elliot Daley, 30, and Rebecca Dowling, 27, started planning the idea for their company – Fudgestuff – after making homemade fudge as gifts for family and friends for Christmas 2019.
The couple started working from their home kitchen alongside their full-time jobs – Elliot was an activities co-ordinator at a care home until six months ago, while Rebecca worked in the NHS training ward staff how to use medical devices.
Rebecca also worked at Tension Twisted Realities, which is located on Croft Street off Monks Road in Lincoln, and in January 2022 Fudgestuff moved into the kitchen at the premises.
Fudgestuff continued to grow and in January 2022 it moved into the kitchen of Tension Twisted Realities, which is located on Croft Street off Monks Road in Lincoln.
Orders can be customised and the wide range of flavours includes:
Unicorn Poop – White Chocolate Marshmallow Fudgestuff with sprinkles and edible glitter
Biscoff more than you can chew – Biscoff flavoured Fudgestuff topped with biscoff spread and biscuits
That Looks Mint – Dark Chocolate Fudgestuff topped with Mint Aero
Jammie Little Git – Raspberry and White Choc Fudgestuff topped with jammie dodgers
"Fudge?" – Our take on a traditional tasting Fudge

Trick – Dark Chocolate, Chilli, Lime and Vodka

Love/Hate – Milk Chocolate Marmite

No half measures – Old Fashioned whiskey-based fudge

Don't go bacon my heart – Maple and Milk Choc Fudgestuff topped with Chocolate coated bacon

Pikachu – Banana Split Fudgestuff
The menu also includes a new range of edible cookie dough called Kooky Doo, in Choc Chunk, Smarties or Mini Egg flavours, as well as vegetarian and vegan alternative fudge flavours.
A peanut butter pretzel flavour was also launched after a competition won by a local woman called Kelly. So naturally Fudgestuff called it 'Peanut Butter Kelly Time'.
Fudgestuff include gifts in orders throughout they year, including an inflated modelling balloon or at Halloween a wind-up flying butterfly that shot out of the box when opened.
Orders can be collected from Tension Twisted Realities between 12pm and 4pm Sunday to Thursday, or sent via Deliveroo or Uber Eats during the same hours. Elliot also delivers orders around the Lincoln area and they can be posted across the UK.
Elliot, who runs Mr Twists Balloon Modelling in his spare time, told The Lincolnite: "We are very much a homegrown company, we design all of our own stickers and packaging, create all new flavours and products, made our own website and enjoy the challenges running a small business has to offer."
Stewart Millar, who runs Tension Twisted Realities, also revealed that there will be a new escape room called Claustrophobia opening in May 2022, with an eighth room to added by the summer. The remaining rooms will also be updated with new themes an layouts by the summer too.