January 24, 2023 1.00 pm
This story is over 9 months old
Dedicated nurse shares pride at working for 60 years in the NHS
Howard has retired after more than six decades in the health service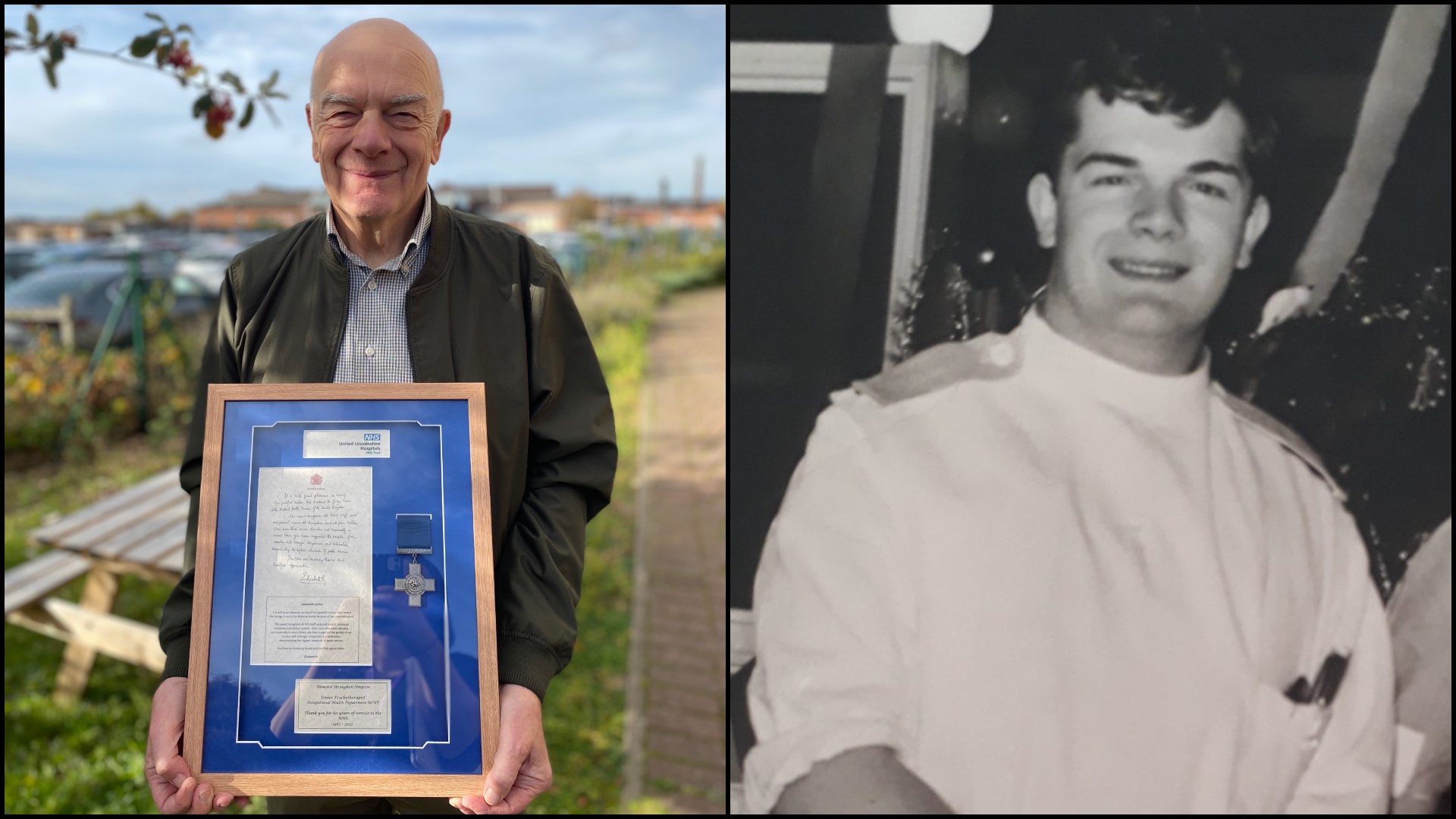 An NHS nurse of over 60 years has been awarded a replica George Cross medal after retiring from his dedicated work in the health service, calling it an "inspirational" profession.
Howard Straughen-Simpson joined the NHS as a cadet nurse in 1962, when he was just 17 years old, and has spent the last 60 years dedicating his life to helping others.
Born in Wales, Howard started his training as a general nurse in North London, caring for patients with tuberculosis and those with burns from plastic surgery.
He worked as a nurse in Hull and a charge nurse in a trauma department in London after earning his qualifications, before going on to qualify as a mental health nurse at the Maudsley Hospital and Bethlem Royal Hospital in London.
"I have always been proud to be a nurse," Howard said. "It has never been well paid, and when I started my nurse training my salary for the year was £290, however the feeling of helping others provided me with immeasurable reward, and that has never gone away.
"The one thing I would say is that I would do the same if I had my time again. I have no regrets at all. To anyone thinking about joining the profession, starting as a cadet nurse is brilliant.
"It gives you an opportunity to learn all about the job and it shows you the reality of what is involved.
"I realise that students in nursing train in other ways, but the principle in my mind remains the same, that one must know what is involved in the science and art of nursing and the impact those two aspects can have on a person."
It was in 2008 when Howard joined United Lincolnshire Hospitals NHS Trust as a senior psychotherapist, spending years supporting students, qualified nurses and NHS colleagues across the country.
His job took on an extra important role during the COVID-19 pandemic, when he supported staff on the frontline by visiting wards and offering a listening ear to colleagues during difficult long shifts.
In honour of his recent retirement, Howard was presented with a replica of the George Cross medal that was awarded to the NHS by Her Majesty, Queen Elizabeth II.
Howard said: "I have had an incredible career. From my days of living in nurses' accommodation to lecturing and supporting colleagues, the camaraderie I have felt and seen first-hand has been truly inspirational.
"I have learnt so much about myself. Nursing is a career where things change all of the time. We are constantly learning as we see advances in technology and treatments.
"The one thing that never changes is the relationship that a nurse has with their patients. It is a privilege and so important. We must never lose the artistry of nursing and that personal touch.
"I have been privileged for the last 30 years to be able to support my colleagues in the NHS with the aim to help keep them well. This has then enabled them to continue caring for their patients and to do the job that they love."
---
MyLocal Lincolnshire is the new home of The Lincolnite. Download the app now.