January 13, 2023 7.00 pm
This story is over 10 months old
Hatching plan to promote vegan 'egg' alternative in Lincoln dressed as chickens
Veganuary in Lincoln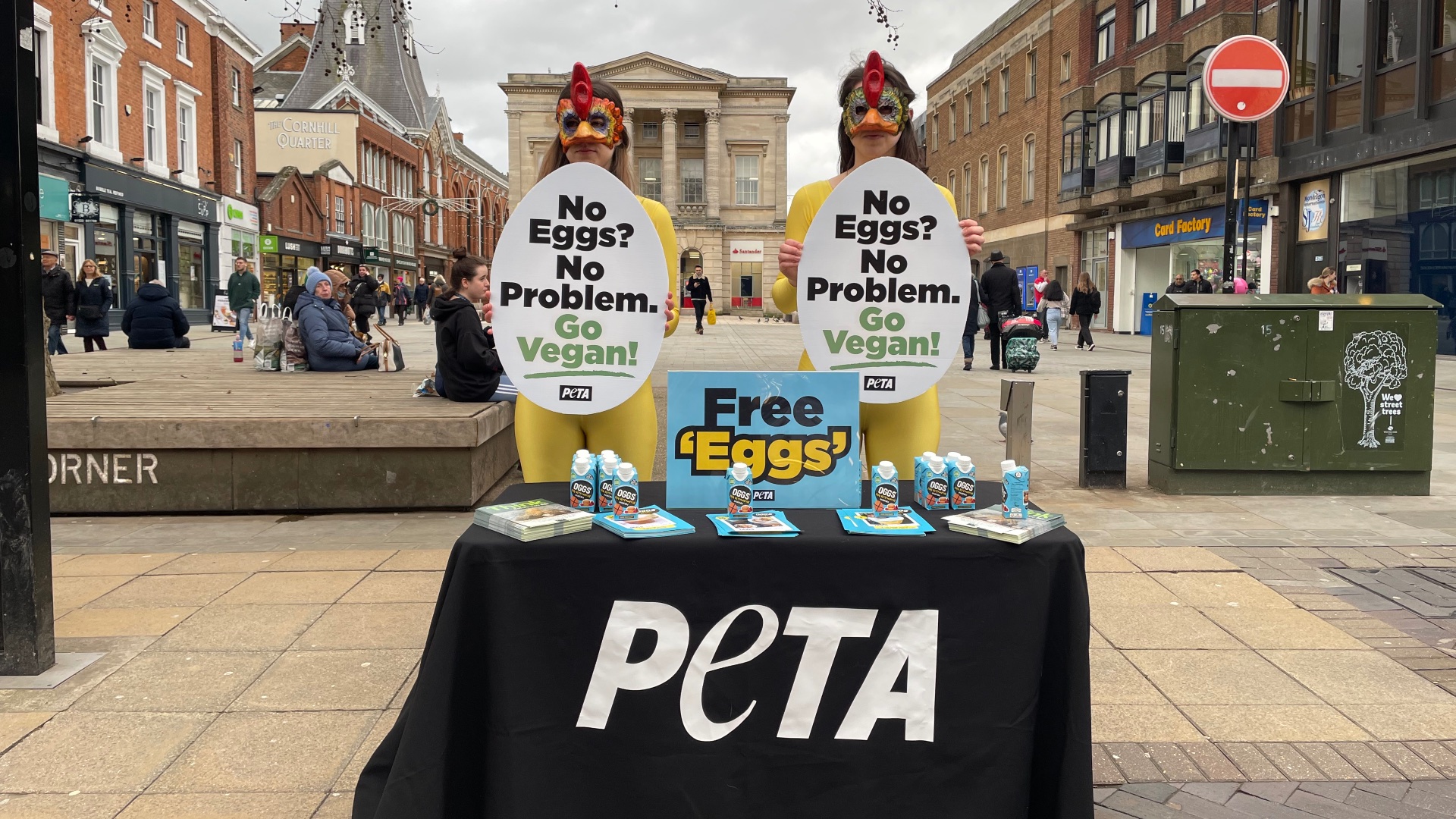 A demonstration was held by animal rights non-profit organisation PETA on Lincoln High Street on Friday, offering passers-by a free vegan 'egg' alternative in a campaign against poultry farming – following the large avian bird flu outbreak last year.
PETA's presence was felt on Lincoln High Street on Friday afternoon, as campaigners for the animal welfare group offered out promotional leaflets and even recipe instructions for how to turn a vegan egg alternative product into part of a tropical cocktail.
Campaigners were dressed in yellow unitards with Venetian-style hen masks, holding up signs that promote the vegan lifestyle and encouraging people to transition towards a plant-based diet for the good of personal health and the wider planet.
Lincoln was chosen due to it being a hotspot for the outbreaks of avian flu amongst chicken farms across the county last year, which saw tens of thousands of birds culled, and over a million were dealt the same fate in the summer of 2021.
Bottles of Oggs Aquafaba, a plant-based liquid made from chickpea extract and used for baking and creating cocktails, were handed out as part of the demonstration, after the Oggs brand recently won a PETA Vegan Food Award for its ethically-sourced products.
The bottle is completely recyclable, and the contents are the equivalent of using four eggs, as well as using 72% less CO2 emissions than regular eggs.
With Veganuary in full swing and promoting the vegan message throughout the month of January, PETA grabbed the opportunity to further spread the word and encourage more people to move away from traditional ways.
Molly Elsdon, a campaigner for PETA, told The Lincolnite that the stunt was to highlight the dangers to animals of the poultry farming industry, stating that "we don't need to be cramming thousands of chickens into filthy, windowless pens, causing outbreaks of disease, in order to eat eggs."
She said: "A chicken egg shortage doesn't mean there are no eggs. Vegan eggs are widely available, they spare animals a whole lifetime of suffering and death, and they are much better for the planet and our health too.
"Lincoln is one of the places worst affected by the egg shortage and the bird flu outbreak at the moment is the worst that we've seen in the UK, which we should really be seeing as a sign to move to vegan alternatives to prevent a future pandemic.
"We are encouraging people to try a vegan alternative, visit the PETA website to download a free starter kit and, above all else, to go vegan!"
---
MyLocal Lincolnshire is the new home of The Lincolnite. Download the app now