January 5, 2023 12.30 pm
This story is over 10 months old
Lincoln footpaths branded 'obstacle course for disabled people'
A wheelchair user says she's scared to use them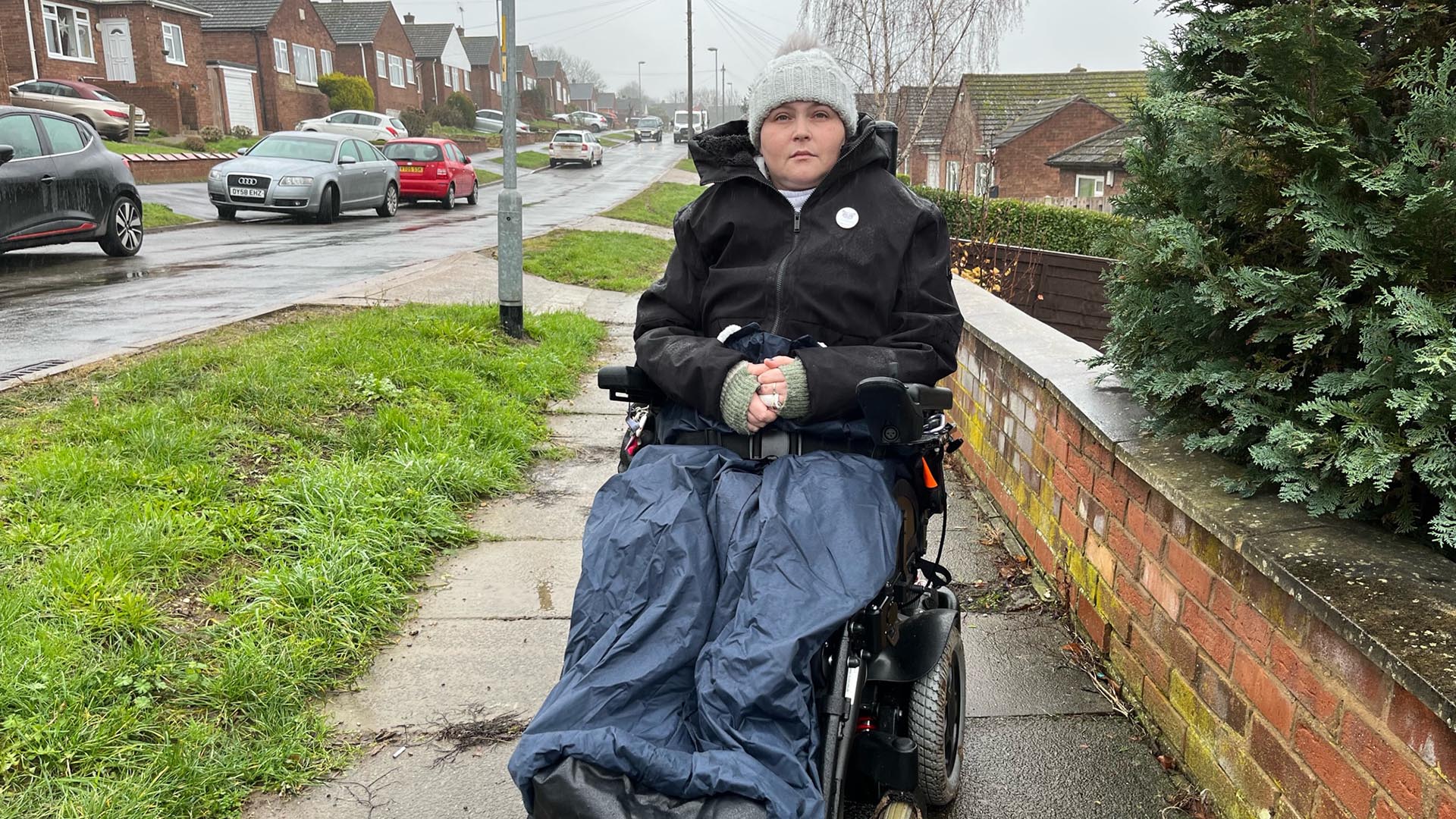 A Lincoln wheelchair-user says she is scared of navigating the broken pavements in her neighbourhood.
Mandy Taylor, 39, was left with dislocated shoulder and a broken electric wheelchair after an accident caused by the footpaths last year.
A local councillor has criticised the pavements around Tower Avenue as an "obstacle course for disabled people".
Lincolnshire County Council say they are aware of the problems, but are having to prioritise the worst-affected areas due to funding cuts.
The area is on future plans for footpath improvements.
Mandy said: "I have to pre-plan every journey, and know which pavements are safe to use and where I can cross the road.
"Avoiding all of the hazards and uneven flagstones is like playing dodgems.
"On broken footpaths, it's actually quite dangerous when the wheels come off the floor. They're so high you can easily tip over. It's quite scary."
Pavements blocked by cars or bins also force her to go onto the road, causing extra difficulty.
Mandy has Ehlers-Danlos syndrome, which causes hyper-mobility, and suffered a dislocated shoulder in her most recent accident on Hillside Avenue.
The pavement on one side of this road has recently been resurfaced. However, Mandy's wheelchair is unable to get up the curb, meaning she has to use the rougher side.
"My wheelchair is a lifeline, I can't go out without it. But now I'm worried that I might damage it, or myself, again," she said.
"Because I have mental health issues, going out is really important to me. I don't want to be confined to the house."
City of Lincoln Councillor Martin Christopher (Liberal Democrat – Abbey) said simply patching problem areas wasn't sufficient.
"The reactive patch-and-repair policy by the County Council isn't adequate," he said.
"The state of the pavements isn't good enough, and it isn't meeting the needs of the community.
"As an able-bodied person, I can step over many of these problems – it isn't until you walk around with Mandy that you realise what a big problem it is for the most vulnerable people.
"They shouldn't be trapped in their homes because the basic infrastructure isn't there."
Natasha Chapman, the chair of the Lincoln Liberal Democrat group, said:  "Such simple changes could make such a difference and let disabled people live their lives. They shouldn't be scared of going out.
"If people were being kept cooped up by intimidation or anti-social behaviour, we would be up arms."
A spokesperson for Lincolnshire County Council said: "We are very sympathetic to the issues raised and we are doing everything that we can to make good the footpaths as soon as possible. This area is somewhere that we are aware of as needing attention and we do have it on the future plans for work to address what needs to be done.
"We are sorry to say that, because of the huge 25% reduction in funding by the government for this type of work and other maintenance issues on the roads, we are having to prioritise the worst affected areas in the county first.
"Once we have carried out work at those locations as needed, we will then be able to move on to pathways such as this, which we have assessed as being in need of repair but not as bad a condition as others in the county.
"This situation is far from ideal and whilst we are doing absolutely everything in our service to deliver the best possible outcomes as quickly as possible, we are now well into the reality of the daily impact that having many millions of pounds taken away from our critical maintenance budget for this year has realised."
---
MyLocal Lincolnshire is the new home of The Lincolnite. Download the app now