October 23, 2023 11.40 am
✨ Your go-to guide for October half-term in Lincolnshire 🎃
A bit of spooky October fun for all the family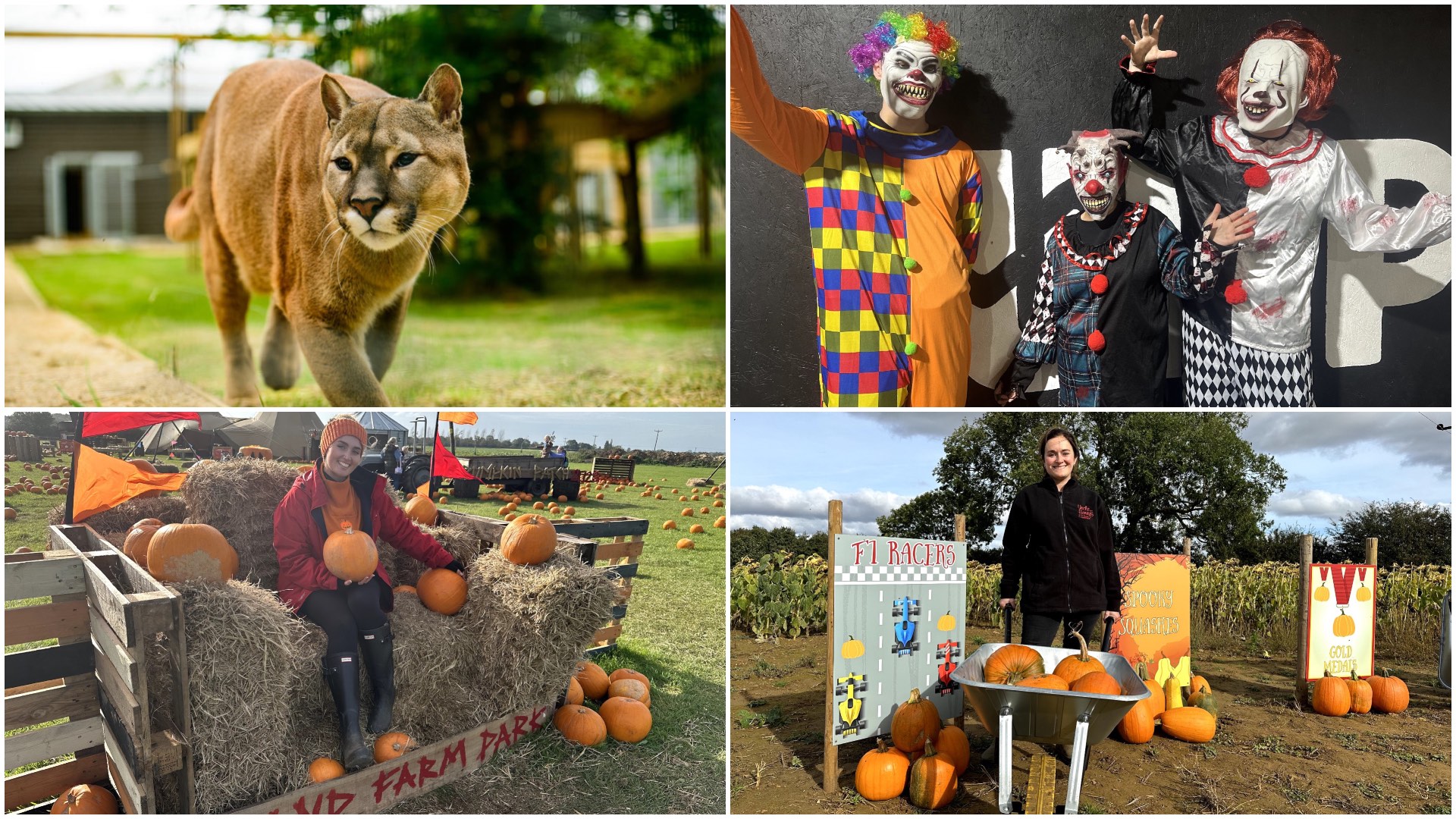 We are in the midst of spooky season, and here in Lincolnshire there is something on for everyone this October half-term, whether it's pumpkin picking, clown invasions or navigating your way through a monster-infested maze!
As the countdown for Halloween ticks along, everyone is on the hunt for a perfect pumpkin or a family day out that can keep the little ones entertained, and thankfully here in Lincolnshire, you are well and truly covered.
You won't have to venture far and wide to find the best pumpkin patch or Halloween-themed event, as we have plenty to choose from here in Lincolnshire!
Here are some of the most exciting spots to visit in the county for some Halloween memories, with something on offer for people of all ages, for this October school holiday period.
Find the mystery boxes and guess what's inside at Lincolnshire Wildlife Park
Alongside the usual furry friends you get to experience at Lincolnshire Wildlife Park, whether it is visiting Nigel the three-legged Puma, or perhaps one of the largest Bengal Tiger enclosures in the whole country, there is something else for visitors to get excited about this October. Running from October 28-31 will be a mystery box trail, in which parcels are placed around the park for people to try and find. Once they are found, you must identify what is in the box without looking inside, using only your sense of smell or what it feels like. You then put answers on your sheet and, once you have answered all the questions, hand it back in at reception to see if you are correct. Winners could receive two great prizes, and people can also upgrade their trail ticket to take home a 'peculiar pumpkin'. Tickets for the trail can either be booked at reception or alongside your general admission to the park.
Be sure to book your tickets via the Lincolnshire Wildlife Park website
Explore the maze and pick some pumpkins: The options are endless at Uncle Henry's
Uncle Henry's famous Maize Maze has been taken over by some spooky characters this month, and it's your job to track them down and find out the password by passing the nine lessons from the Mad Professors of Monsters High! There are two mini-mazes for younger people to explore also, which are the Ghost Hunt and finding the Halloween Witch. Oh, and look out for the surprise behind the barn door by the maize entrance. That's not all, though. Situated across some three acres of land is a large pumpkin patch at Uncle Henry's, with over 1,600 pumpkins to explore and choose from. There are different varieties of pumpkins in all shapes and sizes, depending on what you want your creation to look like. Carving stations are also available for people to design their jack-o'-lanterns after choosing their pumpkin, allowing for weird and wonderful creations from weird and wonderful shapes. Admission to the pumpkin patch is included in your ticket for the Maize Maze from October 21-31, between the hours of 10am and 5pm.
Book tickets from the Uncle Henry's website
Prepare for a scare at Jump Inc's Clown Invasion
If you are under the age of 18 and looking for something to get the heart racing this Halloween, Jump Inc Lincoln on Sunningdale Trading Estate might be the spot for you with its terrifying Clown Invasion event. Taking place on Friday, October 27 between 5pm and 8pm, Jump Inc will let the clowns loose on the trampoline park for an adrenaline-fuelled event that dares you to bounce with one eye over your shoulder. Fancy dress is encouraged and prizes will be awarded for the best costume, so get your best Halloween outfit ready and bounce like your life depends on it!
Book your slot at the spookiest event in the city this Halloween on the Jump Inc website
Halloween festivities day and night at Rand Farm Park's Pumpkin Fest
As well as visiting the adorable barnyard animals at Rand Farm Park, this October you can experience something brand new in the form of Rand Pumpkin Fest, offering a wholesome pumpkin patch by day, and an entertainment hub by night. From October 21-29, there will be nine nights of entertainment at the farm in the form of live music, a licensed bar and actor entertainment inside the tipi between 5pm and 10pm, as well as picking pumpkins by moonlight. During the daytime (10am to 4pm), you will again be able to pick your own pumpkin, utilise the play areas and meet the farm animals, as well as accessing two eateries and a mobile café serving hot drinks to order. Every child with paid admission to the farm gets a free pumpkin to choose from the patch, of which there are thousands, and there are plenty of selfie spots for you to mark the occasion with a family snap.