March 26, 2015 10.32 am
This story is over 103 months old
Lincoln City FC Dambusters mosaic gets £30k backing in a week
Getting off the ground: In just one week backers of the Lincoln City FC Dambusters mosaic fundraiser have collectively donated over £30,000.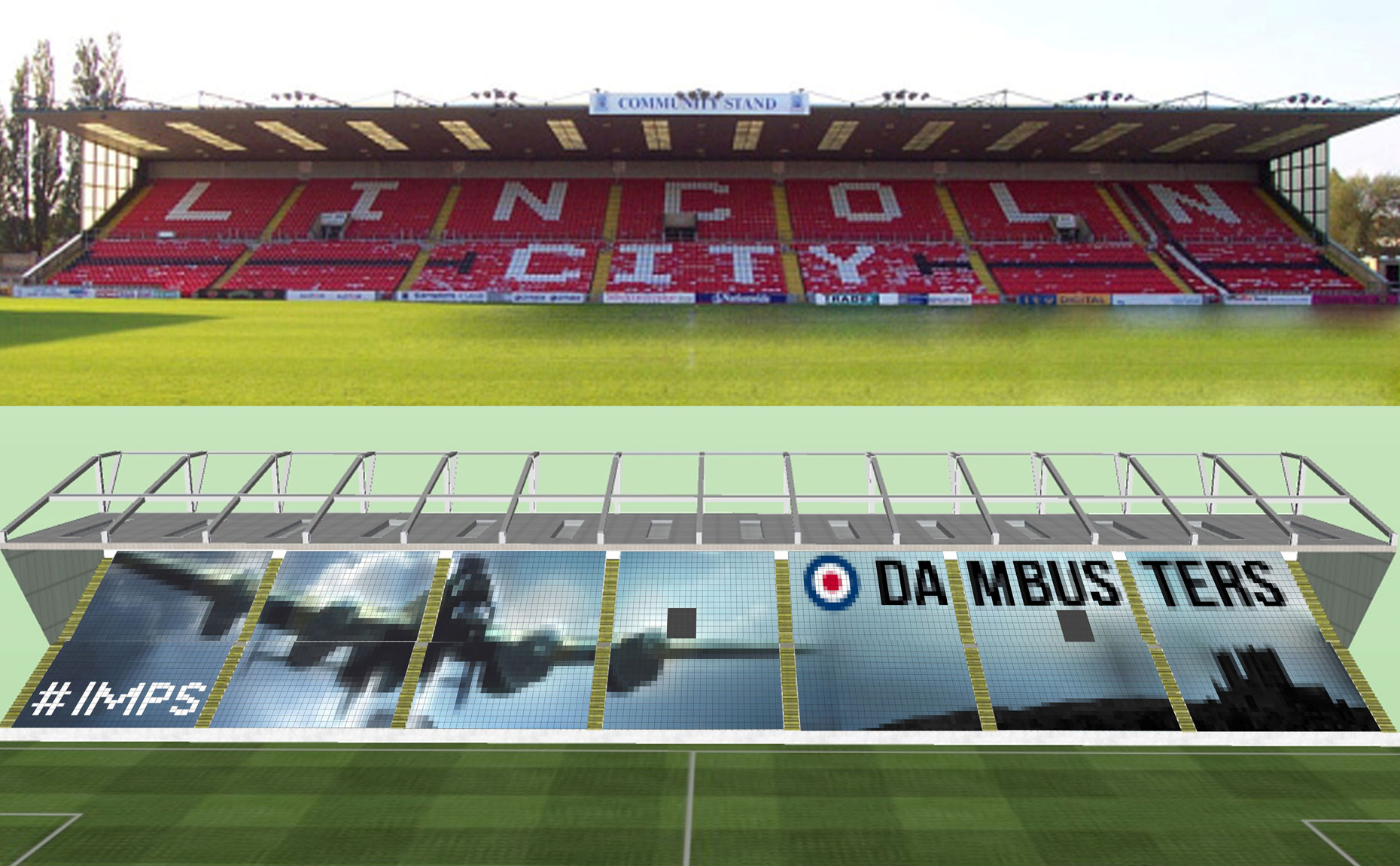 The project to raise cash for a giant Dambusters mosaic at the Lincoln City Football Club's Sincil Bank ground has already passed the £30,000 mark, in just a week.
Lincoln City Football Club officials said they are delighted with the progress towards the crowdfunding target but called for the whole community to continue to show support.
The £30,000 mark was reached with the backing of just 160 people, with pledges ranging from £5 to one anonymous fan giving thousands of pounds towards the current total.
It has also attracted pledges from as far away as Australia and the relatives of Dambusters aircrew.
The club has set a target of £380,000 to create the giant mosaic at Sincil Bank and help the club solve its current banking crisis.
The campaign to raise the cash is being launched in partnership with the Crowdfunder website and, if it reaches its target, could be one of the biggest crowdfunding projects ever run in the UK.
A sum of £100,000 has to be raised before the mosaic, featuring an image of a Lancaster bomber created by renowned aviation artist Simon Atack, can go ahead.
The initial target of £150,000 will allow the club to put the new seating in place and pay off £50,000 of its debt.
Club officials say that target can be exceeded, and extra funds are needed to help pay off the overdraught which has been called in by the Co-operative Bank.
The Imps crowdfunding page went live last Thursday and has now hit a total of £31,215.00. It has another 48 days to reach its target.
Imps acting managing director Kevin Cooke said: "It's a fantastic start to the campaign and we are delighted with the support we have received so far.
"But if we can get this level of backing from just 160 people imagine what we can achieve if we can mobilise more of our fans and more people and businesses from across the city.
"This Crowdfunder project could be a real turning point for the club. If we can achieve anywhere near our target we can create an iconic image, clear our feet financially and put the club on the map.
"It would make such a huge difference to the city, the club, the fans and the service men and women of the county.
"Now we need all our fans and residents to join in – even if it's just to pledge £5. To be able to start next season with the overdraught cleared and a fantastic new tribute to the Dambusters in place would be fantastic."