March 7, 2017 10.47 am
This story is over 57 months old
New multi-storey Lincoln car park rising from the ground
Lincoln's new 1,000-space multi-storey car park is quickly taking shape in the city centre. The steel skeleton of the structure, part of the city's £30 million Transport Hub project, is being constructed on the site of the former bus station. The original multi-storey car park and bus station were demolished in January, with the new car…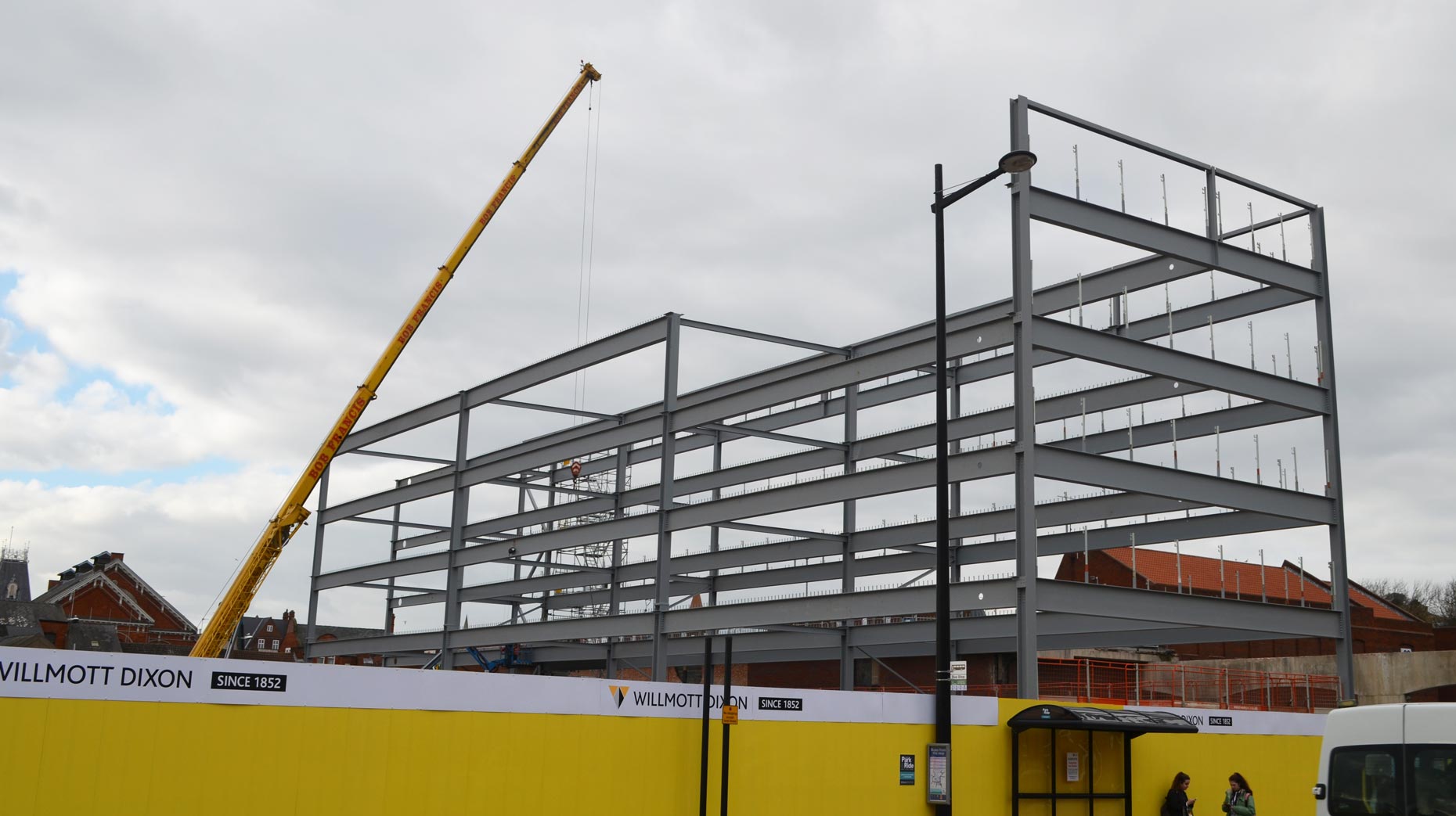 Lincoln's new 1,000-space multi-storey car park is quickly taking shape in the city centre.
The steel skeleton of the structure, part of the city's £30 million Transport Hub project, is being constructed on the site of the former bus station.
The original multi-storey car park and bus station were demolished in January, with the new car park expected to be completed in February 2018.
The Transport Hub will also include a pedestrian plaza, train station facility improvements and a brand new bus station, which is expected to open in December 2017.
Parking woes
Meanwhile, the closure and demolition of previous city centre car parks, as well as road closures on Norman Street, Oxford Street and St Mary's Street, have lead to difficulties finding spaces and getting through the city.
Vistors have told The Lincolnite more temporary provisions are needed to keep up footfall.
Junis Hall said, who was parking in the Broadgate car park, said: "It's always hard to get a space in town. I prefer to use the bus whenever I'm coming in, however I need new tyres for my car today so I had no choice. Parking could also be cheaper!"
Darren Isaac, who was parking in the Lucy Tower Street car park: "It's quite hard to find a space at the moment with the construction. Weekends are easier as the council workers aren't here, so that frees up the council car parks. However, I understand that the work is for the greater good."
Michael Stowdon, a student, said: "Parking today wasn't too bad, but usually it's infuriating."
Check out our survival guide here for the best ways to avoid disruptions during the work.