November 12, 2019 4.57 pm
This story is over 30 months old
Lincoln-by-the-sea: Anger grows as marooned farmers survey flood damage
"The loss of wildlife will be colossal"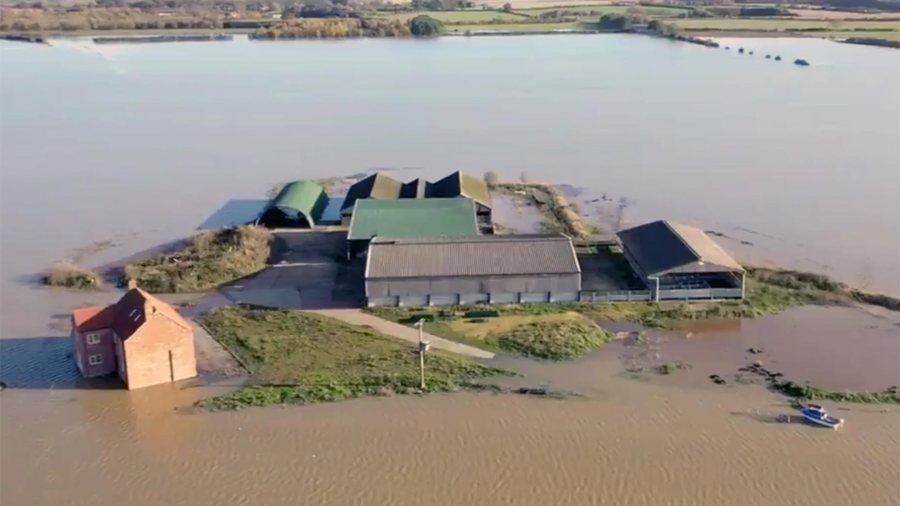 Anger is growing among farmers near Lincoln who claim that officials have not made any attempts to fix a breach on the Barlings Eau river.
Five farmers look after more than 1,500 acres of land, which is up to six feet deep in water in some places.
Andrew Ward has been out with his cousins Henry and Joe on Tuesday to survey the damage, on a boat, but he said that the water is still rising.
He told The Lincolnite:
"The damage is absolutely horrendous. This is not a flood plain but the Environment Agency is using it as one to prevent flooding in Lincoln.
"We just feel really let down. This only happens when there is a complete lack of maintenance. The rivers need to be dredged but we haven't ever seen it happen here.
"There are potatoes, sugar beet and maize that has been ruined but the loss of wildlife will be colossal here, all of their habitats will be ruined."
https://twitter.com/wheat_daddy/status/1194236033103224832?s=20
The Environment Agency has insisted that it does carry out regular and ongoing maintenance and blamed problems on the heavy rainfall.
Luckily they built the main farm buildings much higher up than the surrounding fields so no floodwater has managed to get in so far.
Although, Andrew fears that the house could be flooded without any action as the water rose by another two feet overight.
Over 30 flood warnings and alerts affecting Lincolnshire remain in place on Tuesday, with heavy rain forecast in a number of areas of the county.
Hundreds of horses, donkeys, ponies, and mules are at risk at a rescue centre near Lincoln after they were hit by floods.
An EA spokesperson said: "Prolonged heavy rainfall since the beginning of September has saturated the ground and filled the rivers, and last week's additional slow and heavy-moving rain meant many rivers reached their capacity.
"While we do carry out regular and ongoing maintenance of our river banks, the sheer amount of water in the Barlings Eau meant the river over-topped, which damaged the banks and led to the breach.
"We know the devastating impact flooding can have, which is why protecting people continues to be our top priority.
"We continue to liaise closely with the NFU and internal drainage boards to offer support and advice to farmers affected by flooding, and our teams are already making plans to repair the Eau as soon as ground and weather conditions allow."