August 12, 2020 2.55 pm
This story is over 38 months old
How Grantham lost faith in "temporary" hospital downgrades
Town's hospital marks four years since downgrade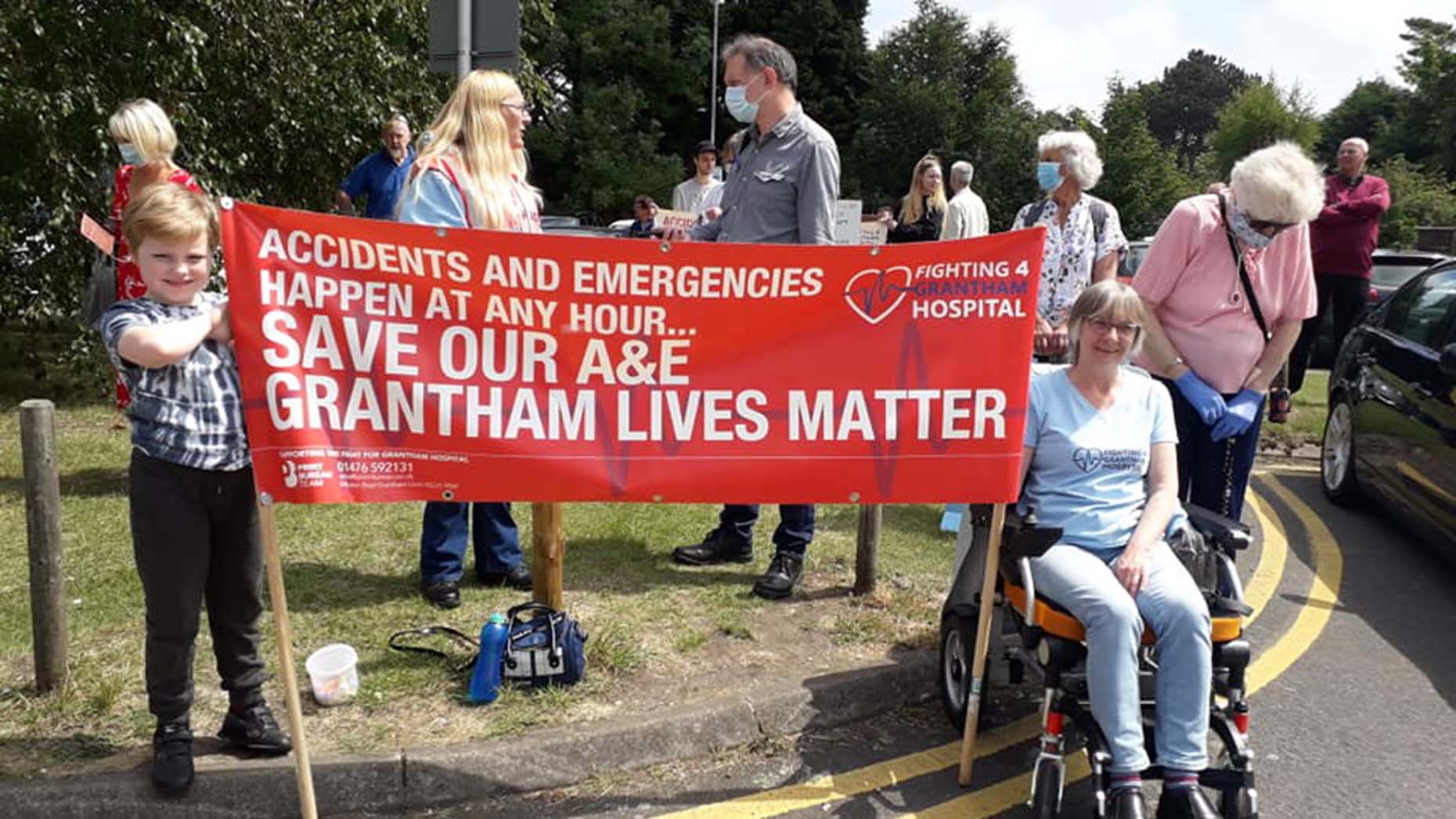 Four years ago, people in Grantham were surprised to find the future for the county's healthcare laid out in front of them — and they didn't like what they saw.
The town's hospital first saw its Accident and Emergency department closed overnight from August 2016 in what health bosses said was a "temporary" bid to tackle a lack of staff and resulting safety issues across the trust.
Then, came the draft Sustainability and Transformation Plan (STP), which would later become Healthy Conversations, and included further plans to downgrade Grantham Hospital, including turning it into a new urgent care centre.
The plans were met with outrage and roundly rejected. Campaigners, councillors, MPs and others sprang into action to protest the problematic proposals, including when similar ideas were mentioned in the Healthy Conversations documents launched last year.
That was until June 2020, when bosses finally got their way among plans for a COVID-free hospital to tackle the ongoing pandemic just three months ago.
Again, this, they said, was "temporary" and no permanent changes would be made without consultation — however, the current situation will carry on until at least March 2021. Campaigners haven't forgotten though, and have been watching, waiting and occasionally warring further with bosses.
August 16 will mark 1,460 days of closure, but unlike at 1,000 days where bosses were presented with cake, campaign leaders this time are holding a socially-distanced and COVID-regulated protest outside the town's old hospital.
Fighting for Grantham Hospital Campaigner Jody Clark said: "I cannot believe it has been four years without the overnight A&E  in our forgotten town!
"This is exactly why our community does not trust the word 'temporary' anymore.
"We have actively campaigned and advocated for the return of our much needed services but all that has happened, is we have lost more!
"We absolutely do not begrudge the fantastic cancer care being offered at Grantham's COVID-19 safe site, and we are very fortunate to have kept our dedicated A&E staff, who are running the excellent 24hr walk-in Urgent Treatment Centre.
"But we also haven't forgotten what we have lost, not only over the past four years, but so much over the last two decades."
Hospital bosses continue to say the changes are temporary. In February, new chief executive Andrew Morgan acknowledged the "considerable anger" and that ULHT was "distrusted" over its future decision making.
He also promised consultation on changes this year – but that was before the COVID pandemic and the latest moves – which some have accused of being the STP by the back door.
Mark Brassington, Deputy Chief Executive at United Lincolnshire Hospitals NHS Trust said the decision in 2016 was scrutinised by a number of bodies and that the Independent Reconfiguration Panel concluded that the reduced opening hours should remain in place until a long term model for the Grantham hospital had been agreed.
He said the changes made in June followed a review on how they could reduce the risks for patients when accessing healthcare.
"These temporary changes have enabled us to turn Grantham hospital into a green site where we can reduce the risk significantly of patients being exposed to COVID-19," he said.
"This is enabling us to carry out thousands more chemotherapy sessions, cancer surgeries and other elective surgeries for patients from across Lincolnshire as well as Grantham.
"Any proposals for permanent, significant NHS service change will be subject to a full public consultation exercise led by the NHS Lincolnshire CCG."