September 27, 2017 4.11 pm
This story is over 74 months old
Looking after your health: The NHS bosses who decided to close our Lincoln Walk-In-Centre
Meet the members of Lincolnshire West CCG's governing body.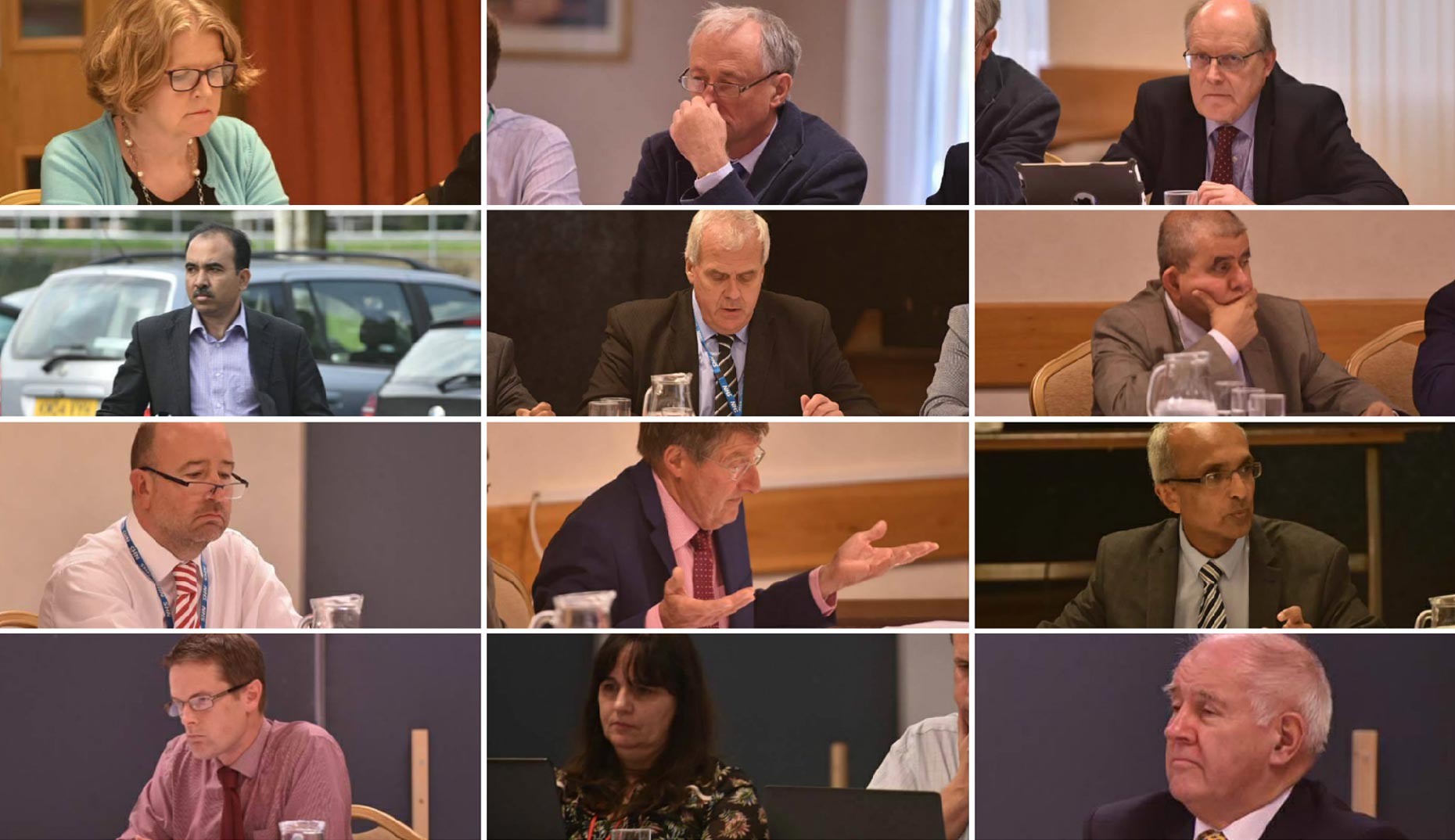 Controversial plans to close the Lincoln Walk-In Centre have been officially rubber-stamped, with residents slamming the decision makers who have pushed through the deeply unpopular move.
The final nail in the coffin for the centre which has been open in Lincoln for eight years was confirmed at an NHS Lincolnshire West Clinical Commissioning Group (CCG) governing body meeting at the Ruston Sports and Social Club on Wednesday, September 27.
The CCG is responsible for planning, buying and monitoring GP, hospital, mental health and community health services on behalf of the 240,000 people living in Lincoln, Gainsborough and surrounding areas.
CCGs were brought in by former Conservative Health Secretary Andrew Lansley under The Health and Social Care Act 2012 during the coalition government, replacing primary care trusts.
Here are the 13 members of the Lincolnshire West CCG governing body who have been looking after your health in making this decision:
---
Richard Childs – Lay Chair
Described as "a firm believer in the NHS", Richard Childs was Chief Constable of Lincolnshire Police for six years between 1997 and 2003.
After leaving this position, he was a consultant in the security industry and reportedly earned £42,500 a year as managing director of The Association of Chief Police Officers' (ACPO) Crime Prevention Initiatives.
On the Lincolnshire West CCG website, he is quoted as being "committed" to seeing the NHS grow and develop in Lincolnshire to provide a quality of service to everyone which surpasses that which is already given in the county.
Dr Sunil Hindocha – Clinical Chief Officer
Clinical Chief Officer Dr Sunil Hindocha previously sparked controversy this summer by claiming that closing the walk-in centre was "the right thing to do".
In an interview with The Lincolnite just days after the consultation was launched, he said that there was no evidence that closing the walk-in centre would lead to an increased demand at A&E.
He also said that the busiest GP practices understood that there could be "two or three" additional appointments that they would have to cover daily as a result of the changes.
The GP at the City Medical Practice in Lincoln added: "Very few people [who use the walk-in-centre] actually need treatment, never mind A&E, they can probably do with a self-care or limited, minor illness advice from pharmacies."
Dr Hindocha moved to Lincoln in 1991 and is married to a GP who works at a practice in the city.
Sarah-Jane Mills – Chief Operating Officer
Sarah-Jane Mills, who is described as having "a personal interest in system leadership", also publicly backed closing the walk-in centre during the consultation period, which began back in June.
She qualified as an occupational therapist 30 years ago and has held senior managerial roles in Lincolnshire and North London.
Roles in Lincolnshire she has previously held include director of Louth Hospital and chief executive of St Barnabas Lincolnshire Hospice.
Speaking to our sister publication Lincolnshire Reporter earlier this year, she also told residents to take responsibility for their own health.
She said: "It's about having those conversations with the public about them taking responsibility for their health and accessing health services in a different way.
"It means that you need to think about living a healthy lifestyle – it's everything that you hear.
"If you're overweight, lose weight."
Rob Croot – Chief Financial Officer
A former PFI procurement director, Rob Croot has been the Chief Financial Officer at Lincolnshire West CCG since it was created.
He was an accountant prior to joining the NHS in 1993 and has worked across the East Midlands in senior financial leadership roles, including in acute trusts in Nottingham and Leicester.
Wendy Martin – Executive Lead Nurse and Midwife – Quality & Governance
Wendy Martin is described as the executive lead in papers published last week which recommended the closure of the centre.
She has worked in the NHS since 1985 and for the last 12 years is said to have been focused on improving clinical services and care quality.
In a column for The Lincolnite in July, she claimed that improvements had been made to the 111 service in Lincolnshire
Dr Martin Latham – Executive GP – Quality & Governance
Dr Martin Latham worked for over 30 years as a partner at Birchwood Medical Practice before retiring in 2012, and currently does some locum GP work in various surgeries in the area.
Dr John Parkin – Executive GP
Dr John Parkin combines his duties as Principal GP at Branston and Heighington Family Practice, with his role at Lincolnshire West CCG, which he has been a member of for over six years.
Dr Will Vessey – Executive GP
After qualifying from Edinburgh University and working in Yorkshire, Dr Will Vessey moved back to Lincolnshire in 2004 to become a GP partner in Gainsborough and is now based at the Hibaldstow Practice.
He is said to have a particular interest in the John Coupland Hospital in the town.
Dr Nazar Imam – Executive GP
Dr Nazar Imam joined Lincolnshire West CCG in April 2014. He has over 25 years of experience, including time spent as a lecturer at a medical school outside of the county, as despite repeated pleas, Lincolnshire remains one of the biggest counties without such a facility.
He started work in Gainsborough as a GP since 2009 and has also been involved in doing sessions in substance misuse clinics in Gainsborough and Lincoln Prison.
In addition to this, Dr Imam works as a GP Appraiser and Out of Hours GP Trainee Supervisor.
Dr Samrat Roychowdhury – Secondary Care Consultant
A consultant physician at Kettering General Hospital, nearly 70 miles away from the Lincoln Walk-In Centre, Dr Samrat Roychowdhury joined Lincolnshire West CCG in November 2014.
His special interests listed on the website include Parkinson's disease, osteoporosis and heart failure.
Roger Buttery – Lay Member – Governance
As a former treasurer and clerk to the Lincolnshire Police Authority and deputy county of treasurer of Lincolnshire, Roger Buttery has been involved in the public and private sectors in the county for almost 50 years.
The qualified accountant was chair of the audit committee at the former NHS Lincolnshire for six-and-a-half years, and was a member of the governing body at the University of Lincoln.
Susan Edge – Lay Member – Patient & Public Involvement
A governor at two local primary schools, Susan Edge is lay member with responsibility for patient and public involvement at Lincolnshire West CCG.
She is a trustee of the soundLINCS not-for-profit community music organisation.
She was not present at the meeting.
Graham Smith – Lay Member – Primary Care Commissioning
Graham Smith formally joined Lincolnshire West CCG on April 1, 2015 after amassing 30 years of experience in the NHS.
Now retired, he specialised in taking on troubleshooting roles in failing organisations, and held chief executive posts in mental health/learning disability and acute NHS trusts.
He later became an independent management consultant, where he used his expertise in organisational and financial turnaround and performance management.