March 4, 2020 1.52 pm
This story is over 21 months old
No confirmed coronavirus cases in Lincolnshire, despite rumours and stockpiling
Hand sanitisers are limited at one Lincoln supermarket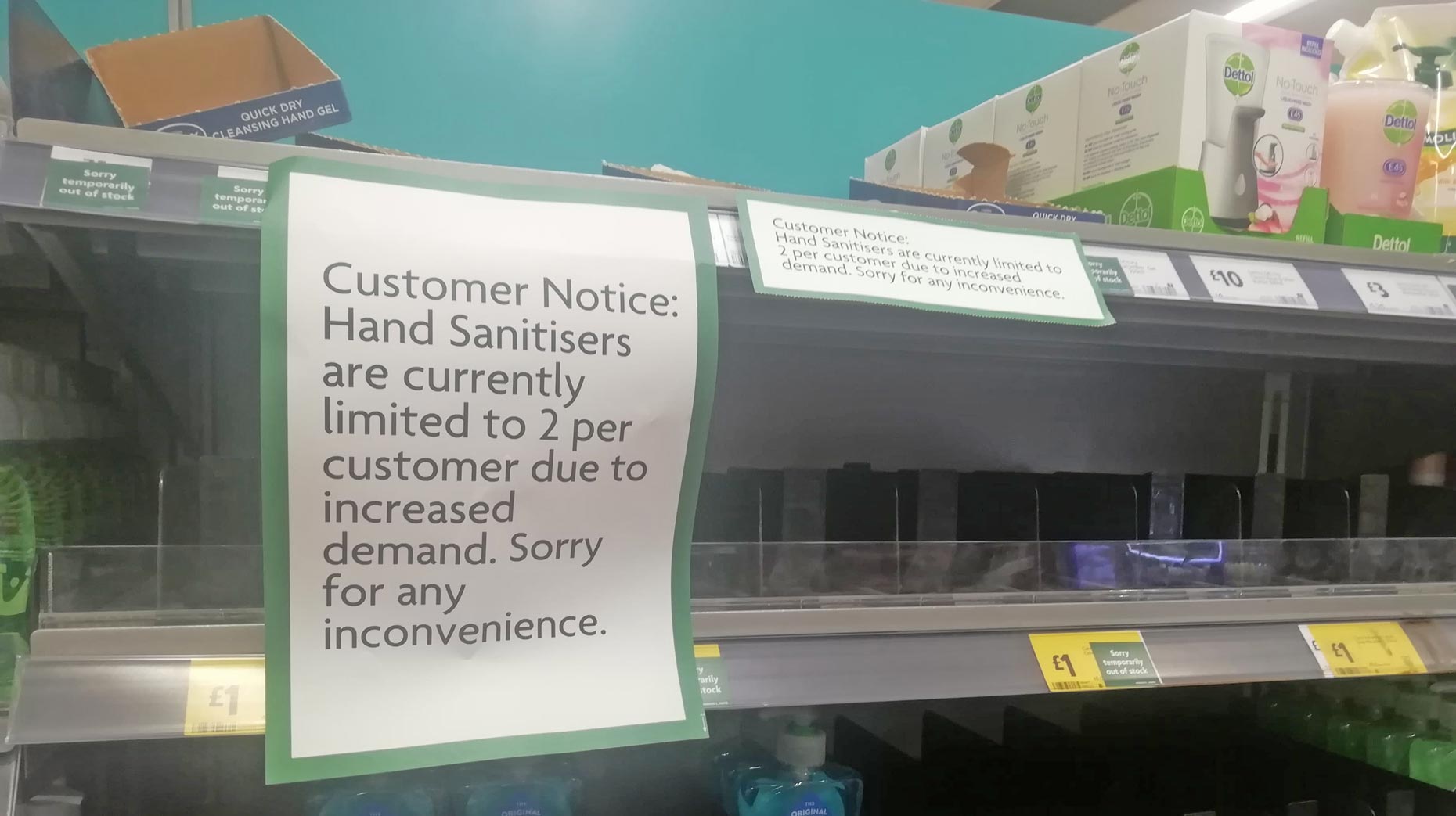 Panic buying is setting in as the number of coronavirus cases in the UK rises, but there have not yet been any confirmed patients in Lincolnshire, despite various rumours.
A notice in the toiletries aisle at the Lincoln Morrison's on Tritton Road on Wednesday, March 4 stated that "hand sanitisers are currently limited to two per customer due to increased demand".
Under the notice however, the hand sanitiser shelf was empty.
Other aisles of the supermarket seemed to be stocked as normal with only a few items, including one type of kitchen roll and certain hand wash dispensers, temporarily out of stock.
People at a few different companies in Lincolnshire are rumoured to have been tested for or have coronavirus, but nothing has been officially confirmed.
Fifty one people have tested positive for the virus in the UK with the nearest confirmed case in the Humberside region. This is understood to be in the Hull area, 48 miles from Lincoln.
At least five schools in Lincolnshire, which recently had half-term ski trips to Italy, previously issued warnings to pupils and staff to stay indoors and self-isolate if they show symptoms of coronavirus.
The family of a 13-year-old Lincoln school pupil confirmed she was tested for coronavirus and has self-isolated. She has since been given the all clear.
Latest coronavirus figures & advice
As of 9am on Wednesday, March 4, a total of 16,659 people have been tested. Of these people 16,574 tested negative and 85 positive for COVID-19. This has seen the number of cases jump by 34 since Tuesday. The number of those tested has also risen by over 2,000.
According to the BBC, around 190 people have been tested for coronavirus in Lincolnshire.
Professor Chris Whitty, Chief Medical Officer for England and the UK government's Chief Medical Advisor, said on Tuesday that eight patients had recently travelled from Italy, one from Germany, one from Singapore, one from Japan and one from Iran.
The patients were from London, Hampshire, Northamptonshire, Bury, Wirral, Greater Manchester, Humberside and Kent.
The symptoms of coronavirus include a cough, high temperature and shortness of breath but these symptoms do not necessarily mean someone has coronavirus.
It is advised to stay indoors and avoid contact with other people immediately if you've travelled to the UK from the following places:
Hubei Province in China in the last 14 days, even if you do not have symptoms
Iran, lockdown areas of northern Italy or special care zones in South Korea since February 19, even if you do not have symptoms
Other parts of mainland China or South Korea, Hong Kong, Japan, Macau, Malaysia, Singapore, Taiwan or Thailand in the last 14 days and have a cough, high temperature or shortness of breath (even if your symptoms are mild)
Other parts of northern Italy (anywhere north of Pisa, Florence and Rimini), Cambodia, Laos, Myanmar or Vietnam since February 19 and have a cough, high temperature or shortness of breath (even if your symptoms are mild).
It is also advised to use the 111 online coronavirus service to find out what to do next, and to not go to a GP surgery, pharmacy or hospital.
The NHS has issued advice on the risks and how to avoid catching or spreading coronavirus – click here for the latest information.