New Grantham Aldi opened by Team GB Olympic medallist
Sam Oldham also gave a speech to local school children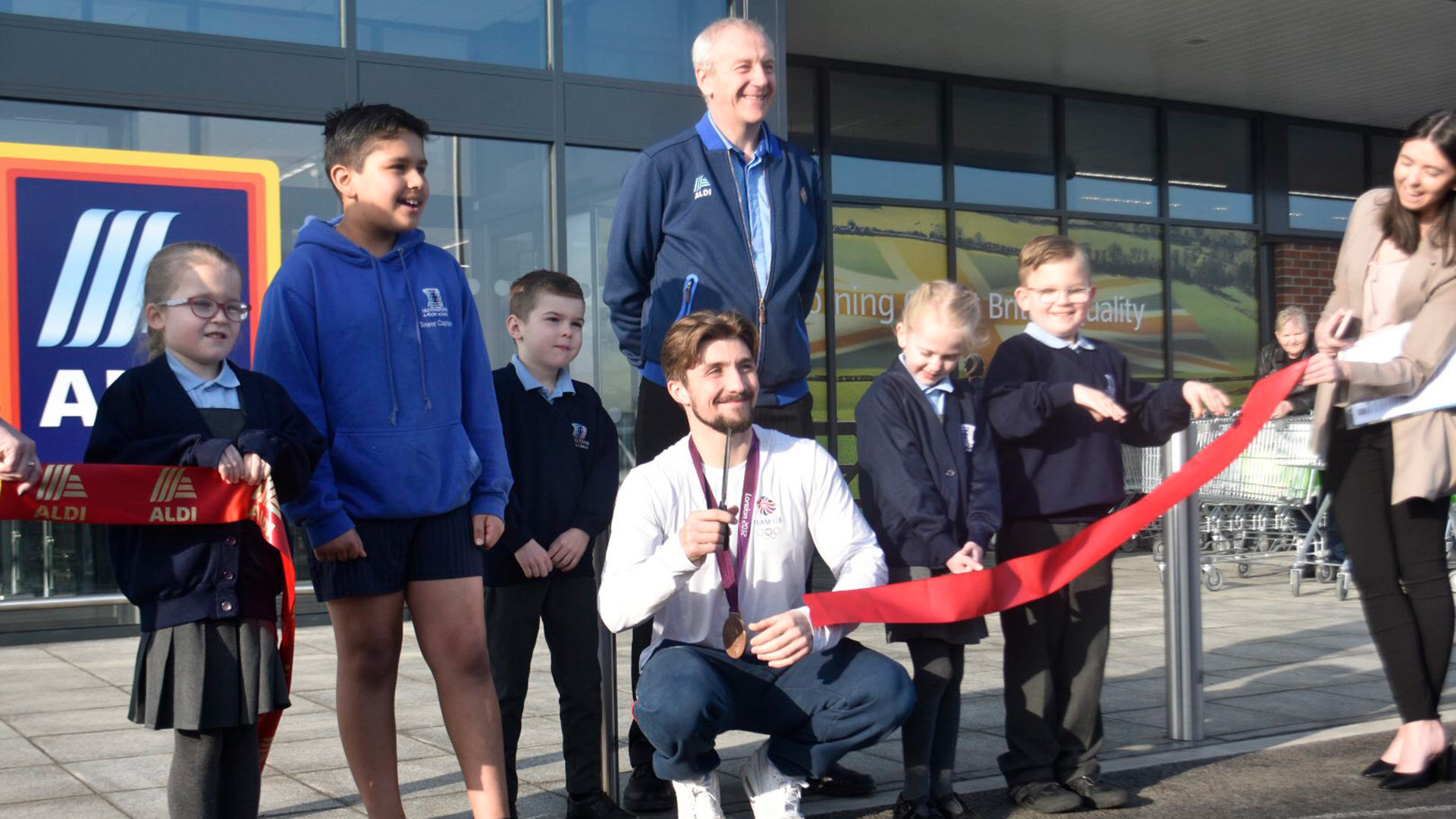 A new Aldi supermarket has opened in Grantham with a ribbon cutting ceremony hosted by Olympic bronze medal-winning gymnast Sam Oldham.
The new store on Trent Road has replaced a pre-existing store on South Parade, with 35 members of staff from the local community employed at the supermarket.
It will be open between 8am and 10pm Monday to Saturday, and 10am to 4pm on Sundays, boasting the legendary 'Aisle of Aldi' – known by many as the budget supermarket's middle aisle, with random household items as far as the eye can see.
An unveiling event was held on the morning of the opening, Thursday, March 24, and a red ribbon was cut outside the store by Sam Oldham, one of Team GB's gymnastics heroes from the London 2012 Olympic Games.
Sam won bronze in the men's team competition, and paid a visit to Grantham to open the store and speak to pupils from Huntingtower Community Primary Academy about healthy lifestyles and self-belief.
He also gave away complimentary bags of fresh fruit and vegetables to the first 30 customers in the queue, before delivering a speech to the school pupils.
Aldi has worked alongside Team GB since 2015, and hockey player Sarah Jones was on hand to open up the new Stamford store at the end of 2021.
Team GB star Sam Oldham said: "I've had a fantastic time opening the new Aldi this morning. It was an honour to officially open the store and welcome customers inside for the first time.
"It was great to speak with the children at Huntingtower Community Primary Academy about the importance of eating healthily and how it can be fun to plan and prepare meals as a family. Hopefully I've also managed to inspire the pupils to keep active and try different sports."
Store Manager Simon Cook said: "It's been a wonderful morning here at the opening of Aldi Grantham. It was lovely to welcome our new customers into store, and I look forward to meeting more of the community in the coming weeks. I'm also thrilled that we've been able to support Huntingtower Community Primary Academy through our partnership with Team GB."
Aldi is calling on local food banks and charities in Grantham to register with community engagement platform Neighbourly, which allows registered charities to collect surplus products from the supermarket.
Any charities that would like to partner up with the new Aldi store should email [email protected].