Jailed in April: Lincolnshire criminals behind bars
A dangerous paedophile, a Mablethorpe murderer and a historic sex abuser in a position of power in a Lincoln school where among those thrown in jail in April. Here's a summary of notable court reports this month: Former Lincoln choirmaster's sexual abuse of young boys Former Lincoln Cathedral School deputy head jailed for historic sexual…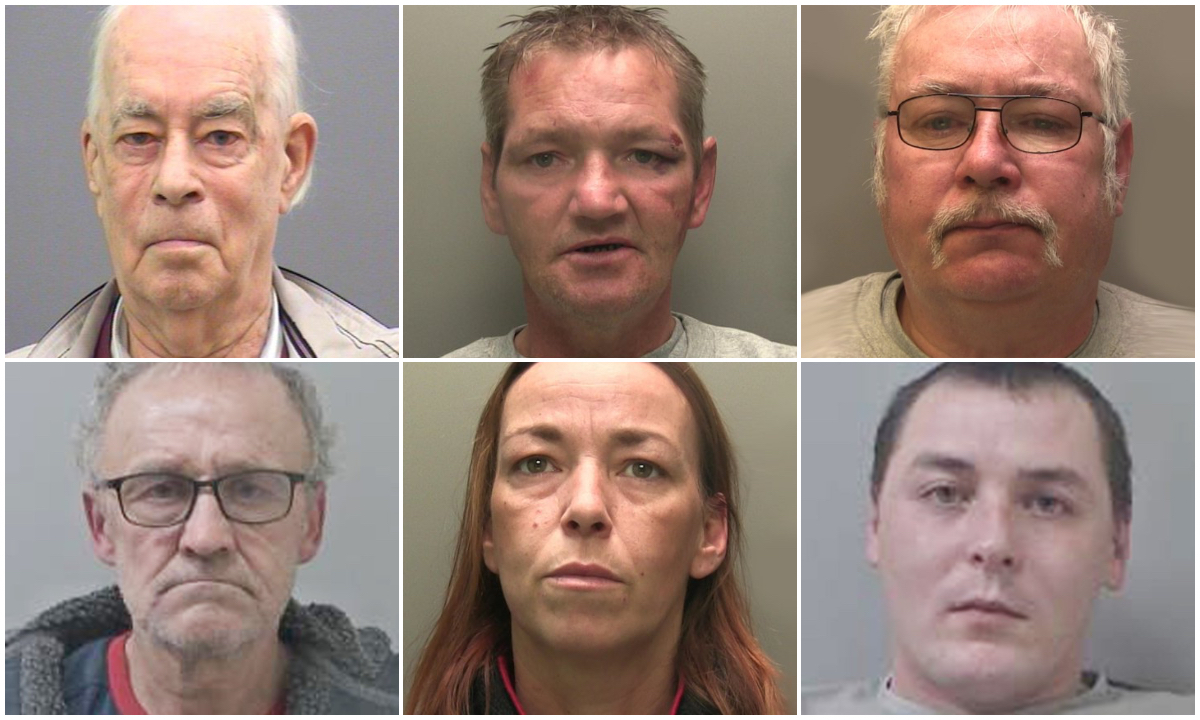 A dangerous paedophile, a Mablethorpe murderer and a historic sex abuser in a position of power in a Lincoln school where among those thrown in jail in April.
Here's a summary of notable court reports this month:
---
Former Lincoln choirmaster's sexual abuse of young boys
Former deputy headmaster of Lincoln Cathedral School Roy Griffiths, 82, was jailed for six years and seven months after admitting historical sex charges involving the abuse of young boys almost 50 years ago.
Roy Griffiths, 82, who was in charge of boys who boarded at the school, left his post in the summer of 1970 following a complaint made about his behaviour.
Lincoln Crown Court was told that neither the school nor the Lincoln Diocese passed the matter onto the police at the time.
---
Life-changing stabbing
Joshua King, 23, of Claymond Close, Kirton, repeatedly stabbed his former partner Kinga Porazewska, 22, after persuading her to meet up "one last time".
She was left with permanent scars all over her body and now walks with a limp after the vicious attack in February.
He was jailed for nine years.
---
Burglar pinned by brave victim
John Parker, 32, of Lord Street, Gainsborough, was caught when he attempted to break into the utility room of a house on Nelson Street in February.
The home owner confronted him and held him to the floor until police arrived.
He was jailed for 20 months.
---
Heroin addict targeted vulnerable elderly men
Suzanne Betts, 40, of no fixed address, admitted carrying out 'heartless' offences against elderly men after she convinced them to help her.
She robbed them once they has taken pity on her and let her into their homes.
Betts was, for burglary, theft and breach of a suspended jail sentence for shoplifting, jailed for 12 months.
---
Dangerous paedophile behind bars
Paul Parsons, 56, of Laurel Close in Lincoln was jailed for six years and eight months after he was caught by 'online vigilantes' trying to contact young girls.
Parsons had convictions for 37 previous offences starting from when he was a teenager in the 1970s.
---
Farm worker invented tale of kidnap
Police found Craig Troop, 32, of School Lane, Hainton, had fabricated and entire web of allegations that his ex had kidnapped him, beaten him and dumped him out of a car onto the roadside.
He was jailed for 12 months for lies which put his former partner in custody for six hours.
(Photograph unavailable)
---
Man harassed and threatened ex
Matthew Percival, 29, of Burton Street in Gainsborough was jailed for one and a half years for making threats of violence towards his ex girlfriend.
Courts heard he left his victim terrified and fearing he would kill her.
---
Life sentence for Mablethorpe murderer
James Adam, 46, pulled out a knife on Jaime Rudd and stabbed him in the heart following a disagreement about a trivial remark in the street.
Jaime had collapsed to the ground and bled to death despite efforts of paramedics and a passer-by to save his life.
Adam denied murder, but was given a life sentence and ordered to serve a minimum of 23 years before he can be considered for parole.
---
X-Factor star's dad jailed for fraud
Businessman and father of X Factor's Ella Henderson Sean Henderson, 51, was jailed for his part in a fraudulent get rich quick scheme.
He was put behind bars for three and a half years after he was found guilty of conspiracy to defraud.
---
Man stabbed former housemate
Sixty three year-old Sergejus Filurinas stabbed housemate during a row after coming back drunk to their home in Cranwell Street, Lincoln.
He was jailed for two and a half years.
---
Cannabis farmers caught
Karolis Matulaitis, 30 and Gediminas Valiukevicius, 58, of no fixed address, were found guilty of producing a cannabis farm with a street value of over £300,000 from a Grimsby home.
They were sentenced after almost 600 plants were found at a property on Eleanor Street in January.
Matulaitis was given three years and four months and Valiukevicius received three years.
---
Traveller gang member convicted for modern slavery
Joseph Rooney, 45, of Washingborough Caravan Site in Lincoln was found guilty of forcing a victim into compulsory labour and assault.
He had taken in a homeless man and forced him to live in shocking conditions and work long hours tracking driveways.