December 31, 2012 11.40 am
This story is over 108 months old
Rewind: Top 12 stories of 2012
This year was one of Olympic enthusiasm and some tragedies at the same time. We look back at the most read stories and topics on The Lincolnite in 2012, as well as stories that split local opinion.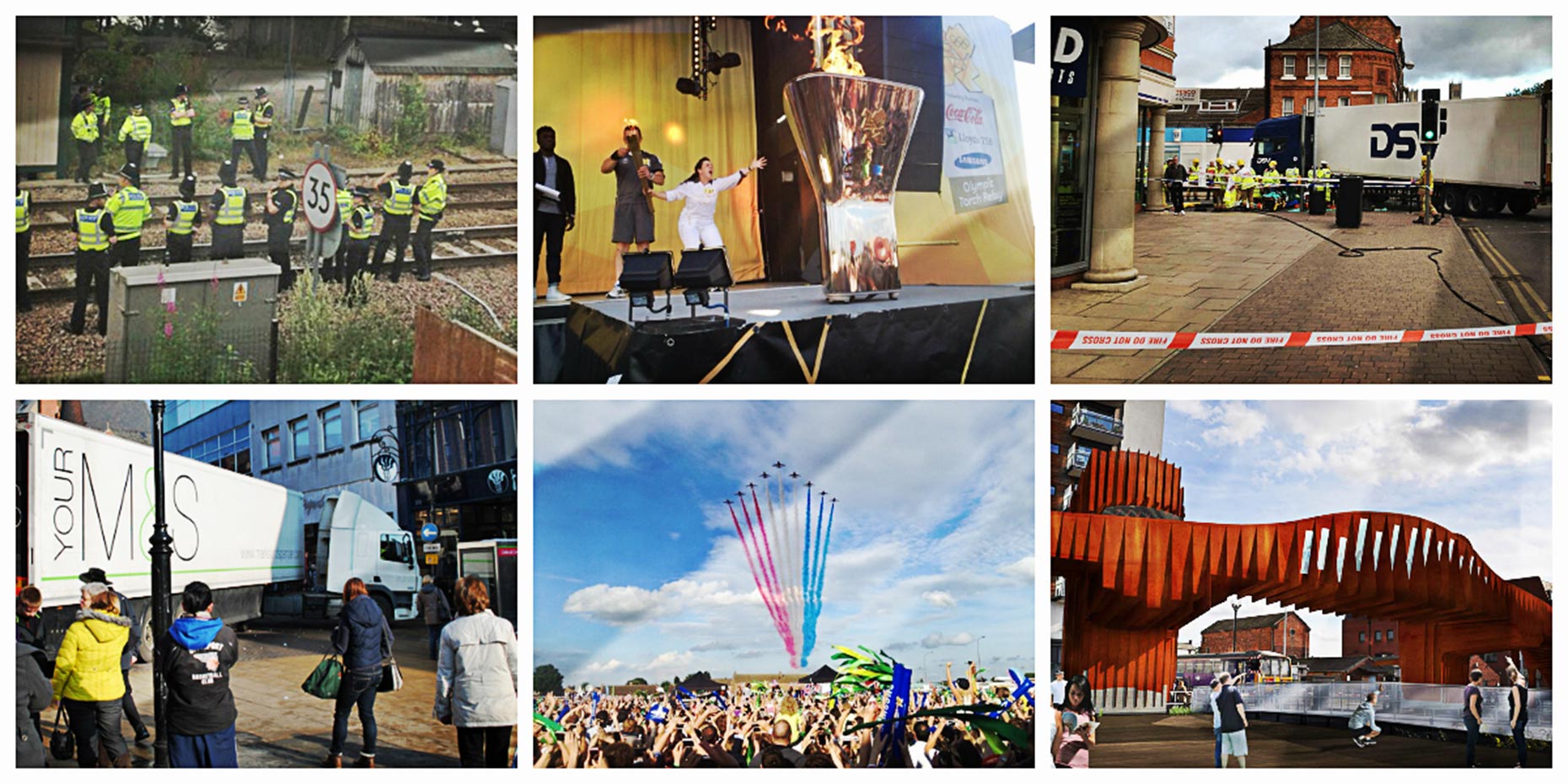 This year was one of Olympic enthusiasm and some tragedies at the same time. We look back at the most read stories and topics on The Lincolnite in 2012, as well as stories that split local opinion.
Olympic Torch Relay comes to Lincoln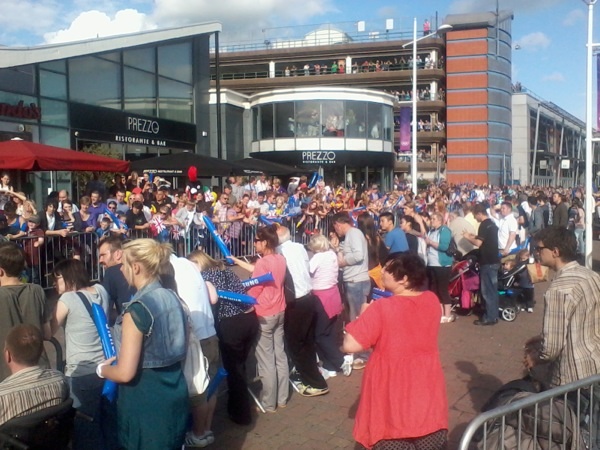 On June 27, exactly one month before the start of the 2012 Olympic Games in London, the Olympic Torch Relay made its way through Lincoln, with thousands of people lining the city streets to see the procession. Two simultaneous parties at Yarborough Sports Ground and on Brayford Pool were organized to celebrate the occasion, wrapped up by a flypast from the Red Arrows and a fireworks display on the Brayford. Rewind all the action from the Torch Relay.
Homeless man stabbed by friend on Portland Street
In April, a man was found collapsed on Portland Street in Lincoln and he later died from a stab injury to the chest. Two men have been charged with the murder of 44-year-old homeless man Gary Alan Hayes. Later in December, Mark Titley, 38, pleaded guilty to manslaughter at Lincoln Crown Court. The pair had argued on their way back from stealing bread and milk from Lincoln County Hospital. During a fight, Titley stabbed Hayes in the chest. Titley was jailed for 10 years.
Teenager killed by train on railway foot crossing
In December, a 14-year-old boy from Lincoln has died struck by a train at a foot crossing near Doddington Road. Police did not treat Alex Isherwood's death as suspicious, and his family later explained he was diagnosed with Asperger's syndrome two years prior and he found it difficult to overcome the condition. Just a month before the incident, Lincolnshire County Council rejected Network Rail's plans to close the Ballast Hole foot crossing and build a secure path to the Doddington Road level crossing.
Lincoln water levels increasing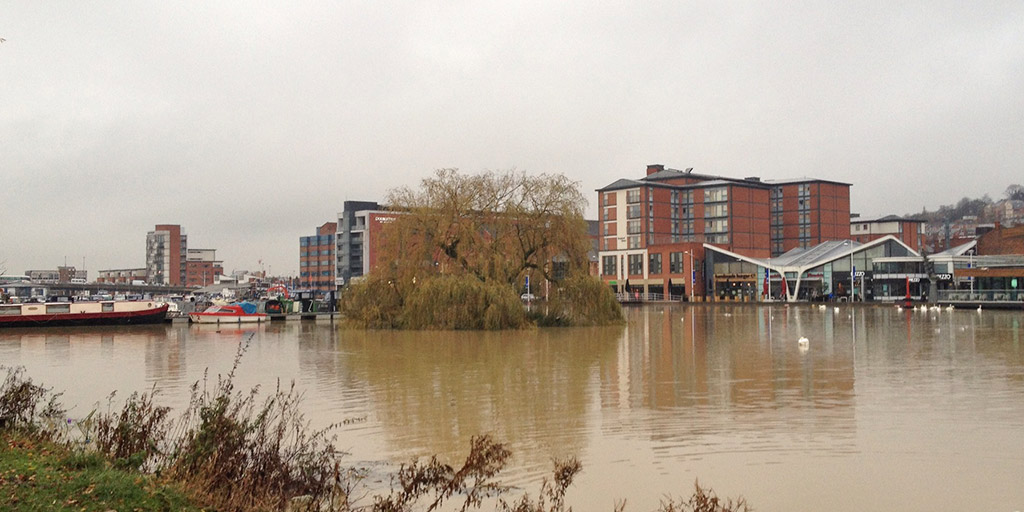 This year was a very wet one for the region, and flood alerts were issued several times for Lincoln's waterways. Roads and some properties around Sincil Bank, Brayford, and Waterside South were partially flooded, and the problem persisted all the way through December, when rain oversaturated the ground and the city remained on a constant flood alert for over two weeks.
Cyclist rescued from under lorry at Lincoln junction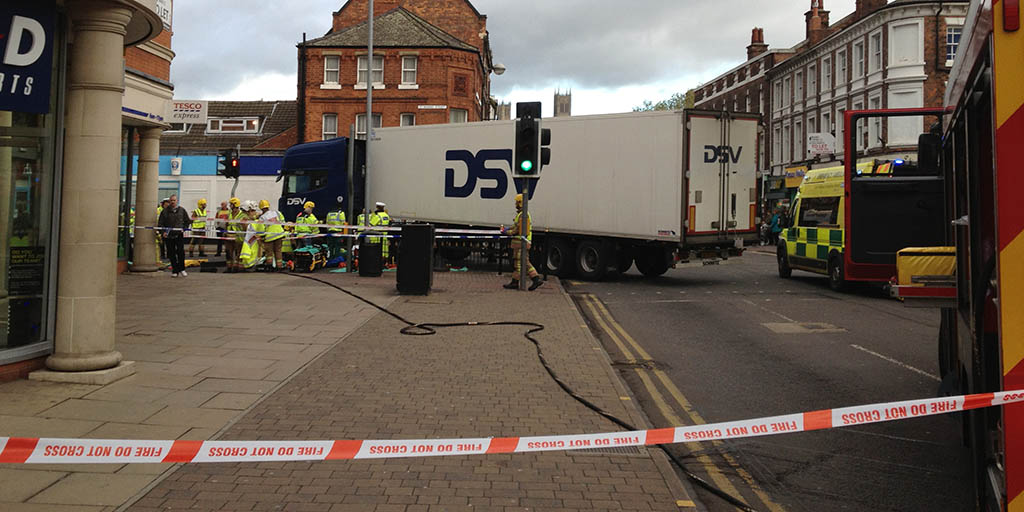 During a busy day in November, a female cyclist was trapped under a lorry at the pedestrian crossing at High Street and St Mark's. Emergency services rescued the 57-year-old woman, who was trapped with her bike under the lorry for several hours. She survived the ordeal and was taken the hospital with serious leg injuries.
Bringing back The Ritz Cinema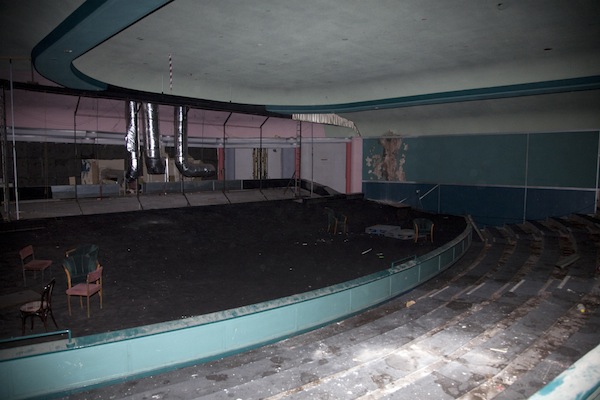 In January the non-profit organization Off The Bench announced it will begin restoring the former cinema at the upper floors of the Ritz pub on the High Street. Pub chain J.D. Wetherspoon leased the upper floors of the former cinema building for the project, for free for the following 25 years. Through the year, development work at the cinema began, with the first phase to remove all the asbestos in the building finalised in early December. The organization is now preparing a book of memories about the cinema to raise more money for the restoration.
Missing man's body found in Lincoln river
In November, a man's body was found in River Witham. He was later identified as 37-year-old Ian Truslove, who went missing in late October. He required medication and it is thought that he did not have this on him. Police did not treat his death as suspicious.
Lincoln academy group in financial scandal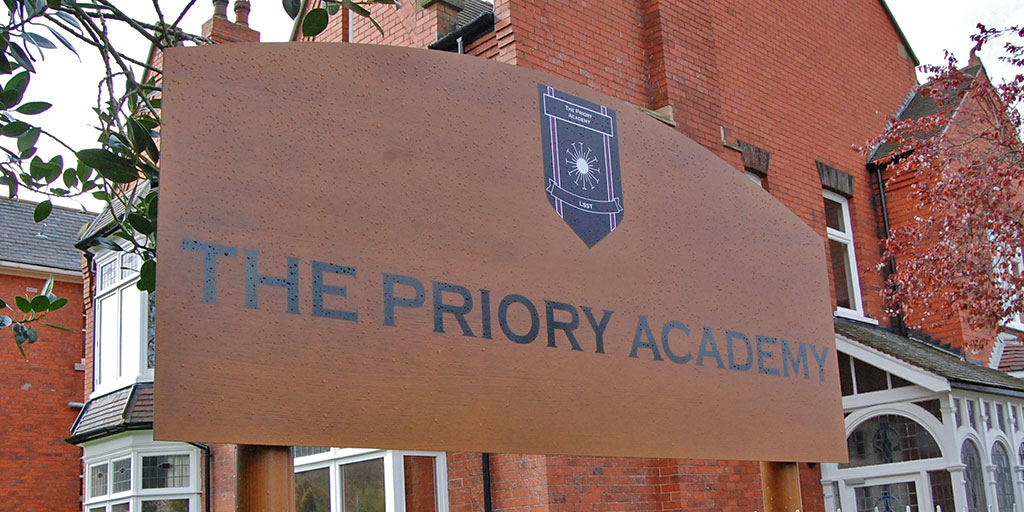 The Priory Federation of Academies Trust, which covers Priory Academy LSST, Priory Witham Academy, Priory City of Lincoln Academy and Priory Ruskin Academy, came under fire in April after CEO Richard Gilliland resigned as a result on an investigation by the Education Funding Agency. The investigation found he used resources of the publicly funded federation to buy personal and "inappropriate" items, including training for his son, personal tax advice and DVDs. Later eight new trusteed were appointed, and the Headmaster at The Priory Academy LSST in Lincoln Ian Jones (48) has been named as the new Chief Executive of the federation.
M&S lorry stuck on Lincoln High Street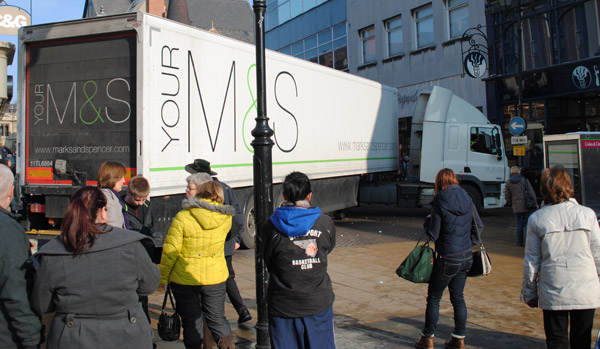 Shoppers in February watched for several hours attempts to free an M&S delivery lorry that got wedged on Lincoln High Street, after it tried to reverse into its loading bay. Pedestrians were only just able to navigate around the lorry, which was stuck for nearly four hours. Another lorry cab was deployed to help pull the lorry through. Driver Matt Worrall said: "It was a very awkward manoeuvre especially with people watching and in the end I just got wedged."
Wagamama comes to Lincoln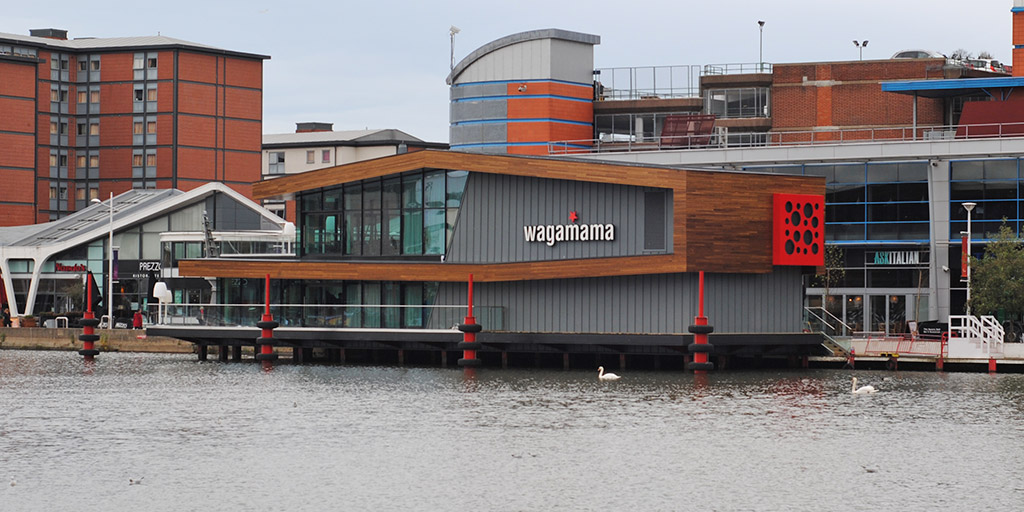 Japanese-inspired restaurant chain Wagamama arrived in Lincoln this year. The chain has let the former Harbourmaster's office on Brayford Pool, which was demolished and turned into a modern fronted building. Work on the new building started in January and Wagamama opened its doors in November, but the business was disrupted a few days later as rising water levels flooded its entrance area.
Rail worker dies struck by train
In a second railway tragedy this year, a contractor working on behalf of Network Rail has died struck by a train near Sykes Lane in early December, about half a mile from the Lincoln side of Saxilby station. He was named as 26-year-old Scott Dobson from Doncaster and Network Rail is still investigating the cause of the incident.
Football fans clash in Lincoln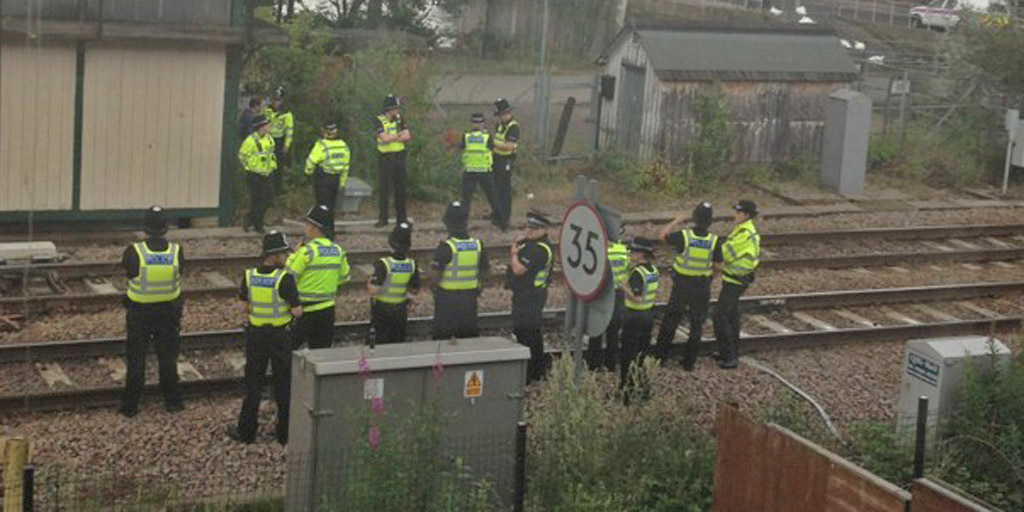 The city's football team has fought hard for its place in the league this year, and some so-called fans have kept Lincolnshire Police busy too. In August the club decided to cancel a match with Leicester on the ground of public safety after they received information that troublemakers were planning to come Lincoln. The cancellation did not stop a number of Leicester fans arriving and clashing with local fans. Later in October, two gangs of football hooligans clashed ahead of a Lincoln-Luton match, where some 25 people were embroiled in a disorder in The Ritz on the High Street, which later spilled in the surrounding area. More than 15 men were arrested but police are still looking for some suspects.
Notable mentions: What got people talking
Brayford level crossing footbridge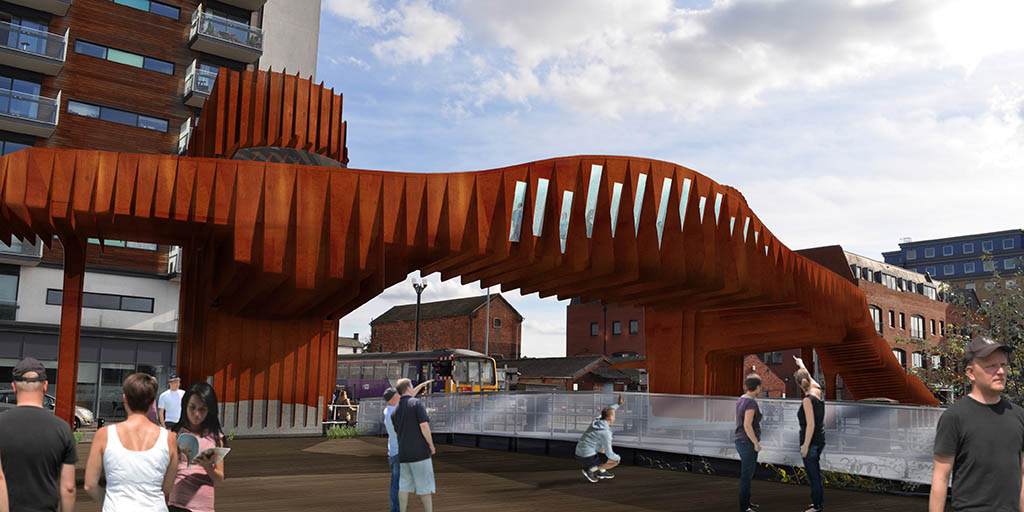 To ease pedestrian congestion at the Brayford Wharf East level crossing in Lincoln, Network Rail unveiled proposed designs for a footbridge. People in the city have approved the idea of a footbridge in that location, but the designs polarised public opinion. Some refreshed designs for the bridge are now being prepared.
Mosque to be built in Lincoln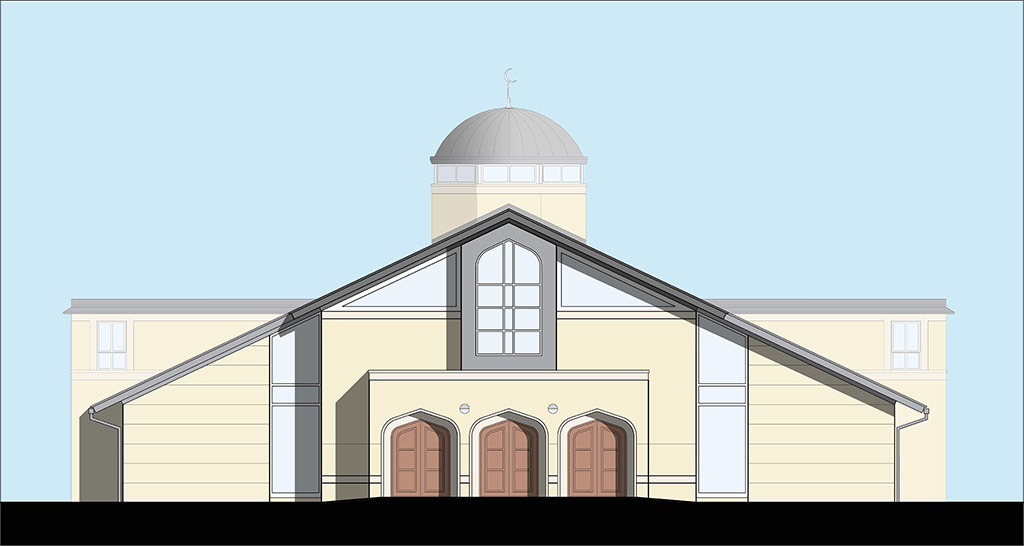 Plans to build a mosque on a former dairy site in Lincoln have been approved by the City of Lincoln Council in November. The proposals were put forward by the Islamic Association of Lincoln a year ago for a mosque situated on the corner of Dixon Street and Boultham Park Road. The mosque forms part of plans for the redevelopment of the site, which also include a proposed supermarket, housing and associated parking. A previous site proposed by the Islamic Association was rejected due to parking issues and was later burnt down.